The back-to-school battle is on
As value and assortment take centre stage, how are Target, Walmart and Staples distinguishing themselves?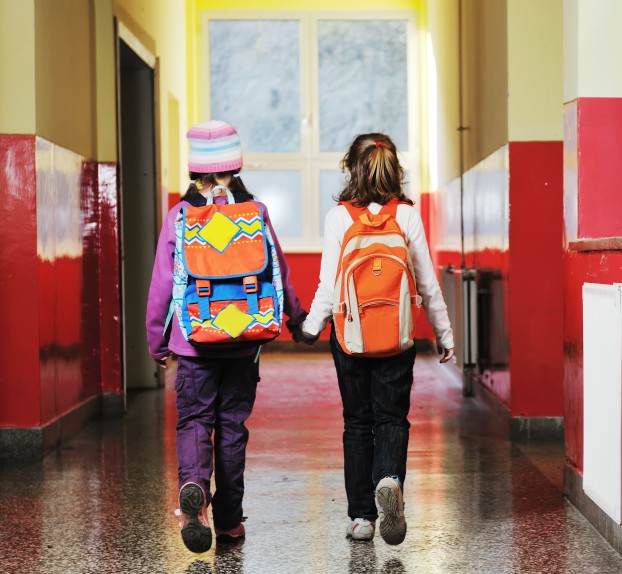 It's one of the most wonderful times of the year for retailers – and no, it's not quite Christmas yet. Back-to-school plans are about to kick off at major Canadian retailers, so strategy caught up with some of the big players to delve into their game plans. With Target, Walmart and Staples all offering  price match guarantees and touting their depth of assortment, read on to learn about how they're aiming to differentiate themselves and win over today's back-to-school shopper.
Target steps into the ring
On the heels of its entrance into the Canadian marketplace which saw a host of challenges, Target is gearing up for what Livia Zufferli, VP marketing, Target Canada, calls its first national back-to-school campaign, since its full slate of stores had not yet opened last year.
"The real focus of the season is to help mom do more of her shopping in one place, and to increase that convenience for her where she can get the apparel and supplies and everything she needs for the back to school occasion," she says.
Licensed products are also a key area for the retailer with its Teenage Mutant Ninja Turtles line and exclusive S Sport collaboration with Skechers.
Moreover, Target is focusing on stock availability, which continues to improve, says Zufferli, and given the importance of the back-to-school period – it's "all hands on deck."
Working with its lead Canadian agency KBS+, Veritas and 72andSunny, the retailer will launch a fully-integrated campaign at the end of July for its back-to-school segment, with a creative theme of "Every little thing is a big deal." TV spots will emphasize on-trend merchandise for great value, with some directly addressing price, while radio support and promo also speaks to the value proposition. Other elements include a back-to-school catalogue which will be poly-bagged with Today's Parent, video integration with Breakfast Television, an activation with Cineplex and social engagement along with the use of influencers.
The retailer's back-to-campus push, aimed at college and university students, will have the theme of "Best year ever." A significant, yet-to-be-revealed YouTube personality will be at the centre of the promotion, which kicks off tomorrow and encourages students to share content about their style for the chance to win a $5,000 shopping spree and weekly prizes.
Aiming to make customers' shopping convenient, all back-to-school and back-to-campus merchandise is located in the retailer's seasonal area at the back of the store, creating a destination for the trip, while items like apparel are naturally elsewhere, Zufferli adds.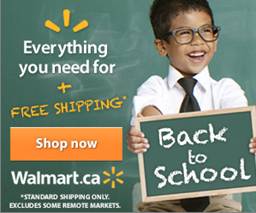 Walmart defends its turf

In the height of its 20th anniversary north of  the border, Walmart is reminding Canadians it's the one-stop-shop for back-to-school, with an added focus this year on offering a "solution," from making it easier for customers in-store, to pricing, access and selection, says Jeff Tate, director of category marketing, Walmart Canada.

"Most retailers don't have the same breadth and depth of assortment in not just back-to-school when it comes to apparel, but supplies and the actual grocery side – kids' lunches, meals for the family, kids' snacks," he says. "The one-stop shop with the value proposition, it gives convenience and it saves mom money and actually stretches her dollar further, and I think that's our major advantage."

In August, back-to-school and back-to-campus activity will really heat up, with TV pushing the messaging of the retailer being a destination for the major categories, but also shorter spots, addressing more specific needs.

"So we have that overarching halo destination, but then we have the individual stories related to all the different categories because we are the one-stop shop," he adds.

The campaign, which has an overarching message that "it all adds up and it all adds up to a great start," will be promoted on all fronts, including print, digital, social, PR, flyers and in-store signage. The entire store, including the front, will have a back-to-school feel, as it will not be restricted to one area, says Tate. 

The retailer worked with JWT for mass communications, Mindshare on media, CMI for flyers and in-store experience, Shopper Events for in-store demo, Twist on social and Apex Public Relations.

Staples reminds Canadians where the value's at

For the retailer, the back-to-school period essentially is its Christmas period, says Sandy Salmon, director of advertising, and this season, Staples is focusing on the price of its loot.

The retailer has always offered competitive prices and a price-match guarantee, she says, but consumer research revealed a lot of customers didn't know about the latter offering.

"We really realized that we had some homework to do to make sure that we do shift those price perceptions," she says.

As such, the messaging behind its campaign is about how consumers won't pay less elsewhere, the notion of making more happen for less and how they can't afford to not shop at Staples, she adds.

And while it faces competition from one-stop-shop retailers that offer more than traditional school supplies, Salmon says Staples has price, selection and service on its side.

"Our assortment would probably outpace any of our competitors. There wouldn't be anything from a school-supply perspective that you wouldn't find at Staples."

This year, the retailer has put a bit of additional focus on tech in its flyer than in the past, which drops July 30. Its integrated campaign features a six-week media buy commencing July 28 featuring spots with crowd-sourced videos for the first time, as well as digital, radio and a flyer program promoting deals and in-stock guarantees on a lot of key items. Staples worked with DentsuBos for traditional creative, Aegis Deep Blue for media and Crucial Interactive for specialty creative and media.

Stores have also been merchandised to provide an easy shop, says Salmon, with various centres featuring calculators or rulers, for instance, throughout.

Additionally, Staples has partnered with pop star Katy Perry for its Annual School Supply Drive program, which sees stores select a local charity to work with to provide school supplies to students in need. A PSA with Perry launches July 28, while the singer will also promote the partnership at her concerts.

The retailer has also partnered with Me to We and ACCO Brands on a line of products that provides funds to charity Free the Children to help a child in need overseas. Consumers can input a code on their product to actually understand how their purchase has helped someone – such as school supplies for a student for a year or healthy meals.

Feature image via Shutterstock