Stamkos projects his thoughts for Sport Chek
The NHL star is training hard in this Sport Chek spot to inspire you to get into game shape.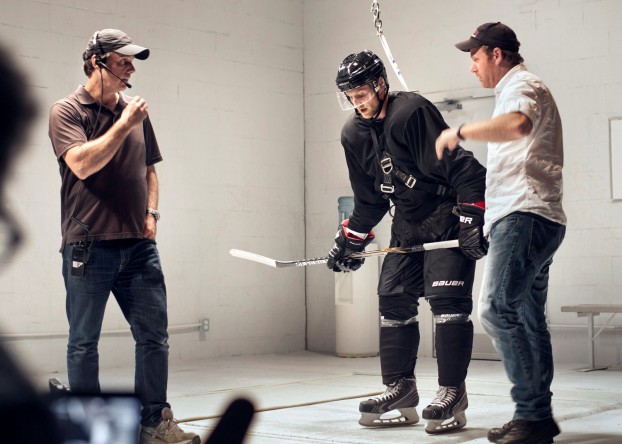 Sliding through Goliath-sized opponents' legs and skating away from wolves is all part of training for Tampa Bay Lightning hockey player Steven Stamkos.

At least those are the challenges going through his mind as he's seen training during the off-season in a new ad for Sport Chek, with those obstacles 3D-projected onto his surroundings as he works out on a hockey treadmill.

Stamkos, the 24-year-old Canadian star of the Tampa Bay Lightning, is a perfect fit for the retailer's "Your Better Starts Here" campaign ahead of the hockey season. Given that he was injured for much of last season and had to miss playing for Team Canada at the Olympics after breaking his right leg, the ad is meant to inspire consumers to get themselves ready.

It's a familiar theme now for the brand, about two years since it rebranded with the launch of "Your Better Starts Here," but the digital engagement in the campaign is an example of how the platform has been evolving to create a two-way conversation with consumers, says Shelley Girard, AVP of marketing and digital at FGL Sports.

For instance, in the lead-up to filming the video for the "Back to hockey" ad, Sport Chek reached out to its social community to find out "If you could ask Steven Stamkos anything, what would it be?"

From those responses, Sport Chek and Sid Lee crafted 12 questions to ask the hockey player during production. Stamkos responded to questions in 12 videos, which currently live on Sport Chek's YouTube channel. People viewing the 30-second ad on YouTube are prompted to discover the additional video content by an annotation titled "Stamkos reveals hardest goalie to score on." The behind-the-scenes videos, filmed while Stamkos was resting during an eight-hour day of off-and-on skating on the treadmill, will also be promoted via digital channels.

"The journey we're on is very much focused toward our digital channel," Girard says. "It's really about gathering unique and relevant content for our customers and finding ways in which to service that to them."

The brand will promote the video through YouTube pre-roll before sports content, with ads on sites such as minor hockey league team pages, as well as Twitter-promoted ads and Facebook-sponsored video ads, along with keyword targeting.

As well, an ad unit on Xbox targets males 18 to 34 with a "click-to-play" option for the Stamkos video. At the end of the video, users will be invited to a branded destination experience where they can download a Stamkos screensaver for their Xbox dashboard.

The TV buy is concentrated on sports channels  TSN and Sportsnet.