Greenpeace greases up Lego toys
The non-profit hawked fake toys covered in Shell oil in Toronto to protest the companies' partnership.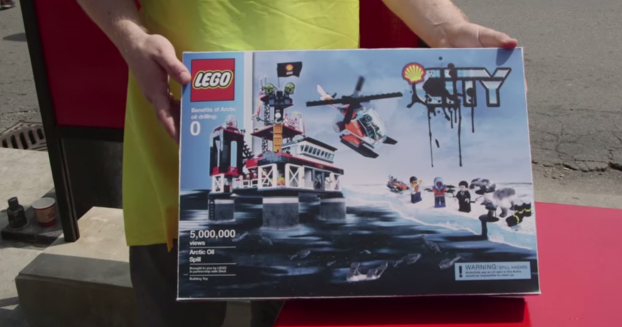 No need to return that box of Lego toys. The deceased polar bear and oil-ridden fisherman you found in its box aren't real Lego toys.

They're actually spoof models, and they made a pretty big point when environmental activists pretended to hawk the fake playthings at Toronto's Yonge-Dundas Square late last week.

The stunt is part of the ongoing duel between environmental organization Greenpeace, oil company Shell and toy maker Lego. Greenpeace launched a campaign against the partnership between Lego and Shell (whereby the oil co logo is seen on some of the plastic toys) in early July of this year with its viral spot, "Everything is NOT awesome," and has since seen related stunts take place around the world.

For example, there have been mini figurine protests all over, as well as an impromptu rebranding of Lego's HQ offices in Prague and a 50 kid-led protest in England.

For the Canadian protest, the Greenpeace team created an entire box set of toys that were stained in oil and even included a deceased animal or two to make it more authentic. Some people, at first glance, appeared to believe the new collection was real, but then became skeptical of what was being shown to them.

There are no plans to take the stunt elsewhere, but if the reaction is positive enough, Alex Speers-Roesch, assistant climate and energy campaigner at Greenpeace, says the organization may pick it up for use in other countries.

"We wanted to do something that would be shareable and entertaining and that could be spread online," says Speers-Roesch. "Instead of having Greenpeace people expressing the concerns we have, we set it up to have ordinary people express their concerns and gave them a platform that's sort of humorous."

So far, both Lego and Shell have kept tight-lipped throughout the campaign, with the toy maker giving minimal statements at the start of the protests, and attributing the issue as being between the other two companies, Speers-Roesch added.

Below is a list of campaign events that have taken place around the world over the past month.

July 1-14 (approximately) – Mini-fig protests around the world.
July 8 - Released the "Everything is NOT Awesome" video
July 16 - In Prague activists hung giant Lego figures off a Lego factory who were cleaning up a giant oil spill caused by Shell (video and news article).
July 17 - In Denmark activists rebranded the entrance to Lego HQ and delivered a giant yellow Lego brick containing 50 white Lego bricks, each representing 10,000 signatures, to Lego's CEO Jørgen Vig Knudstorp (video).
July 18 - Lego's CEO did not accept the signatures on July 17, so activists took the little bricks out of the big one and used them to build a wall blockading the front entrance to Lego HQ (video).
July 19-21 - In Argentina they held a three-day event featuring a huge Lego block, where families could take pictures of themselves with the imagery of the Lego campaign, and sign the petition.
July 20 - In New Zealand Greenpeace recreated a famous occupation of a Shell drill ship involving Lucy Lawless out of Legos (video).
July 21 - Greenpeace tries to deliver a petition with signatures to Lego HQ in London (photo, photo, photo)
July 24 - Greenpeace in Argentina created a Lego "oil spill" outside a Lego store
July 28 - At Lego's booth at the annual Animation-Comics and Games Hong Kong exhibition, Greenpeace had giant mini-figs covering their eyes and ears to represent Lego's refusal to pay attention to concerns about their partnership with Shell (photo, photo, photo).
July 29 - A band of 50 children staged a protest outside Shell's HQ in London by building three massive Lego Arctic animals. With their parents and guardians looking on, they call on LEGO to stop promoting Shell's logo on their Lego toys (video).
July 29 - Greenpeace staged a street protest outside a Lego store in New York (video).