Do these chips taste a bit green?
For its latest round of "Do us a Flavour," Lay's coordinates taste and colour.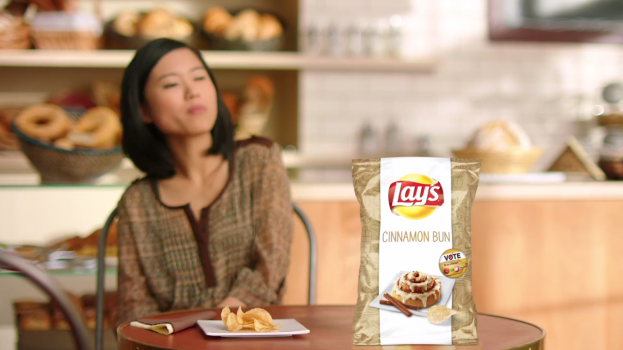 Can you see colour when you taste food? (Seriously, there's a neurological condition called synesthesia that allows people to see colour when they taste food).

Lay's, too, is hoping to build a colour association with flavours for its latest round of "Do us a Flavour," a competition that invites Canadians to submit a chip concoction.

The campaign, officially launched in February for the submission process, rolled into phase two on Tuesday, inviting Canadians to vote for their favourite options (which includes bacon poutine, cinnamon bun, tzatziki and jalapeno mac and cheese).

The TV spot, which rolls out today, is designed to reinforce the colour coordination between the flavour and the bag (i.e. dark brown for poutine, green for tzatziki, etc.) featuring scenery with the same hues, says Susan Irving, director of marketing of core Frito Lay brands, PepsiCo. As people in the scenes (also dressed in their particular colours) go to take a bite of their meal or treat, the item in question "poofs" and turns into potato chips. The colour helps close the in-store loop, she adds. 

"Whenever I talk to consumers and people find out what I do, they constantly say 'I have an idea for you,'" says Irving, on the inspiration behind the contest.

This is an evolution of last year's campaign (maple moose was crowned), which awards the winning flavour with $50,000 and 1% of sales. Last year, focus was about educating consumers about the two phases (flavour submission and public voting). This year, the campaign was focused on selling the taste of the product, asking those wanting to submit what would make a yummy chip. 

To that end, the brand also partnered with James Cunningham, a comedian and host on Food Network, tapping into his association with tasty treats, Irving says.

The campaign, generally, took a "don't change what isn't broken" approach, she adds, saying many of the campaign elements from last year worked very well and were carried forward again this year. Though she wouldn't get into specifics, she says 600,000 people submitted flavours last year, and it grew sales and share for the brand. This year, more than 1.2 million people submitted a flavour.

This time around, the brand is putting more of its efforts behind search as well as a broader approach on social, (including allowing folks to vote on Instagram and Twitter, a first for the campaign).

The new campaign targets all adults, she says, and will be supported by OOH, digital, print (by BBDO), PR (by Praxis) and in store (by MarkIV). BBDO Chicago handled the TV spot (piggybacking on the American creative, which takes the same creative idea), while media was handled by OMD.