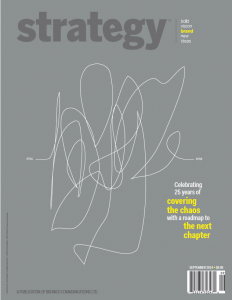 This story appears in the September 2014 issue of strategy.
For strategy's 25th anniversary, or what we lovingly call our silver jubilee, agency creatives were invited to picture the future of marketing and put it to paper (so to speak) for the chance to have it come to life on the front cover of the mag. Dave Watson from Taxi won our hearts and minds with a concept that spoke to the magazine's tenure covering the chaotic ad biz. But here are some other design favourites that, if we could have multiple special anniversary issues, we'd be honoured to have grace our cover.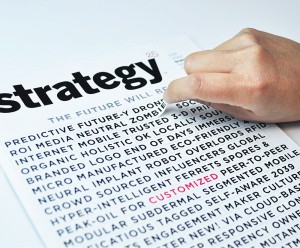 The future will be customized
We won't deny wanting something super sticky for our anniversary cover. Though, we didn't expect to be (literally) glued to an idea. The "Future will be customized" concept by 6degrees, which would have let readers tailor the future of marketing by peeling off and sticking down a sequence of futuristic buzzwords onto the cover flap, is a subtle interactive idea that got the thumbs up. But there were some concerns about people possibly feeling litigious after finding sticky ad jargon in places they'd rather not.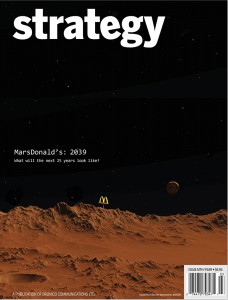 MarsDonald's: 2039
Space is poised to be the future frontier of marketing (check out the story on p. 8), or so this cheeky cover by Zulu Alpha Kilo predicts. There's nothing wrong with "MarsDonald's" setting up shop on the harsh Red Planet, but from the looks of the vacant landscape, business might be a little slow. It's a clever concept that got us lost in space, thinking about what products we'd hawk on a planet about 225 million km away.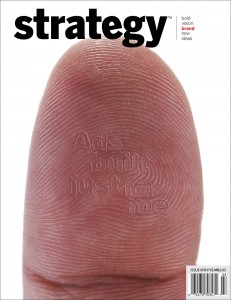 Ads built just for me
We couldn't quite put our finger on exactly why we liked this concept by One Advertising. Perhaps it's because it has credence, given the recent fascination with fingerprint technology or the increasingly popular belief in customization, with brands going to great lengths to leave a (personalized) impression. Whatever it is, we like it. We like it a lot.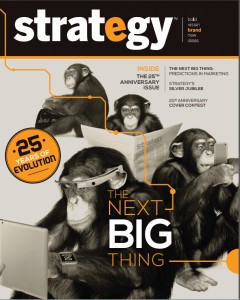 25 years of evolution
We went a little bananas over this cover by Media Experts (and can you blame us? There are monkeys wearing wearables and reading strategy!). We're just not sure if the subtext is monkey business in marketing or if it's a commentary on the AI audience.
Who are the new puppet masters?
The folks over at Union sketched the "puppet theatre of advertising" to demonstrate the state of the industry today. Brands were once thought to be the ones working the strings, but lately, consumers are steering conversations their way. When the creative team submitted the piece, it also posed the question, "Who will come out on top?" for its enigmatic and quizzical cover.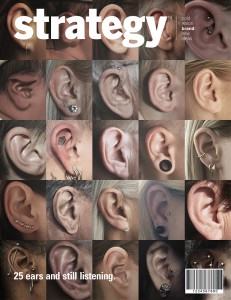 25 ears and still listening
Can you hear us now? The folks over at John St. show that strategy has consistently pinned its ears back to hear what the industry has to say. "25 ears" has a good ring(s) to it, and as you can tell, we've always enjoyed a good pun.