Get ready to walk in her shoes
The Canadian Breast Cancer Foundation and CIBC are sharing a first-person perspective ahead of the Run for the Cure.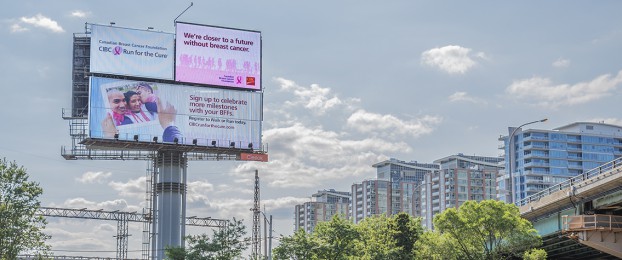 There are a lot of runs and walks these days, making it a difficult task for charities and their sponsors to break through with creative trying to get people to donate.

So for the CIBC Run for the Cure for the Canadian Breast Cancer Foundation (CBCF), Cundari CCO Andrew Simon says the brands involved wanted to get back to the reason behind having the event in the first place by putting viewers in the shoes of someone diagnosed with the disease.

Simon says the work comes out of the insight that a lot of people who participate and donate to the cause have been affected by breast cancer in some way. So CIBC, the foundation and his agency wanted to both "do justice" to that experience but also to present those who haven't been through it with an authentic look at the "full arc" of that experience.

The 2:17 spot is based on the story of Anne Wood, a breast cancer survivor and former media director at Cundari. The spot aired once on the W Network Aug. 23 and now lives on the brands' YouTube channels. It is part of an integrated campaign, which kicked off Aug. 18, that includes social, banners, in-branch ads, OOH and, for the first time, the agency has taken the "Wall of Hope" that is set up at local events (this year's run is Oct. 5) and brought it to life in the digital space. The CBCF YouTube channel and in-branch ads showcase other survivor stories, Simon says.

In addition, the organizers of the event teamed up with WestJet to offer two free round-trip flights to people who registered for the race on Aug. 21, promoting the contest in Metro newspapers as well as with digital banners.

The creative tried to emphasize that while the event is called Run for the Cure, people can participate by walking as well, Simon says, by creating a visual treatment that shows a mix of both.