Corona shines a light on patio patrons
The beer brand is rolling out sunlight-reflecting tech to brighten up shaded terraces.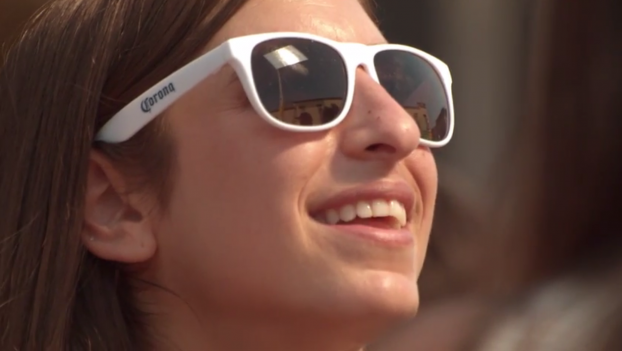 Corona is spreading the sunshine with an experiential campaign targeting consumers trying to enjoy some of the last days of so-called "patio season."
The "Corona Sun Beam" activation launched Thursday at Clinton's Tavern in Toronto involved sun-reflecting technology - a remote-controlled reflector with a surface area of more than 22 square metres was raised 19 metres in the air on a pole attached to a truck – to reflect natural sunlight onto the patio.
It's an extension of the Labatt-owned brand's "Find your beach" tag line, says Becky Lindsey, brand manager, Corona. Another campaign around that this summer involves OOH signs declaring Corona as "Your 5 to 9."
Lindsey says the idea for the sun beam was inspired by the harsh winter and a forecast for a cooler-than-usual summer. The brand and its agencies, including Zulu Alpha Kilo, The Hive and Veritas, started working on the project in early spring, she says. Noting that certain patios become "artificially shaded" early in the afternoon due to the city's tall buildings blocking the sun, it decided to create a way to extend those sunlight hours.
"The core of the idea is about making the most of the summer and bringing people more sunshine, so we are really looking to enhance the experience of people on the patio," Lindsey says. "The role we want to play is to bring sunshine to people's lives."
The brand released a video to coincide with the first activation, which will promote it via its social channels. Lindsey says creating relevant and engaging content people can connect with is a growing focus for the brand.
There'll be more activations at other locations, but Lindsey would not disclose which bar patios can expect to get some added sunlight next.
While Corona is trying to extend summer, another brand campaigning this season took the opposite approach recently. McDonald's and agency Cossette used motion sensor-activated blinds to shade customers in bus shelters while promoting the brand's peach smoothie.