Future-transforming ideas: health care 2.0
We wrap up our innovation series with visionary health tech.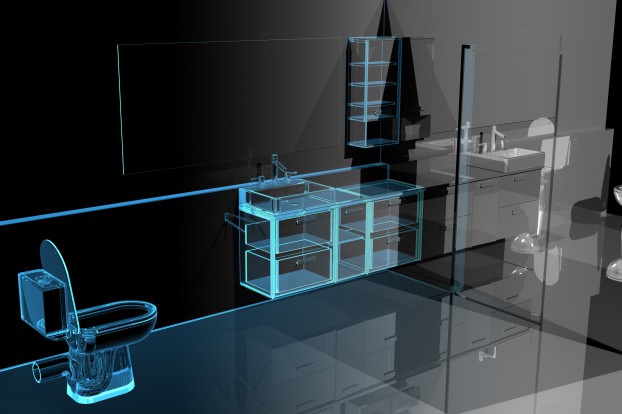 This online exclusive is an extended part of a story that appears in the September 2014 issue of strategy.
With tech advancing at light speed, the limits in product innovation are being pushed faster than you can say 3D-printed food. And with new tech comes new opportunities, so we asked some creative minds (from inside and outside the industry) to come up with an idea for a new product or service a Canadian brand could produce. For inspiration, they were directed to the Cannes Lions and San Francisco-based AKQA's Future Lions global student creative competition, which challenges entrants to create an idea that connects an audience "to a product or service from a global brand, in a way that wasn't possible five years ago."
Today, we wrap up our series on ideas ranging from a closet that handles all your laundry needs to a virtual zoo. (Catch up on any installments you might have missed at the end of the story.) Who knows, perhaps these brands will take note and develop these ideas into products. It could happen sooner than you think.
Bracelets that count
By Danny Brown and Jennifer Blais 
Everyone has heard that the Canadian population is getting older, but did you know StatsCan projects that more than 10 million Canadians will be over the age of 65 by 2036? That's nearly one-quarter of the entire population. As individuals age, their health-care needs increase, which means a significantly expanded need for public health spending, wellness support systems and evermore highly-advanced extended care facilities.
Many experts consider wearable tech to still be in its infancy. But the last five years have brought huge technological leaps to the health-care and medical wearables category. Breakthroughs in miniaturizing sensors and processors have already happened, and, now, the advent of rechargeable solid state batteries combined with solar-power harvesting or wireless-charging will make these devices safer and increase their uses exponentially. These new power solutions are small, thin, self-recharging and never need replacement.
We imagine a small, flexible cuff designed by a software provider like Logibec in Quebec and worn by health-care facility patients that would have myriad features, such as the ability to closely monitor vital signs (like body temperature and heart rate), as well as a simple but much more complete way of making patient history privately available to medical staff, using tablets and wireless connectivity. This technology solution could reduce treatment errors, improve the accuracy, accessibility and efficiency of patients' medical histories, and help make health-care services more responsive. The device could also be used to increase compliance in treatment programs using haptic feedback, or text-based alerts to associated smartphones or tablets.
The cuff will also have sensors providing caregivers up-to-the-minute data on patient location and accelerometers that would indicate anytime someone had taken a fall to increase patient safety. Combined with facility improvements to way-finding, the device could also help users to maintain independence – patients with deteriorating abilities (or who had simply forgotten their glasses) could be helped with RFID-triggered guidance such as coloured arrows projected on the floor or spoken instructions. The data set generated by all the users could even be studied for its predictive value and help professionals discover harbinger symptoms even before the wearer is aware of anything amiss, offering the possibility of earlier and less invasive treatment options.
This system would be highly responsive to patient needs, improve medical efficiency, decrease the margin of error and ultimately, lower cost for public health in general.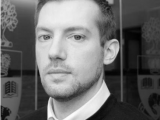 Danny Brown is marketing manager and Jennifer Blais is a volunteer at Rethink Sustainability, a not-for-profit with the goal of optimizing sustainability and innovation for both business success and societal improvements
A healthy bathroom 
By Julie Miller and Miguel Brovhn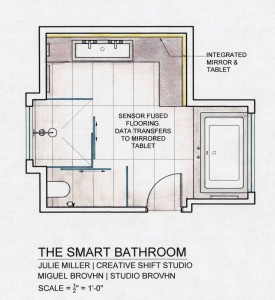 A bathroom in the home is the first room a person steps into upon waking up. It is the hub of personal organization as one prepares themselves for the day. Many people start their daily routine in this room and fuel themselves with ideas and creativity, making it the ideal space for redevelopment. Bathrooms have been upgraded in their physical appearance but never in function.
The smart bathroom will be a room with integrated technology designed to guide and organize the health goals of a person or family. Barefoot contact to sensors fused into the flooring will measure a person's vital stats and transfer information into the built-in smart tablet. The flooring system will calculate and track the health of each family member just by their presence in the room. The seamless design will provide a simple and easy method to record personal health data such as weight changes over time, body fat and heart rate. Additionally, it can be used to track water usage. The bathroom will connect to an exercise tracking device to bring outside information home. Reading this information will be effortless on the integrated smart tablet as one gets ready for the day.
Lululemon Athletica's passion for health and wellness extends deeper than yoga clothing. They educate their customers on healthy living and community involvement.
The clothing company's expansion into a home technology system would be a natural fit as it would be able to connect its customer's goals to a better understanding of their health. This product will allow Lululemon to help guide clientele in their fitness goals from the morning into the day. In our ever growing and complicated world, this technology helps organize and document one's lifestyle in order to make changes and improvements.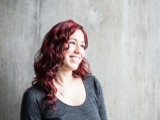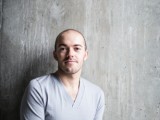 Julie Miller is owner of Creative Shift Studio and Miguel Brovhn is the owner of Studio Brovhn. They are members of Modern604, a collective of design creatives based in Vancouver.

Feature image via Shutterstock

Missed the earlier installments of the series? Catch up on the gamified winter coat, smart shopping carts and vaults, feel-good innovation, paths of less resistance, inroads into fashion, the evolved zoo and harnessing emotion and energy.