Throwback Thursday: strategy in 2003
For strategy's 25th anniversary, we look back to '03 when marketers prepped for war and PVRs confirmed industry fears.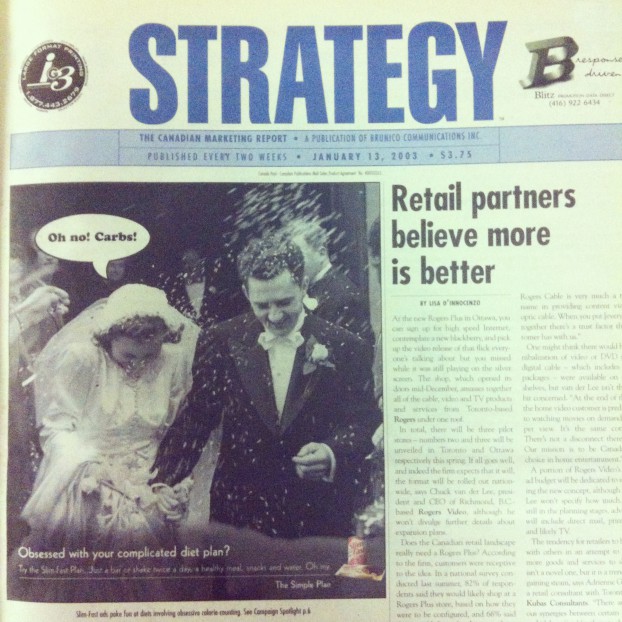 For strategy's 25th anniversary, we're travelling back in time, flipping through the pages of old issues to highlight some big news you may have forgotten, trends you wish you'd had a crystal ball to predict and marketing issues that never seem to change. Check back next Thursday to pick up some valuable insights into Canadian marketing history. This week, we tackle 2003.
Hot or not? Technologies that made headlines
Harnessing the new TV Jan. 13, 2003
Back then, we called TV an "abstract concept."
And you probably did too when new ways for viewers to control what they watch, when they want, arrived in Canada — this was around the time when VOD and PVR popped up and began making networks, like Cogeco, Rogers, Bell and Vidéotron, nervous and react with their own broadcast distribution undertakings. This was also a time when videogame consoles were planning to go beyond just gaming to allow console owners to download music and video on demand.
Ian MacLean, VP of Media Experts iTV Lab at the time, wrote in a column on the new personal recording technology: "I have come to regard life before PVR as a distant and primitive period."
CDs that spy Jan. 27, 2003
No, the industry wasn't getting creative directors to gather consumer intelligence by spying on them. We were actually referring to compact discs (you remember those, right?). A company called Bandlink CD Intelligence had software that could be embedded on artists' CDs, from Whitney Houston to TLC, and which users could be prompted to download when they pop the CD into their PC. They could then instantly gain access to artist and tour info, interviews, videos and photos. The software would also provide marketers real-time data on who and how many people were listening to the CD at any given time, as well as other useful intel.
DVDs: The Next Big Thing? May 5, 2003
Lego was doing it, as was Rogers, AT&T, Radisson Hotels and Pennzoil. These brands were all eagerly cross-promoting their products via DVD releases in an effort to increase awareness, drive sales and simply test new marketing channels.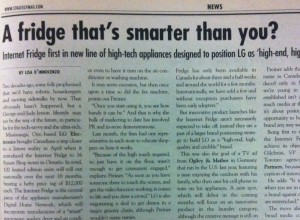 A fridge that's smarter than you? June 2, 2003
The future Internet of Things is actually something of the past.
"Two decades ago, some folk prophesized that we'd have robotic housekeepers and moving sidewalks by now. That obviously hasn't happened, but a George-and-Judy-Jetson lifestyle may yet be the way of the future, in particular for the tech-savvy and the ultra-rich."
LG Electronics launched the "Internet Fridge" in Future Shop stores in Ontario, which bore a hefty price tag of $12,000 each. "The Internet Fridge is the central piece of the appliance manufacturer's Digital Home Network, which will incorporate introductions of a 'smart' microwave, washer, dryer and air conditioner in the next year," we wrote.
Does SMS marketing work? May 19, 2003
Sure, text messaging was fast becoming a regular thing for phone users. But was it something marketers could capitalize on?
"Early returns show some success but its complexity makes text messaging hard to harness," we wrote.
What was on the industry's mind in '03?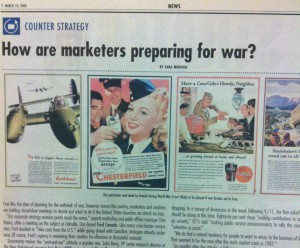 How are marketers preparing for war? March 10, 2003
"The patriotism card dealt by brands during World War II isn't likely to be played if war breaks out in Iraq," we wrote in a caption beneath images of Coca-Cola, Chesterfield and Studebaker featuring military folk in their ads.
This challenge facing brands during a time of imminent war was deconstructed by industry experts, with Lindsay Meredith, professor at Simon Fraser University, noting that the Bush administration didn't have much support from the rest of the world, which he predicted would result in less patriotic advertising.
"Today, media have basically turned the world on its ear. That makes it very difficult for advertisers to exploit any particular angle of the 'war routine' this time…One brand of player who could possibly get away with playing the opposite card is United Colors of Benetton, but that's a very, very different niche. For anyone else, I wouldn't be playing this card at the moment."
Strategy's editor at the time, Duncan Hood, wrote his March 24 editorial on the icky "inappropriateness" of worrying about "trivial side-effects, such as how ad creative and ad spend will be impacted" and whether "side-stepping the issue is the right strategy."
TiVo data confirms worst fears Sept. 22, 2003
In came PVR, and out went advertisers' confidence in running primetime ads. The U.S. company confirmed that by giving viewers the ability to save, pause, rewind and skip ads, the most "desirable time available – that which is embedded in primetime appointment programming – is that most likely to be skipped."
Burgeoning categories: Beautify on the cheap
The promise of pearly whites March 10, 2003
The arrival of teeth whiteners meant Canadians were forking over less cash at the dentist's office. And with any new emerging category comes a myriad of competitors, all gunning for the consumer's attention, and in 2003, we found marketers were focusing on "product innovation, dental professional endorsements and public relations tactics" to get noticed.
'Dermocosmetics' harness Botox hype June 16, 2003
"Plastic surgery is out of the closet. No longer the exclusive domain of the pampered rich and famous, we now have bus shelters pushing Botox and liposuction ads in the yellow pages."
Watch this space
BMW launches 'living billboard' Feb. 10, 2003
As the saying goes, if you can't take Mohammed to the mountain, take the mountain to Mohammed. BMW pretty much did just that when the car company constructed a six-storey dealership near Toronto's DVP, where 100,000 cars drove each day. It was essentially a showroom in the sky.
We wrote, "The 'visitors' are passing motorists, and while they won't have a chance to sit in the leather seats and kick the tires, they will get a good look at actual BMW models thanks to an ingenious showcase enclosed in 'crystal clear glass' on the fourth and fifth floors of the building."
The more things change…
Movie tie-ins grow up June 30, 2003
"So you saw Down With Love, the comedy flick in which Renée Zellweger and Ewan McGregor recreate the Technicolor heyday of Doris Day and Rock Hudson. And now you think you're going nuts because you seem to be seeing perky, '60s-garbed Renée/Doris look-alikes walking up and down the streets.
"Relax. It's not a fantasy. It's the manifestation of a ground-breaking deal between 20th Century Fox and the Le Château clothing chain."
Sound familiar? That's because you probably also noticed the streets dotted with fashionistas wearing pieces from the Man Men collection at Banana Republic a few years later.
Big box goes downtown Dec. 1, 2003
"As you read this, the likes of Future Shop, Costco, Home Depot and Rona are moving downtown, and they're doing it by retooling everything they stand for. The warehouse-style retail chains are introducing new environments to cater to the time-pressed, space-deprived downtowner, with a particular emphasis on service, convenience and an urban-friendly product mix."
Wait a minute, haven't we heard this before?
Agency news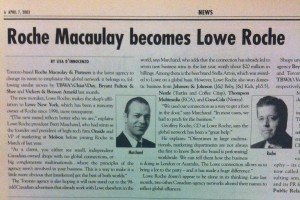 Roche Macaulay becomes Lowe Roche April 7, 2003
Seven whole years had passed since Lowe New York become a minority owner of the agency. Finally, the agency changed its moniker to include Lowe and dropped Macaulay to show the independent's connection to a global shop. "This is a way to make it a little more obvious that [marketers] get the best of both worlds," said Brett Marchand, Lowe Roche president at the time.
Opening shop in the 'land of the brave' May 19, 2003
A couple agencies flew south for the summer of '03.
Toronto-based Gee Jeffery & Partners launched an office in San Francisco, and Montreal's Cossette Communication Group was found snapping up agencies in New York.

Jumping on the health bandwagon
Lululemon: Building the brand from the ground – yoga mat – up Jan. 13, 2003

Right place at the right time: When we wrote about Lululemon's 15-store expansion (10 in the U.S. and another five in Canada), project manager Michael Penalosa at Thomas Consultants noted that the yoga wear stores arrived at a time when "yoga became huge" in culture. He went on to say Lululemon was a quick success because, "Health is a major issue [now]. People are eating better and eating organic foods. Even higher-end specialty grocers like Dean & Deluca have increased market share because people are more aware of well-being."
Weight loss category evolves to fit lifestyle trend Feb. 24, 2003
Health Canada had just implemented mandatory nutrition labelling on most foods, and brands were reacting to consumers' interest in being fit and eating healthy with new products and marketing strategies and campaigns, with Kellogg positioning Special K with the tagline "Keep it Simple," which spoke to women's mindset at the time.
Pascale LeBlanc, of Toronto's Youthopia, said at the time, "If you take care of yourself, you don't need your palm pilot to calculate every calorie that you put in your mouth. With Special K, it's more of a 'baby steps' mentality rather than the extreme measure to look like a cookie cutter image."
Health trend drives growth in sizzling sandwich category Aug. 25, 2003
We had pundits Lance Martin at Taxi Toronto, David Saffer at Secor Consulting, and Fred Roberts at Cundari weigh in on the marketing strategies of Tim Hortons, Subway and Mr. Sub, with many of them tapping into the healthy fast food trend.
Creative Report Card
And as always, we'll wrap up our time travel with the top creative agencies, brands and creatives who graced strategy's annual Creative Report Card.


Want more strategy Throwback? Catch up on the headlines from 1989, 1990, 1991, 1992, 1993, 1994, 1995, 1996, 1997, 1998, 1999, 2000, 2001 and 2002.