Ronald McDonald House gets (holo)graphic
The charity launches a "magic room," complete with a smart, 3D-projected beaver that controls animated walls.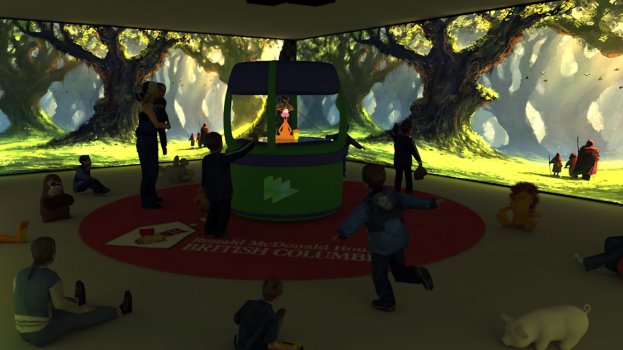 So far, holographic rooms have required iPads or virtual reality headsets. But a new project by the Ronald McDonald House and H+Technology could get us a step closer to a true holographic experience.

On Sept. 10, the non-profit organization is launching its new immersive room for kids to go play in, featuring a holographic projection of a beaver in the centre of the room.

The beaver is smart enough to interact with kids (albeit on a very limited basis), asking them to hand him a toy if they want to see some magic. There are eight toys in the room, and each one activates a distinct animation on the walls, says Andrew Jackson, marketing director at the Vancouver-based tech company.

The charity, which offers accommodations near hospitals to families with sick children, approached the tech company a few months ago to create a "magic room." Though not the first "magic room," these play spaces for kids have traditionally included arts and crafts.

Though a true standalone hologram is, as of yet, impossible, the 3D beaver is created by projecting images into a glass pyramid. Motion sensors and object detection mechanisms allow for the interaction with the kids. The next phase of the program, recently approved by the board, will include additions such as sensors on the walls that will let children control the animations, such as allowing kids to pop the photos of bubbles or make music by touching images of plants. (Check out Moment Factory's similar execution in a children's hospital.) 

Though this particular execution was for a non-profit brand, Jackson says this type of technology would be ideal for any brand wanting to create an immersive experience and has unique content to deliver.