Orville pops up a mobile movie fest
Tired of huddling around a friend's smartphone? The ConAgra brand found a cheap and cheerful solution.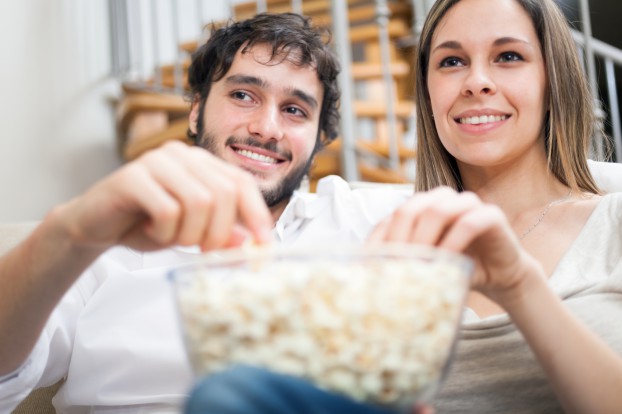 With people consuming more and more video content on their smartphones, Orville Redenbacher has come up with a fun way to make sure popcorn is part of this mobile viewing experience.
The ConAgra Foods-owned brand, working with agency Blammo, came up with a cheap, cheerful and portable solution, which it will be unveiling on Thursday: the Pop and Play projector. Essentially a cardboard shoe box with a lens at one end, the projector makes it possible for people to display smartphone content against a surface so that a group can watch together and presumably enjoy some popcorn while doing so.
To lend some artsy cred to the idea, the brand and agency are hosting a "Mobile Movie Showcase" on Thursday night on Pearl Street in downtown Toronto, a short walk from the TIFF Bell Lightbox. Orville Redenbacher is not an official sponsor of the Toronto International Film Festival this year.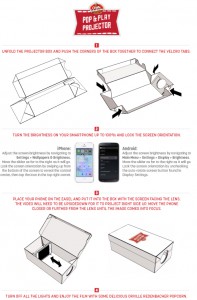 It's an experiential extension of the brand's overall campaign that's putting a focus back on pairing popcorn with entertainment and pushing Orville's ready-to-eat variety of popcorn, says Harminder Singh, senior brand manager, snacks category, ConAgra Foods.

"The root of the brand itself is the fact that Orville popcorn consumption does happen during movie viewing," Singh says. "With TIFF happening, it lined up perfectly for us to use it as the prime time when there is high energy and high awareness of movies happening."

The projector giveaway follows the "Orville Experiment," when the brand split a theatre in half, giving one half popcorn and the other water, to show that people eating popcorn enjoyed the movie more. Both ideas, along with last year's "The World's Most Entertaining Coupon" campaign, are about reinforcing how popcorn enhances entertainment, says Michael Murray, CCO at Blammo, who calls the projector campaign "a bit of fun."

The "Mobile Movie Showcase" will be promoted via the brand's social channels while ambassadors will hand out a flyer that looks like a movie ticket to passersby in the area, leveraging the energy of TIFF.

The eight films, each a minute long, include Morning Beats by Alan Travers, Bonaparte & Donatello by Aurelien Fernandez and A Short Love Story in Stop Motion by Carlos Lascano. Orville is constructing a gallery-like space on the street where visitors can gather around a projector and view each film, as well as receive their own projector.