NFB launches merch line with Roots
How the National Film Board chose a partner for its first-ever licensing deal.
The National Film Board of Canada (NFB) doesn't make films to sell merch around, says Claude Joli-Coeur, acting government film commissioner and chairperson, NFB. But, in the current times, finding licensing deals that "make sense" will become a bigger part of its marketing and financial repertoire.
So to kick things off, the film board partnered with Roots to launch its inaugural licensed line of T-shirts, taking characters from popular archival animated shorts The Sweater (pictured) and Log Driver's Waltz. 
The NFB already carried a small line of clothing and there were requests for more, he says. Though the NFB had been approached previously to license its films, it had always turned brands away, Joli-Coeur says. This time, it approached Roots for the partnership, attracted by the iconic "Canadianess" of the clothier.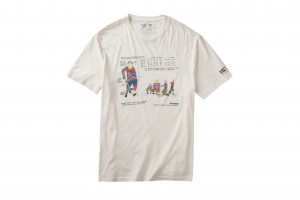 He says the partnership fits within the board's government mandate to "reflect Canada and matters of interest to Canadians, to Canada and the rest of the world through creating and distributing innovative and distinct audiovisual works…"

Beyond the fact that the clothing will be made in Canada – something that was important to the NFB – both brands stand for quality products, and Roots wanted to create and sell products around the two films, rather than use the animated characters to sell something it already carried (such as another brand putting the characters on its existing cereal, for example) he says, which helped seal the deal.

Joli-Coeur wouldn't divulge the value of the licensing deal, but says it was industry standard.

For its part, Roots saw this as an opportunity to support a Canadian cultural icon, says Syd Beder, senior director of merchandise, Roots. Recently the brand has ramped up its Canadian cultural collaborations, including a recent partnership with Douglas Coupland and a licensing deal with Group of Seven artist Tom Thomson's family.

It's important for the brand to really tap into the Canadiana, he says, as it is something that is baked into its DNA.

The collection will run on a trial basis across 31 stores. However, there is a chance for a bigger partnership depending on how well the line does (something Joli-Coeur says he's very hopeful for). Launched last week during TIFF (tapping into the cinephiles' attention around films), the shirts have already become best sellers, says Beder, meaning there's a very strong possibility of an extended partnership.