Two Best of Show prizes awarded at PROMO!
Check out who picked up the top honours at last night's award show, honouring the best in brand activation.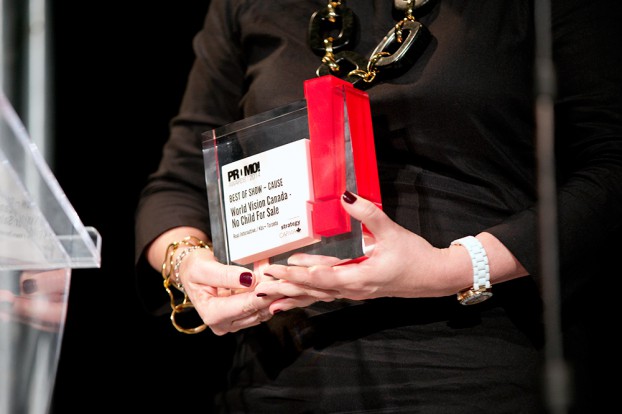 Part of this story appears in the October 2014 issue of strategy.
The creative crème de la crème of Canadian brand activations were recognized at the PROMO! Awards in Toronto tonight. And although, in most cases, there can only be one big winner, this year the jury panel found two campaigns, commercial and cause-related, worthy of the Best of Show title. One of the top awards went to Canadian Tire and Taxi for their "Ice Truck" execution, while the second was given to World Vision and its agencies Real Interactive and KBS+ for the "No Child for Sale" campaign.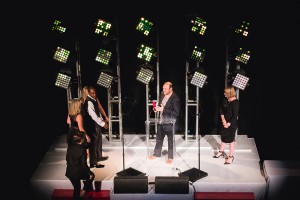 Not only did World Vision and its agencies (pictured left) walk away with the Best of Show trophy, they also picked up two Golds and one Silver prize for creative that juxtaposed scenes of North American consumerism with that of children being sold into a life of slavery in developing countries. For instance, in one TV spot, scenes of a young child playing with and being comforted by a soft, pink blanket is suddenly cut to a contrasting scene where another child is shown, as a slave, sewing hundreds of the same pink blankets that are eventually sold to families in North America.
Canadian Tire and Taxi (ECD Darren Clarke pictured right) also walked away with a second prize for the campaign that showcased a car made almost wholly of ice, save for the engine and battery — they also went home with a Gold trophy in the Best Brand Building category. The campaign has made its rounds in the awards circuit, picking up a few AToMiC Awards and receiving a nod at Cannes earlier this year.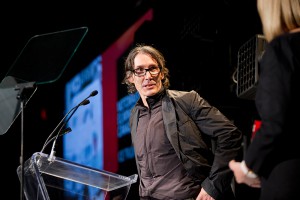 Quite a few other Taxi-created campaigns picked up numerous hardware. The "Rib Stain Camo" T-shirts created for Boston Pizza, which has also won prizes at AToMiC and B!G, won a Gold and a Silver at tonight's awards. The "Priceless Bat," also led by Taxi, picked up a Gold and a Silver. The app, created for Louisville Slugger and its Canadian distributor Lanctôt Ltée, turned a user's smartphone into a bat and a computer screen into the playing field. Users could then swing their phones toward the screen and attempt to hit the virtual ball being thrown by a youth on the field.

Also, Mio and Taxi were awarded two Silvers and a Bronze for "Squirt Some" — a campaign which won a Gold CASSIES award last year, and helped to launch the concentrated liquid water enhancer with off-the-wall videos that went viral and grew the category substantially. And finally, the "Shamefully Good" campaign for another Kraft-owned brand, Kraft Dinner, included out-of-home ads that featured individuals who didn't quite fit in with our idea of the typical KD consumer.

WestJet's "Christmas Miracle: real-time giving" video that made global waves around the holiday period last year, picked up three Golds at the show. The video, which has more than 36 million views on YouTube (that's just a little more than the population in Canada), showed travellers being given Christmas goodies, big and small, by the airline upon their destination. Agencies Studio M and Mosaic orchestrated and promoted the stunt.

Walking away with two Golds, Magnum's "Pleasure Store" (which was also created by agency Mosaic) opened its doors for a limited time, giving ice-cream enthusiasts the chance to create their own customized Magnum bar (with 21 flavours to choose from). And lastly, Mosaic also took home a Silver and a Bronze for "One Source," the launch of the Xbox One, while TraffikGroup took home a Bronze and two Silvers for the same campaign.

Leo Burnett also took home a stockpile of PROMO! Awards, picking up a Gold and Bronze for Raising the Roof's "Repackaging Help," a Bronze and Silver for AMC's "The Walking Dead Rotting Finger Countdown," a Silver for Yellow Pages' "Highlight Your Hood," as well as a Bronze for the Yellow Pages' "Dog Park," another Bronze for Earl's Restaurants "The Steak Redemption" program and one more for TD Bank's "Dear Mortgage." Many of Leo's PROMO!-winning campaigns also picked up awards at strategy's Shopper Innovation Awards earlier this year, such as the packaging for Raising the Roof's beanies that showed people where their donations were going, and the Yellow Pages' execution, which showed people they could find anything they need in the city using the directory's app.

As for Cossette, the agency took home Gold and Silver prizes for its "Minute of Silence, Minute of Hope" campaign for Amnesty International. The outdoor activation placed images of child soldiers in war-torn countries, with a message on the ground. By looking down at the writing, viewers bowed their heads to take a moment of silence for the lost souls. Cossette also took home a Gold for its work on Chevrolet Spark's sponsorship of Osheaga 2013, two Bronze awards for the Royal Canadian Mint's "Heart of the Arctic" and a Silver for Aeroplan's "Member Milestones."

Meanwhile, Zulu Alpha Kilo took home a Gold and Silver for the "Day of the Dead" packaging it created for Corona, while the "Kringl – Proof of Santa" app (which helped parents show their kids a virtual Santa in their living rooms using their phone) took home a Silver prize, and the agency's "Moment Zero" campaign received a Bronze award.

Other prizes given out included: a Gold for Lg2′s "Walk Off the Poutine" app; a Silver and a Bronze for North Strategic and Sport Chek for the launch of the West Edmonton Mall flagship store, as well as its "Social Flyer"; a Silver for MacLaren Momentum and Chevrolet's "Road Coaster"; a Bronze for Anomaly and Bud Light's "Sensation" party; a Bronze for La Carnita and OneMethod Digital + Design's "Dos" event; a Bronze for Dove and agency Bob's "Self-Esteem" project; a Bronze for Huggies' and Geometry Global's "Room by Design at Walmart"; a Bronze for Ariad Communications and Free the Children's "We365″ app; and one more Bronze for TrojanOne's and Hot Wheels' "Camaro-matic Trending Machine."

Click here to read all the cases and watch the videos. 

Photos by Ryan Walker (ryanwalkerphoto.ca)