Tim Hortons' evolving approach to 'True Stories'
Strategy got the skinny on the brand's latest experiential stunt - a transformed home in Calgary - and how this marks an evolution in the iconic campaign.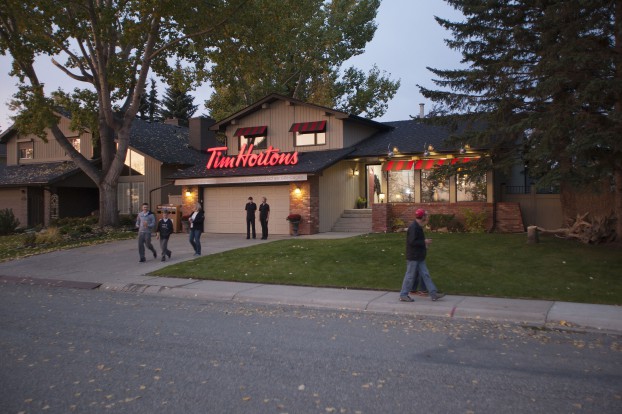 Tim Hortons has a hiring problem. The QSR needs to hire 5,000 workers – 2,000 in Alberta.
Back in 2008, the brand set up a one-day recruitment fair, a giant hiring blitz, complete with in-store interviews and messaging around its efforts. "What we learned from that was, these one-day fairs – they don't work," Doug Gunn, director of regional marketing, Western Canada, Tim Hortons, tells strategy. "At the end of the day, everyone does job fairs, everyone does hiring fairs. You've got to think outside the box."
So for the latest campaign, the brand and its recruiting ad agency Taxi 2 decided to think really out of the box…or store, rather.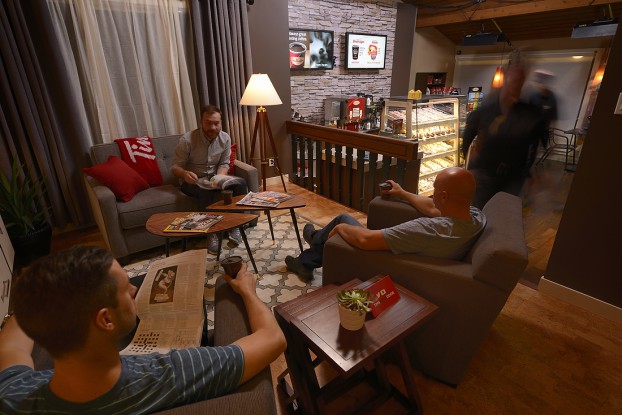 Yesterday, for one day, the brand turned a suburban Calgary home into a local Tim Hortons, inviting the neighbours by for a treat. The brand loaded up its iconic signage on top of the house, set up a counter inside, and instead of a drive thru, offered folks a "walk thru."
"Our core [brand] DNA is that we're about the community," he says. "And we're about the neighbourhood. But we're not just neighbourly – we're your neighbours."
And from that insight, the idea was born, says Jeff MacEachern, ECD at Taxi 2. "Nothing says we're a part of your neighbourhood like actually being in the house next door. We wanted to give people an opportunity to come in and experience the brand first-hand. Talk to team members over a coffee, see what opportunities await at Tims."
The campaign started to pick up steam, getting coverage on local news channels and BuzzFeed and trending on Twitter. The stunt drew in crowds from around the city, Gunn says, and the result has been amazing. (He adds that though they had hoped for the campaign to get pick-up, he never expected it to be as successful as it was).
Of course, he says, getting buzz for a single-day activation, while nice, isn't the end goal of the house. The brand and agency shot real staffers talking about their experience working at a Tims, with the video going online on Friday. The video will be seeded out o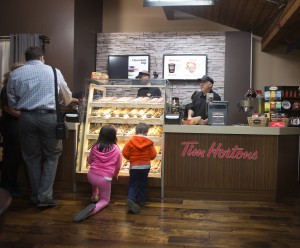 n the brand's own networks, with a call to action to direct folks to Workattims.com. This is designed to be a grassroots campaign that lets team members speak to their own experiences.

The campaign will be supported largely through social media, he says, though regionally it will include in-restaurant, digital and print ads largely targeting the 125 regions across Canada that are more in need of staff. Though the need to support recruitment efforts will be underway "forever," this particular campaign will be in market until the end of the year, he adds.

Tim Hortons has shifted its attention towards these stunt-driven campaigns. Recently, working with AOR JWT, the brand created a Dark Roast launch featuring a bunch of Quebecers venturing into a completely blackened-out Tims, while earlier this summer, working with digital AOR OgilvyOne, the brand recreated its original location in downtown Toronto to celebrate its 50th anniversary. The videos garnered 2.6 million and 1.2 million hits, respectively.

The brand, which is well known for its touching Tims "True Stories" spots (featuring Canadians going to great lengths to get a cup of joe or bond over Tims), is shifting more towards these social stunts, said Peter Nowlan, chief brand and marketing officer at Tims, in a previous interview with strategy.

"I think this is a natural evolution of the 'True Stories' campaign as we start to tell true stories that are experiential and that consumers can experience," he says. Of course, he adds that the "True Stories," which were a huge part of the brand's '90s and '00s marketing repertoire, will continue on.