It's all in the wrist
New tech from Montreal-based Intellitix provides interactive experiences at events.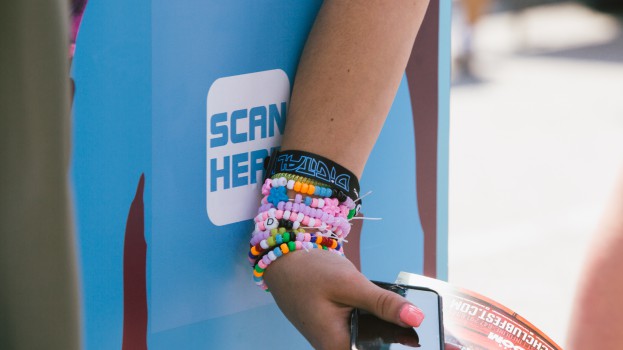 Serge Grimaux believes the days of disruptive advertising are numbered. In fact, the company he founded in Montreal is developing technology that may hasten that day. Look no further than this past weekend at the Ryder Cup golf tournament in Scotland or the TomorrowWorld music fest in Atlanta.

In both locations, people wore special RFID wristbands developed by Intellitix that allowed them to take part in activities, like a golf simulator, and share their experiences instantly on social media. And in the case of the music fest, the bands replaced cash, letting festival-goers load money on the devices beforehand so they could leave their wallets at home during the weekend-long event.

But most important for brands sponsoring the events is the ability to deliver content that's relevant to consumers.

"Interruptive marketing is slowly fading away to make way for a less rational-brain approach to a more emotional-brain approach," says Grimaux, CEO of Intellitix. "If you are able to know what it is that consumers would like to know and other things they would like less, you can suggest them something instead of imposing something on them.

"The moment you suggest things to people, it becomes much more permissive, and the strength of that is amazing."

Take, for example, an execution at the Bonnaroo music festival in 2012, where 22 so-called "Live Click Stations" were installed around the festival. By checking in with their wristband at each performance, the set list would automatically be posted as a Spotify playlist on their Facebook wall, allowing their friends, and later, them, to enjoy songs from the performance.

This type of interactivity resulted in more than three million likes and comments and 200 million page impressions from the festival, according to Intellitix.

In Toronto, the technology was used to create virtual currency at the Taste of Toronto Food Festival by letting people pay with a simple swipe of a pre-loaded card. Also this spring, the technology was used at the Bud Light Digital Dreams Music Festival, as a mandatory security feature and payment system. But it also allowed attendees to check in to brand "activation areas" to receive relevant content, and use the app to customize their festival schedule and easily share it with friends on Facebook.

Grimaux says while the tech has been used with wristbands and cards so far, "the medium can be anything." For instance, his company is working with a football club in Europe to test putting the RFID chips into the jerseys of the clubs' fans.

At events, the bands can replace traditional forms of using tickets or vouchers and, Grimaux says, guarantees people can receive their unused funds back – something that is difficult and time-consuming at best and sometimes impossible with paper vouchers. He adds that the technology could be used anywhere there is a public gathering, including conventions for professionals like orthodontists.

"There is a chance there to attract someone to eventually give them a business card, but having that person engaging with it once they are back home or at the office is a hell of a task," Grimaux says. "It becomes much easier where if I like something and I want to know more, I can tap that thing and automatically receive in my email address the link or information I wanted to have."

Grimaux says there are opportunities for retail partners to extend engagement pre- and post-event by allowing people to redeem virtual credits from a festival. His company currently employs 26 people, Grimaux says, but he expects it will have more than 100 staff members in 2015.