Ad Week: Why failure is necessary – and good
Storytelling lessons from Kevin Spacey, the new internet-giant era for agencies and the need for bravery all around.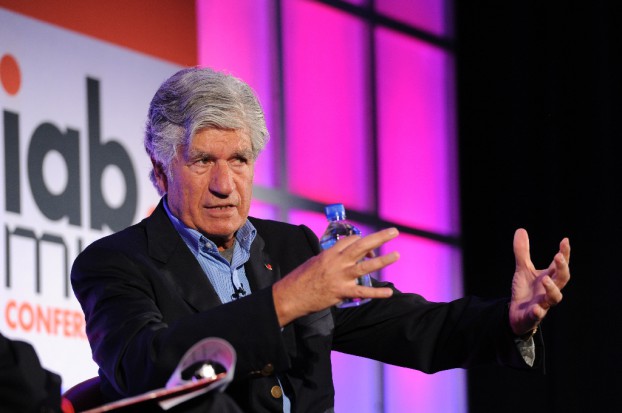 New York - In a fitting end to a deep dive into the future of digital marketing, the two-day IAB MIXX Conference closed its 2014 Ad Week run with a call for more courage. 
Maurice Levy, CEO of Publicis, spoke (charmingly as always) about what's next and how agencies and creatives need to change. On the topic of data, Levy sees the good and the bad. He believes in the future, as marketers send much more info through mobile, it "will become a nightmare for consumers." But on the flip side, what will be beautiful in the future is people will be able to sell products from a small village in Greece.
When asked what he means by saying that Publicis can become more like an internet company, he responded with an example of the urgency to be in that mindset. "The minute the plane landed, everyone immediately was on their phones," he said. "We have to evolve to understand the internet world, to blend the science with creativity…when we bring them together, it will lead to a different type of company." The old model of creative strategy and media process? "Finito."
Levy predicts traditional, full-service advertising agencies will be both collaborating and competing with digital media companies. "We will see more and more collaboration and partnering with Facebook and Google…I hope they will give us some water when we're crossing the desert." He foresees more agencies developing deals with companies like Adobe and AOL on video and mobility.
When asked his advice for young people entering the business, Levy said his advice hasn't changed since the 1970s: be true to yourself, try to do what you believe in and if you fail, it's not that important. His theory is playing it safe doesn't lead to big wins.
Kevin Spacey: Blazing our own tales
Screens-of-all-sizes icon Kevin Spacey took the stage as the closing keynote at MIXX, and showed a crowd of crowd-pleasers how it's done as he displayed disarming humour, storytelling ability and an astonishing knowledge of the business, working ROI, purchase funnel and SEO into a joke with the punchline "Yeah, I know your fucking terms."

Spacey contends it has long been a myth that making good content is a crapshoot. "We know how to make good content. We know how to tell a story."

Spacey says since technology has given birth to a cornucopia of gadgets and given audiences more control over what they consume, "it has made our job that much harder." To combat that, "we need creative courage. The greatest success and rewards as storytellers is in blazing our own tales."

Spacey raised the buzzword of the year, "authentic," acknowledging it's become hackneyed, but stressing that for content to work, "it needs to be construed as true." He explains that since we live in a world where everything we encounter has been prefabricated for consumption, if it's not ringing true, "people have been fed treacle for so long they can spot it a mile away."

He cited his own series House of Cards as an example of the rewards that come with creative courage, and the fact that in the new content spaces, creatives have more control than ever before. Explaining that Netflix's two-season order gave them enough time to let the characters play out, and since they weren't playing in the Nielsen-controlled world, they weren't forced to compromise the story.

But even without notes from the network, Spacey acknowledges that it "takes courage to stick with creative vision," adding he's seen a lot of great ideas watered down. But pointing to the fact that the hits are now coming from braver, non-formulaic concepts – and the fact that "anyone with internet and an idea can have an audience" – he advocates content mold-breaking. "We must make no assumptions about what viewers want," adding that even failure has value – "the more we try new things the more we learn about our audience."

Observing that "the audience doesn't care about the platform, they care about the content," Spacey says "there's an increased urgency for brands to innovate – engage with consumers one on one in their own time and own space."

Citing the growing gaming world move into broader mass entertainment spaces, he noted, "the tech is there to create virtual worlds for our audiences…and now it's up to us to see how to use it."

"For you and me there's no more excuses, we just need to get a fuckin' move on and get busy."

Spacey says historically, "in the end the risk-takers are rewarded," and the next 10 years tech will open up the theatre of storytelling. "There will come a time when you can watch a scene evolve on one screen…and when the character walks out a door you can follow that character," likening it to the New York theatre experience Sleep No More.

His advice for those needing to disrupt? "You have to be willing to fail and trust that it will lead to the right thing. Because that's how you know when you get it right."

Another Ad Week session yesterday on immersive storytelling featuring Columbia emerging film studies profs also touched on this topic. Basically the panel said we now have the tech to do new and amazing things, and we're using the tools by and large to do things we've done in the past. They liken it to the proscenium arch mindset, whereby early films were shot with a static camera, pointing up to the set, providing a POV similar to an audience in a theatre. And it took a long time to get past that to really use the full potential to engage audiences in new ways.

Basically, it's time to ditch the arch. And do the things that are so hard for marketers and agencies to do (and keep their jobs and clients): take some leaps – way out of frame.