Ad Week: Making the case for a new model of planning
Mark Tomblin, CSO of Taxi, on why agencies need to update a model that hasn't changed in 50 years to keep up with consumers.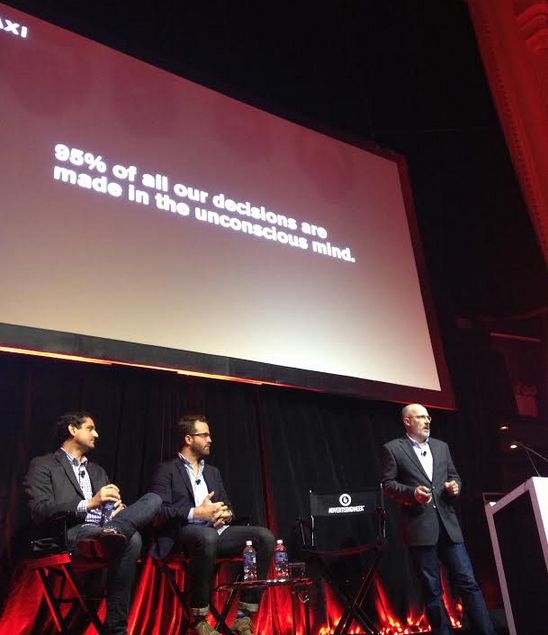 Mark Tomblin, CSO of Taxi, has a bone to pick with today's planning model, the gist of which is that it's not set up to deal with the new consumer.

In an Ad Week session dubbed "Why it's Time for a New Model of Planning," he kicked off his argument by saying that on the planning front, "things haven't changed much in last 50 years, but the world around it certainly has." And that the digital revolution and the new reality of decision-making are the big reasons planning needs to be updated.

Tomblin laid out the new challenges and pointed out that the industry willfully ignores the disconnect between marketing planning and the reality of how consumers make decisions – 95% of which are emotional. "The competition for our limited attention has increased, yet we in marketing still talk about getting people's attention like it's a logical thing. It's not only extremely ambitious, it may not be necessary."

Rather than keep "trying to push water uphill" in the goal of attention-getting, Tomblin advocates turning the focus from persuasion to influence.

As an example, he cites that a typical grocery store has over 30,000 SKUs and that if a consumer shopped that store the way a brand manager thinks they should, it would take three days. "We model the purchase of brands as if it was rational, because it's what we're comfortable with."

Touching on the rush to digital, he reminded the audience of the need to reach a mass audience. "Big brands have more users than others and they do so by increasing their mental and physical availability. Penetration growth leads and dominates loyalty growth. Which is why reach matters." Bottom line, brands grow by talking to a lot of people – often.

He also cautioned against overdoing the humanization of brands. "The dominant marketing metaphor is anthropomorphic. The idea of brands as something truly human may be flattering to us," but Tomblin notes that brand love is outlier stuff – not every brand has Harley's tattoo potential.

"People love their partners, their pets, but not the brands they use." Pointing to Blackberry's fall, Tomblin says it is essentially a utility relationship. "One day Apple won't be the brand everyone loves."

Tomblin, along with Sean McDonald, head of experience planning at Taxi Canada and Frank Sanni, head of planning at Taxi New York, then mapped out a way to change planning departments, describing the new planning model as a three-legged stool.

McDonald explains that the legs consist of brand expression, brand experience and brand connections – which is bringing those things together with the right cadence in the right time.

Sanni spoke to the fact that connection planning needs a more complex battle plan. "Planning has put ourselves in a small box," and apparently there's two dinosaurs (or old ideas that need to change) in there that explain "why planning has only been part right for a very long time."

The first dinosaur being "The one thing." Sanni says that Don Draper model of a single focus worked in simpler times, but defining the destination is only the starting point, and the emergence of idea ecosystems has changed all that.

The second dinosaur is "The magical moment." He posits that with consumer-controlled media choices, "the captives have been set free, so our job now is to captivate." That entails planning, with foresight, how media comes together, and consideration that marketing takes place in real time over the course of a year. And with compressed cycles and higher frequency, the importance is connecting moments, so the concluding advice from Taxi's planning gurus is: "Focus on what really works in the real world."

A session on retail marketing also addressed the need for mindset change, summing up the journey ahead with a quote from Publicis chief strategist Rishad Tobaccowala: "Marketing is moving from wholesale spraying to custom hand-holding. Focus on the poetry of the interaction not the plumbing of the delivery."

Like most Ad Week takeaways – easy to say, hard to do.