Throwback Thursday: strategy in 2006
For our 25th anniversary, we're travelling through time. In '06, Kraft got a new groove and marketers battled their own orgs.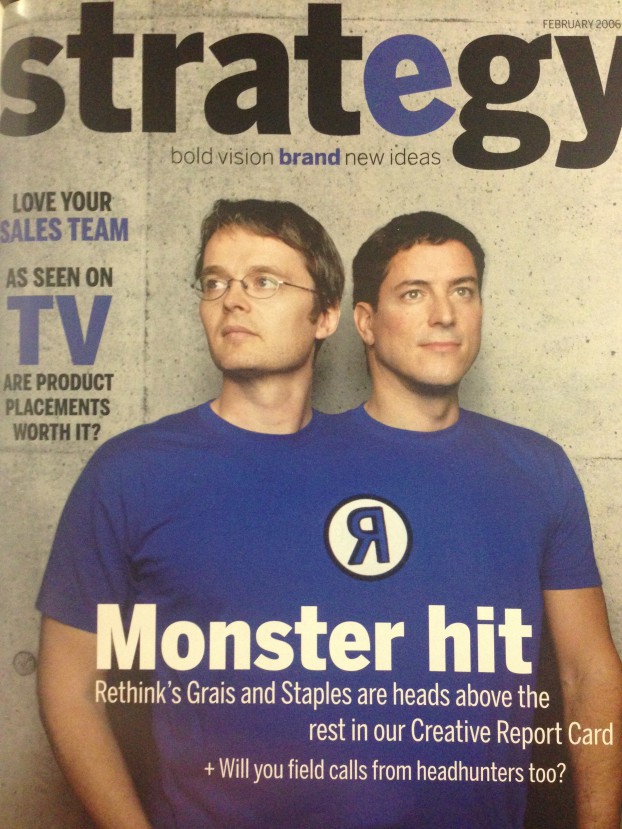 For strategy's 25th anniversary, we're travelling back in time, flipping through the pages of old issues to highlight some big news you may have forgotten, trends you wish you'd had a crystal ball to predict and marketing issues that never seem to change. Check back next Thursday to pick up some valuable insights into Canadian marketing history. This week, we tackle 2006.
Marketing vs. the world (or, at least the company)
In 2006, a top topic of conversation appeared to be how marketing actually functioned within an organization, with brand folks butting heads with different departments, ultimately creating issues in consumer-facing marcom. In a January feature, "Fulfilling needs," we looked at the issue of empty shelves and broken promises, and what happened when brands couldn't deliver the goods – literally. Order fulfillment and supply chain management was a top concern among Fortune 500 companies, while brands like P&G and Sears invested lots of money to make sure the supply chain was moving smoothly.
In our February feature "Don't fight the sales staff," we explored the issue of commoditization, looking at the disconnect between sales staff and marketers. "You spend loads of time, money and energy building and strengthening your brand – do you really want it to wind up in the 99-cent bin? Likely not, but with your sales staff naturally focused on making their number, chances are good that at some point they'll strike a deal you're not exactly comfortable with," we wrote. Check out how brands like Bayer, Amex and IBM addressed this issue.
Finally, in March's "Securing executive power" story, we checked out the need for marketers on the executive level. Lots of suits in the boardroom (a.k.a. the executives) didn't "get" marketing, we wrote. They often only pretended they understood the ads coming out. And those were the guys looking at the bottom line, making budgeting decisions. If the guys who decided your marketing budget didn't understand what you did, why would they give you money? How do you fix that problem? Profiling companies like AGF, we said it was time to get more marketers where it mattered most: the executive team.
Gender play
Is your target a man's man? Then reach out to women February 2006
Brands like Canadian Tire and Home Depot made big gains by targeting DIY women. But to get these women, it was more than just putting out pretty ads. The retailers had to redesign the shopping experience to keep ladies in stores. For Home Depot, the changes resulted in a bump, meaning women made up more than 50% of transactions in store, outperforming its U.S. counterpart.
We're still reeling
An audience of one: It's the end of TV as we know it. Can Canada deal? March 2006
After Labatt launched "The Bud Screen" a new direct-to-consumer channel offering ads, programming and branded content on iPods (remember those?), we declared the reality of the personal TV screen.
"Compelling content isn't compelling content because there's nothing else on," we wrote. "There's no platform that matters. Only content matters."
Sound familiar?
Everyone wants their 15 megs of fame November 2006
"Whether it's called consumer-generated media or user-generated content, the customer is no longer simply king, she is the publisher and broadcaster who controls the future of your brand and the judge and jury who delivers the verdict."
Of course, UGC had always been a topic of conversation, but with the 'net making sharing and creating ever-easier, it was the first time brands (like GM and Hellmann's) really started turning themselves over the masses (and hoping for the best). Of course, UGC has continued to evolve: today the maker movement seems to be the topic du jour. How will consumers shape your brand next?
Good Business August 2006
"Your brand needs a social strategy. Why? Consumers aren't giving you a choice," we wrote in our feature on CSR. The news of the hour was the launch of JWT's Ethos, a division of JWT dedicated to helping brands give back. Of course, this conversation continues to dominate today, with renewed rallying cries, post recession, demanding the brands once again, give back.
Hot topics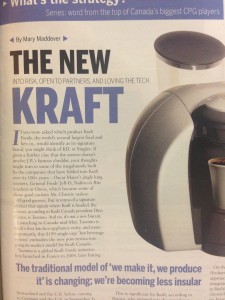 The new Kraft: Into risk, open to partners and loving the tech May 2006
On the heels of the brand's foray into the appliance territory (with the launch of Tassimo), we did our first ever Word from the Corner Office, delving into Kraft's evolving strategy. Dino Bianco, the president at the time (now EVP and president of beverages Kraft Canada, based out of Chicago), said Tassimo represented a significant step for the CPG co, which delved into "big, ownable ideas." Other programs under this insight included the launch of Kraft Hockeyville, which next year celebrates its 10th anniversary.
Other deep dive, Word from the Corner Offices we wrote include a look at P&G's transformation from "behind the times" to leading edge, Campbell's work to put consumers back at the forefront of its marketing efforts and Nestlé's innovation renovation.
Cannes Contenders June 2006
We selected Dove's "Campaign for Real Beauty" – which launched in 2005, as a potential Cannes contender. Part of a global campaign, ads asked folks to decide if a woman was "Fat or Fab" or "Weathered or Wonderful." This campaign was the precursor to the double Grand Prix-winning "Evolution" campaign that came out in October 2006.
We also selected Zig's "It's not a mistake" work for Ikea. The campaign, featuring a woman rushing out of the store thinking she's ripped off the retailer, would go onto to pick up a nomination at Cannes that year. Almost 10 years later, the ad still makes my mom laugh, which is how I know it was memorable.
Convenience and customization November 2006
Walmart was on the cusp of its retail evolution, prepping to launch its first-ever supercentre. It marked the first time the brand dove into the grocery space – a business that today is worth $100 billion.
Here's to real beer October 2006
Labatt celebrated its 50th anniversary, so we walked through memory lane with the brand, revisiting the top topic of the '90s: the beer wars.
It's always nice to be right
In January, we asked pundits to weigh in on the year ahead, with Patricia McQuillan, then president of Brand Matters, picking Shoppers Drug Mart and WestJet as two brands that were set to shine in the coming year. Sure enough, WestJet's marketing EVP Sean Durfy was named our top marketer of the year for helping to grow brand awareness by 51%, capturing 32% of the air travel share in Canada. In November, Shoppers Drug Mart nabbed our overall Brand of the Year for making shopping at a pharmacy an "experience" with its strong loyalty program and in-store design.
Off-base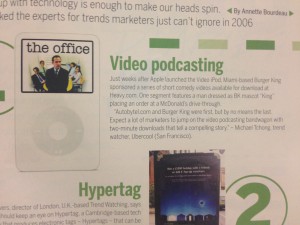 Alas, sometimes we're ahead of the curve or way off the mark. In January, we looked at what's next, and predicted video podcasting would be huge (it wasn't), and said m-commerce would take off with a new wireless payment service from Bell, Rogers and Telus (allowing people to swipe their phones at checkout.) Of course, m-commerce today means something totally different, and using your phone to pay for things is only just starting to trickle out (it only took 10 years).
 Creative Report Card
Who made the award-winning cut in 2006?

Want more strategy Throwback? Catch up on the headlines from 1989, 1990, 1991, 1992, 1993, 1994, 1995, 1996, 1997, 1998, 1999, 2000, 2001, 2002, 2003, 2004 and 2005.