Wheat Thins gets defensive
Need some viking protection? The brand's latest Twitter push has characters to guard your tweets.
In an effort to reach a new, younger demo, Wheat Thins has kicked off a Twitter-based activation that transforms consumers' tweets to play into the brand's positioning of snackers wanting to protect their crackers.
The campaign, which launched last week and runs for three weeks, encourages consumers to tweet about what they want to protect using the hashtag #Wheatthinsguards. Using tech developed specifically for this activation, users' tweets are embedded within an image of a character intended to protect it, such as a guard dog, a viking or an octopus.
"The whole tone of voice of the campaign is pretty humorous and light, so we really just pushed these characters to make them as crazy as possible," says Lance Martin, ECD, partner at Union, the creative agency behind the campaign, along with partners Twitter and MediaVest.
This latest push comes on the heels of a shift in the brand's strategy to reach a younger demo.
"Some people might think of it as their grandma's cracker, but it's really come a long way," says Martin, noting its new flavours.
The brand launched two new flavours in April deemed bolder than previous offerings, Nacho Cheese and Sundried Tomato & Basil, as a way to reach 25- to 35-year-old consumers, says Sylvia Gurliaccio, brand manager, Wheat Thins and Potato Thins, Mondelez Canada. The idea was to "really reinvigorate the brand and bring it to life with the different tonality, attracting that younger customer base."
The brand created a Twitter handle in June and launched its "#MustHaveWheatThins" campaign in August, with a younger, cheekier tone, sending people who tweeted at the brand personalized boxes warning others to keep away, featuring their profile picture so others wouldn't take it. The brand also sent customized boxes and a locker for safe keeping to bloggers with certain areas of interest, such as gaming or food.  
The element of protection ties into the overarching North American strategy around "the great lengths people will go in order to protect their Wheat Thins," says Martin. "They love them so much, they're Wheat Thins-obsessed, they don't want anyone to get at them."
The brand undertook research which its says pointed to Wheat Thins lovers being passionate about the snack, with these fans speaking about it in a manner similar to other things they feel strongly towards – such as a travelling or a favourite TV show or sport. Protecting something they care about via the "#Wheatthinsguards" activation was viewed by the brand as a natural extension of the platform centred on the lengths consumers go to, to protect their snack.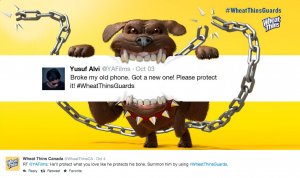 The team wanted to generate engagement through the "#Musthavewheatthins" campaign before kicking off the latest push, with the aim to build off the momentum, Gurliaccio says. (Wheat Thins Canada currently has more than 5,000 Twitter followers since launching mid-June, although the brand did not set a specific goal to reach before kicking off the current campaign.)

She adds the brand took to Twitter because millennials are active in the space, and anticipates consumers to respond well to the campaign because of its immediacy and simplicity.

"We're just trying to talk to [younger, digitally-savvy consumers] in their space," says Martin, "and give them something fun that says, 'Hey, maybe I should take another look at Wheat Thins, it's not what I thought it was.'"

Moreover, he says consumers will often connect with brands in the social space, leading to an "unrewarded experience," as after initially following them, the brand goes mum. As such, the aim is to provide consumers with value, even if it's just a smile, through these kinds of activations, he adds.

Last week, Mondelez International revealed its online video deal with Google, which stemmed from its plan to dedicate 10% of its advertising dollars to online video this year. In North America, the CPG co is working towards spending half of its marketing budget online by 2016. Mondelez Canada has a digital and consumer engagement team which works across all its brands.