Molson's grand hockey gestures
Get a sneak peek at the beer brand's plans for the 2014-2015 hockey season, in which it hopes to connect with consumers' "irrational love" of the good 'ol game.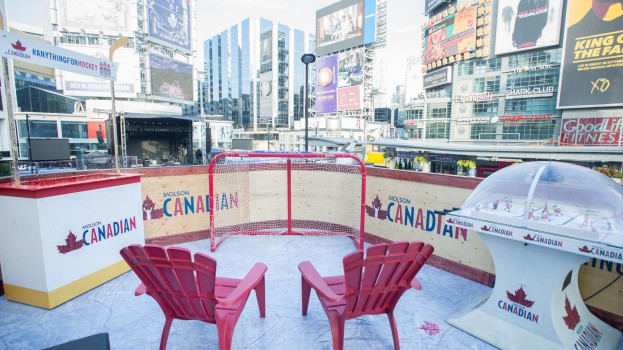 To connect with avid hockey fans (in the 24- to 34-year-old range), Molson Canadian is dishing out some grand gestures.
To start, the Molson Coors beer brand took over Yonge-Dundas Square in Toronto yesterday, erecting a 20-foot viewing platform, bringing in iconic Canadian band The Tragically Hip, a"can-mera" (a beer-themed photo booth connected to social media channels) and the now well-known beer fridge. (Unlike the travelling fridge that made waves last year, this version opens with a rendition of "Oh Canada.")
Consumers are invited to share their stories of the lengths they've gone to for a hockey game with the #Anythingforhockey hashtag on Facebook, Twitter and Instagram, with the chance to win unique experiences, such as viewing the Hip concert  or the kick-off game from the 20-foot viewing platform, or a chance to win a trip to a massive ice rink constructed in the middle of a mountain, says Andy Gervais, brand manager for Molson Canadian.
Gervais says the mountain rink is the star of the upcoming TV campaign, by Rethink, which bowed during the Leafs vs. Canadiens game. The rink – a metaphorical grand gesture – will also have a starring role in the two follow-up commercials that will pulse out throughout the rest of the hockey season. The entire campaign, with PR by Harbinger and media by MEC, will be supported with digital activations, print and social media components, as well as a really "unique" media integration with NHL partner Rogers, though Gervais remained mum on specifics around that integration.
"When we sat down 18 months ago [to plan], we knew that connecting with avid fans was paramount," says Gervais. "We wanted to put forward a grand gesture that celebrated the game in its most pure form to be the launching pad for consumers to come out and share all the amazing things they're already doing for the game they love."
The mountainous rink hearkens back to hockey's roots as an outdoor game played on a frozen pond, he says.
The insight for the campaign boils down to the "irrational love" (in a positive way) Canadians have for the game, he says.