Infographic: dining-out trends
Check out how the importance of healthy options differs between dinner and late-night occasions for consumers.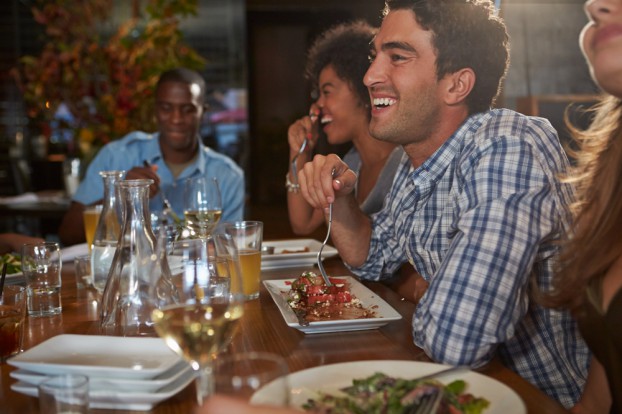 Convenience, cravings and experience are driving a little more than half of Canadians to buy dinner outside of the home at least once a week, while about one in four consumers head to restaurants for happy hour and late-night drinks and snacks at least once a month, according to findings from food industry research and consulting firm Technomic.
It recently released an infographic (check it out below), highlighting which menu items at full-service restaurants are growing the fastest and who consumers dine with and when, along with other findings from its Canadian Dinner & Late-Night Consumer Trend Report for 2014.
But first, brush up on these 10 key themes from the trend study:
1. Food service will continue to capitalize on dinner as consumers' primary meal
A little more than half (55%) of consumers report dinner to be their key meal, while results indicated a 50-50 split when it comes to never skipping supper.
2. Fast food dominates, but the battle for dinner share will persist
It's a "take-share dinner market," according to the study, and each kind of resto will need to show its strengths – with limited-service restaurants improving on quality and full-service restos standing out from competitors with their offerings. Meanwhile, fast-casual restos are primed to cut into the dinner share, the study suggests.
3. More operators will leverage opportunities in special and off-peak dining occasions 
Consumers report visiting restos at least once a month for happy hour (28%), late-night snacks or drinks (27%) and special-occasion dinners (23%). The study suggests, "Operators can drive off-peak traffic and promote sales of high-margin items by enticing happy-hour and late-night diners with specials and unique menu items, respectively."
4. Increasingly time-pressed consumers will further prioritize convenience
So why aren't consumers eating dinner at home? According to the study, they don't want to cook (53%) or don't have time to cook (32%), while overall convenience came in at 36%. Technomic points to the potential success of marketing which taps into consumers' busy lives, noting 31% of consumers think a family-pack meal is viable dinner option.
5. As the economy improves, consumers will be more discerning of value than cost
Although consumers eat out for convenience, the top reason they stay in was found to be cost (74%). When they do go out to eat, overall value trumps price (83% versus 63%), while just over half (54%) say they would spend more on dinner than lunch.
6. Operators will differentiate by creating a more enjoyable dinner experience
A pleasurable experience can be chalked up to many factors, from atmosphere to décor and staff, according to the study, and well-trained staff who can pick up on patrons' cues, and the right ambiance, are key. When consumers decide where to dine, good service was second only to food quality, while a quiet, relaxing atmosphere trumps location proximity.
7. Catering to the social aspect can motivate evening patronage 
Getting together with people is often what drives special-occasion dinners and happy-hour gatherings. Catering to this desire for social interaction with menu and décor could boost traffic, the study suggests, while interaction can be encouraged with shareable offerings, along with communal seating and standing tables.
8. Traditional health resonates for dinner, but premium items can drive late-night traffic 
When it comes to picking a dinner option, 53% of consumers cite healthy offerings as a key factor, with traditional health-related characteristics like low-sodium trumping premium offerings. The importance of healthy options drops to 30% when it comes to late-night eating, while premium items were key for 33%. The study suggests "health-halo attributes that imply both health and quality" will likely resonate across a wide spectrum of diners, for whom taste is still important, despite health concerns. Natural and locally-sourced ingredients were cited as something sought after by 35% and 31%, respectively.
9. Evening menus will cater to the appeal of appetizers, snacks and small plates
More than half (57%) of consumers sometimes order appetizers at dinner, while about one-quarter will sometimes have a meal consisting of just appys. At special-occasion dinners and happy hour, about half of consumers (51% and 47%, respectively) will order snacks and appetizers at least occasionally, while 45% report doing so during late-night occasions. It means low-commitment, shareable items like sample platters and small plates that address varying diets and tastes can beef up cheque averages for big parties, the study suggests.
10. Dinner menu innovation will flourish to meet needs for uniqueness
Nearly one in four consumers go out for dinner just to try a new spot. While overall, consumers keep their eyes open for familiar items, the study offers the example of substituting sauces or proteins with an ethnic bent to put a new spin on a dish.
Image via Shutterstock