Beau's wants YOU
Agency Public is helping the beer co throw a party to get young voters out for Toronto's municipal election.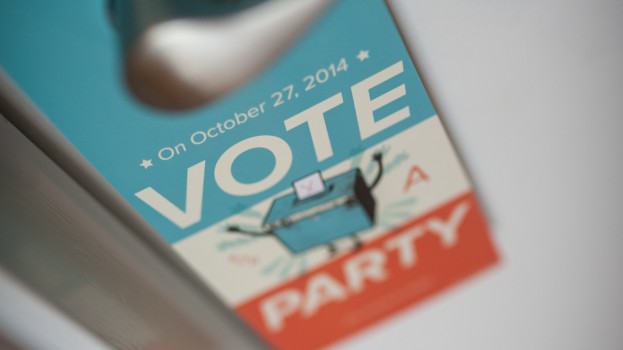 Efforts to get youth voters to the polls start up every election season, but turnout numbers always stay low. So Beau's All Natural Brewing Co., with help from Public, decided that inviting Toronto's young people to a party might change their mind.
On election day (Oct. 27, if you haven't been following), Beau's will have volunteers stationed near polling stations across Ward 19 (Trinity-Spadina, an area that's roughly south of Dupont Street to the Lakshore between Dovercourt Road and Bathurst Street). For anyone who votes, the beer co. will give a beer cap to serve as an ticket to an exclusive party held at three local bars: Brazenhead, Opera Bob's and The Caledonian. Everyone that attends will get a bottle of Ballot, a beer brewed specially by Beau's for the election, for free.
"Vote for a Party" has a full, election-inspired promotion behind it. The volunteers will also be going through neighbourhoods with door hangers, lawn signs and posters, plus utilizing social media and coasters in bars.
Public works with companies on campaigns meant to create positive social change. Based on what Phil Haid, co-founder and CEO of Public, has seen, the usual "get out and vote" initiatives clearly aren't motivating young people, as is evidenced in consistently low turnout numbers, which tend to hover around 30% for eligible voters under 30.
"Most marketing that gets consumers to purchase a product, there's always an incentive, and it's no different when you are trying to market social issues," Haid says. "Clearly, a sense of civic duty and getting the person they want into office hasn't been enough for young people. Some people think you shouldn't incentivize voting, but if the past messaging was working, we wouldn't have to."
The stereotype that young people are less civically engaged is inaccurate according to Haid, adding that many young people are civically engaged in ways that don't involve voting. Besides just offering a party with free beer, Haid says that "Vote for a Party" has the other elements of civic engagement that appeal to young people, namely a sense of community.
Haid says that starting the campaign small by focusing it on a single ward – and one that covers some of Toronto's more hip, youth-focused neighborhoods – will allow it to see whether or not the campaign has a significant impact on young voter turnout compared to other wards. If it does, he says they will consider doing something similar for future elections on a wider scale, including those at the provincial and federal level, something Steve Beauchesne, co-founder of Beau's, says he'd be excited to contribute to going forward.
For Beau's, an independent brewery based just outside of Ottawa in Vankleek Hill, getting involved with a campaign in Toronto allowed it to motivate and contribute to one if its largest consumer bases in the province, according to Beauchesne.