Kraft dips into the plush toy space
First KD "Funderpants," now cuddly bears. Consumers can buy the Kraft Peanut Butter teddy bears, should they be inclined.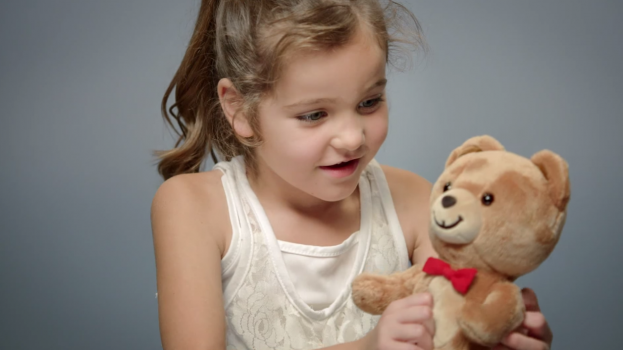 Following "overwhelming" consumer demand, Kraft Peanut Butter has debuted new plush teddy bears for sale.
Available on its e-comm site as of today, as well as in stores alongside a jar of PB, demand for the new plush toys followed the Kraft brand's "Stick Together" campaign launched in the spring. Bears are intended to be purchased in pairs (as they appear in pairs on packaging), with the idea being that consumers would give the second one to someone they love, but can also be purchased in-store individually.
"Our brand purpose is to create meaningful connection in Canadian's lives, so making these teddy bears for people to share was a natural extension," says Aaron Nemoy, senior brand manager, Kraft Peanut Butter. "The consumer response to the [spring] campaign – specifically to the bears – was really overwhleming. Through Facebook and Twitter – it was non-stop. Consumers were begging us to make these bears to buy."
Banking on that demand, the brand rolled out the new plushies, designed by Pigeon, with a new digital, social and in-store campaign from Taxi 2, with media by Starcom Mediavest and PR by Edelman. The social video features a gaggle of kids receiving the bear as a surprise, with their excited reactions as the primary viewing driver. In stores, merchandise racks were specially built to showcase the bears as well as direct folks online where they could enter for a chance to win a pair of teddies or buy on the e-comm site.
The brand primarily targets parents with families, particularly a younger generation of parents, as well as a broader audience. Nemoy expects the sales to help the brand break even on the cost of bear production, though he adds that the bears won't be a primary revenue builder for the company. The campaign will be supported through to the end of the year, with bears sold on a first-come basis, though production will depend largely on demand, he adds.
The bears are largely un-branded, featuring the Kraft logo only on the tag. "This is primarily a brand equity building [push]," Nemoy says. "We didn't want to plaster a big Kraft logo on the bears. The bears are our brand." 
This echoes the original "Stick Together" campaign, which featured shots of a teddy, and few product placement images, with the overarching theme of having consumers make more time for the people who are important to them.
This isn't the first time the company has tried its hand at merchandising. This summer, Kraft Dinner kicked off a campaign featuring wacky items (noodle socks, anyone?) available for "purchase" with acts of fun. This is, however, the first time it's distributed this type of item at a cost to consumers.