The connected family
Mobile allows families to be together, while still doing their own thing. That means changing how you talk to them, says Microsoft's Alyson Gausby.
When and how Canadians consumed media used to be pretty predictable. But, unfortunately for marketers, those days have gone the same way as the Betamax. Pervasive connectivity means people now move fluidly across activities, locations, devices and content whenever and wherever they please. It only takes a misplaced phone or clicker to realize how quickly we've become accustomed to having information, programming and entertainment literally at our fingertips.
So, what roles do technology and devices play in the modern "always-on" family? The living room has always been the heart of the family home, where we come together and spend quality time. I may be dating myself (as if my Betamax reference didn't already do that), but think back those days when you had to actually go up to the TV set to change the channel. Dad may have been reading the paper, but the entire family was seated in the same room, watching Full House.
Then, the invention of static gaming consoles, desktop computers and dial-up internet changed everything. It meant we had to leave the room to play a game or surf the net, so the family room quickly lost some of its appeal.
That's all shifted again. Mobile technology now allows families to be together, while still doing their own thing. Mom may be browsing for shoes, dad may be reading his news feed, Susie may be messaging her friends and Bobby may be slaying dragons, but it's all happening while Game of Thrones is playing. We've found through some of Microsoft's research this is helping to reinforce some of those traditional family room themes, like sharing, bonding and comfort.
The living room isn't only the heart of the family home though. It's also the technology hub, where consumers spend the most time with their devices – nearly half of all media consumption occurs in the family room. And, according to the IAB's CMUST study, Canadians are now consuming more media than ever, through the many different connected devices they have at their disposal.
We've also seen from some of our research that over a third of families are even using their devices to communicate within the home, whether to ask for help with homework or announce that dinner is ready. Our latest study shows that three-quarters of Canadians regularly use two devices at the same time and half are moving across devices to accomplish a singular task. So, the proliferation of all our devices is creating the connected family, where multi-screening is mainstream.
What can we do to tap into the "Digital Living" room? For starters, we can engage families with messaging that appeals to traditional values, like sharing, bonding, safety, comfort and warmth. Think of Apple's "Parenthood" ads, for example. We can look to create digital experiences that centre around these themes, like creating family spaces in the cloud with digital pin boards, sharable lists, communication tools, etc.
This also means that we need to optimize TV campaigns with strong second-screen content, curating a trail for consumers to explore or spark conversation. For example, Three Mobile's "#SingItKitty" campaign, which featured a kitten and young girl singing a power ballad. A lot of cuteness, fist-pumping and certainly a great viral opportunity with its hashtag and Singitkitty.com. And let's face it, no one gets tired of cat videos (and I'm not even a cat person).
Leveraging the unique properties of each device and playing to their strengths will continue to be key in whatever we do. But, we also have to ensure messaging consistency to boost the efficiency of our communications. For brand experiences, accessibility across devices is also of the utmost importance. Consider how you can leverage app- or cloud-based services to help Canadians move across all their devices as seamless and easy as possible. Amazon and Netflix are both great examples of fluid user experiences.
While Canadians' behaviour may not be as predictable as it once was, it's more crucial than ever that we're creating multi-platform strategies for our multi-tasking world. Taking a people-first approach helps to give us a view of not only what people and families are doing, but why. And, at the end of the day, family will always come first. Where possible, simplify things to free up more time for consumers to spend with their loved ones or help create quality family experiences.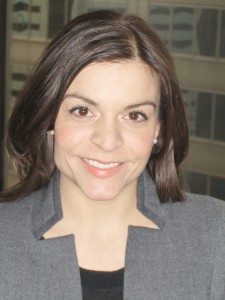 As Microsoft's Canadian insights lead, Alyson Gausby is responsible for translating consumer intelligence into trends research to provide value for the Canadian marketplace. Advertising.microsoft.ca