Frank & Oak's community domination plan
The Montreal clothier blurs the branded content lines between digital and real life.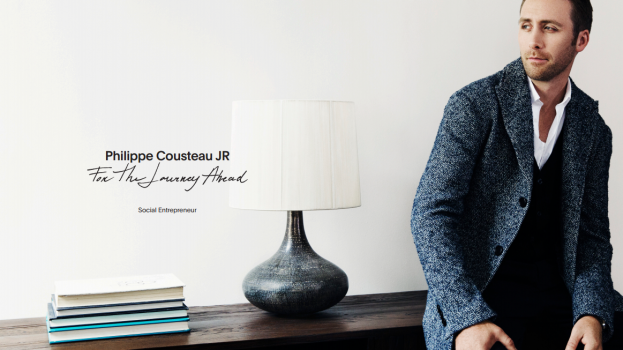 Frank & Oak wants to build a community in your creative neighbourhood.

The two-year-old upstart brand kicked off a mass advertisement campaign today across North America, in partnership with Vice Media, featuring video profiles of three "movers and shakers" – environmentalist and social entrepreneur, Philippe Cousteau, Jr. (pictured); world champion DJ A-Trak; and chef Danny Bowien. The videos will be supported by print ads, running largely in U.S. magazines, that are most read by the brand's target demo, which Ethan Song, founder and CD at Frank & Oak, says is the 25- to 35-year-old creative professional male. As such, he says they're eschewing mags like GQ in favour of Monocle and Fast Company. The campaign also includes a guerrilla marketing push in San Francisco and New York, two of the brand's biggest markets.

The purpose of the campaign is to build up a community and sense of belonging with the brand's target demo, he adds, something that goes to the root of all its marcom activity. The brand, which has 1.6 million customers across North America, typically veers on the content side of the marketing equation, including a robust website and magazine that feature everything a guy needs to know about dressing himself, Q&As with musicians and lessons on fabrics for different occasions.

"Our male demo is very active online," says Hicham Ratnani, co-founder and COO of Frank & Oak. "He is used to consuming information in bits and pieces."

The genesis of the mass campaign is designed to focus on the "duality" of man – in other words, Song says the campaign is meant to appeal to the target's multi-faceted personalities. "We spent some time thinking, what does [making] clothing for a creative guy mean? Where does that guy live? What does he enjoy?" he says. "We realized one of the main aspects to this generation is that people are not just defined by one thing. People are defined by different interests or career paths. So someone who is an accountant may also be really into dancing."

In the past, much of the brand's advertising was digital banners, says Song. But it wanted to build out a stronger emotional connection, which couldn't be achieved through banner ads, prompting the brand to venture down this more mass-branded content path.

The latest campaign comes on the heels of the announcement of the second bricks-and-mortar location in Toronto's Queen West district opening this fall. The Toronto store will have an onsite barber shop and coffee house, Song says, similar to the location opened in Montreal a year ago.

"We didn't want to create a store that was a transactional space," he says. "We wanted to create a store that was a community space, that people wouldn't necessarily visit twice a year, but multiple times a month." He says the lifestyle component (a real-life branded content approach, if you will) will be the reason shoppers return more regularly.

The shop also aims to blend the online and offline space, says Song, pointing to the customer ID assigned to all shoppers. As such, when someone buys a product, whether online or offline, it's added to a user profile, allowing for the team's algorithm to provide better recommendations (and allowing sales clerks to do the same in stores). Much like Amazon or Netflix, the more a customer shops, the more tailored and personalized offerings become.

The bricks-and-mortar location and the targeted mass media buy are part of the brand's evolving marketing plan, Song says. Though the brand started with digital ads that were "really focused on getting targeted customers at low cost," building the brand and product line, Song says, they're now moving towards building up customer density with this more mass, 360 marketing approach.