Throwback Thursday: Strategy in 2009
For our 25th anniversary, we're travelling through time. In '09, Doritos' Guru chipped in and the industry battled the recession.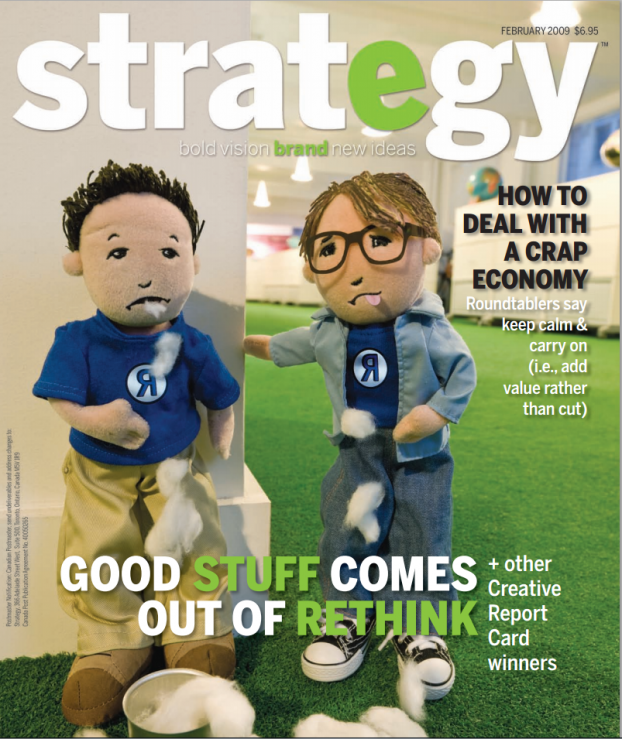 For strategy's 25th anniversary, we're travelling back in time, flipping through the pages of old issues to highlight some big news you may have forgotten, trends you wish you'd had a crystal ball to predict and marketing issues that never seem to change. Check back next Thursday to pick up some valuable insights into Canadian marketing history. This week, we tackle 2009.
Recession woes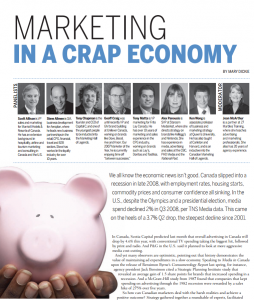 Marketing in a crap economy, February 2009
"We all know the economic news isn't good. Canada slipped into a recession in late 2008, with employment rates, housing starts, commodity prices and consumer confidence all sinking," we wrote in a roundtable feature on advertising in as we liked to say, "crap economy." It included the voices of industry peeps like Tony Matta, Tony Chapman, Ken Wong and Geoff Craig. The piece questioned how marketers can deal with immediate issues while also keeping in mind long-term planning during a time like this, as well as how the poor economic climate affected the expectations of agencies.
Celebrate good times, come on!
Nifty gifts for Barbie's 50th, January 2009
She looked great for her age. And to celebrate, Barbie partnered with designer David Dixon to piece together her very own branded line of clothing for her 50th. She also launched a "Barbie by Cake" line of bath and beauty products; a pair of designer stilettos from Town Shoes; a jewellery line inspired by the doll from Foxy Originals; and what's more, Barbie also designed a line of furnishings and home accents through a partnership with HGTV star Glenn Dixon.
Brands of the Year, October 2009
The big movers and shakers we crowned in 2009 included overall winner Toronto FC (for its brand-building campaigns that led to success in a short period of time), Corus Entertainment, The Hour's George Stroumboulopoulos, as well as Desjardins.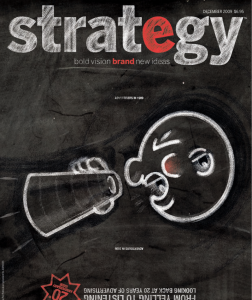 Strategy's 20th anniversary issue, December 2009
This year marks our grand Jubilee, but back in 2009, we celebrated two decades in the business. We invited agencies all over to design a cover for this momentous occasion, with Sid Lee winning our hearts and minds with its smart concept around the fundamental shift around conversations — which has gone from talking at consumers, to finally listening to them. We also went back in time for the issue, going through past issues, just as we have for the past few months for our 25th anniversary, and listing all the big news, moves and grooves of the industry.
The start of something big
Internet radio is ready for take-off, March 2009
Practically everybody was doing it. Astral, Corus, you name it. We began to take notice of the rise in online, interactive radio streaming way back in early '09. And advertisers were taking interest not just because of the swarming numbers flocking to listen to radio digitally, but also because of the ability to place video ads during streaming. A catalyst for this sea change was surely the influx of new Wi-Fi-ready devices, we wrote back then.
"With Wi-Fi, suddenly you get internet radio stations not just on your computer, but walking around on the bus. That's going to change everything," said Pirate Radio's co-founder Terry O'Reilly. Five years later, and radio's future was still a bit up in the air. 
Long live the creative
The Doritos Guru chips in, April 2009
Before Lays began asking chip-lovers to "name that flavour," Doritos had chip-naming in the bag. Back then, the brand challenged Canadians to name the brand's new mystery flavour (which appeared on store shelves in plain white bags), but it didn't go easy on participants. They needed to also create 30-second commercials for the new brand for the chance to win 1% of the product's net sales. We picked at the campaign, speaking with some experts on the overall strategy, campaign elements, consumer-generated branding, and most importantly, the 1% ROI.
Cadbury bikes to Africa, May 2009
"What do chocolate and bicycles have in common? They can both bring joy to people, especially in parts of the world where a bike can change a life," we wrote, about the first leg of the long-standing initiative from Cadbury, called The Bicycle Factory. It's a program "that aims to send 5,000 bicycles to communities in Ghana, where they can be used as an ambulance, school bus or other important modes of transportation." And it later went on to win a Cause + Action award in 2011, with the brand expanding it this year to include a 3D-printer creating light units for the bikes.
Marketers to watch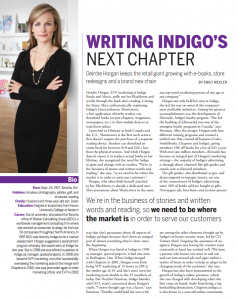 Writing Indigo's next chapter, May 2009
Deirdre Horgan arrived at Indigo when it was but a single-store retailer in 1998. Indigo merged with Chapters in 2001, and then "Horgan went from being SVP marketing of 15 stores to 250 at the tender age of 29." She helped lead the company to develop its successful iRewards loyalty program, grow its online presence, redesign a string of stores, as well as helped launch Shortcovers, an application which readers could use to download books.
McDonald's plans to win, September 2009
Struggling with its image has been a long-standing problem for McDs. But it's not something that's ever really been brushed under the rug. In a feature we wrote about the QSR, which at the time was trying to change consumer perceptions to be viewed in a more positive light, it was attempting to revamp its image by upgrading restaurants to be more "inviting" as well as jumping on the café bandwagon with a new premium coffee line. Its advertising also got a new look, with creative having a "more contemporary, urban feel."
The more things change
Is neuromarketing really all that?, July/August 2009
Columnist Sukhvinder S. Obhi, PHD wrote in strategy that, "With the widespread availability of functional magnetic resonance imaging (fMRI) machines, it is now possible (although not cheap) to 'see' into the brains of consumers as they ponder brands and related marketing material.
"However," he notes, "for any business seeking to design or market their brand effectively, the real question is whether neuromarketing provides new info to help guide their efforts, or whether it's simply hype, of which much has been made, but little has been delivered." Sound familiar?
Creative Report Card
Who made the award-winning cut in 2009?

Want more strategy Throwback? Catch up on the headlines from 1989, 1990, 1991, 1992, 1993, 1994, 1995, 1996, 1997, 1998, 1999, 2000, 2001, 2002, 2003, 2004, 2005, 2006, 2007 and 2008.