AOY Gold: How to win AOY #LikeLeoBurnett
After Honourable Mentions the past two years, the agency has finally struck Gold.
This story appears in the November 2014 issue of strategy.
History has a habit of repeating itself, and this time it happened to be rather kind to Toronto's Leo Burnett.
Back in '93 and '94, the shop finished in fourth place at strategy's Agency of the Year awards. It was a bit of a waiting game until it finally won the top prize in '96. And now, looking to the current decade, the agency again took home two consecutive Honourable Mentions in '12 and '13, before striking Gold at this year's show.
It's the type of historic recurrence that, for any agency, would make the wait seem worthwhile.
Judy John might not be able to describe the feeling of finally winning the title back then (as the CCO and CEO started her tenure three years following the big win), but she has an inkling as to what it looks like to be on the cusp of snatching the grand prize.
She says the best indicator of the Toronto agency's success during any given year is what global colleagues have to say about its work.
Earlier this summer, creative heads from all parts of the agency's network made a trip to Toronto. It was time for Leo Burnett's quarterly Global Product Committee (GPC), which always takes place in a different city (Paris is next), and sees the agency congregate to review and assess thousands of campaigns produced over a three-month period for its clients.
It's essentially the shop's version of quality control. It is in these week-long meetings that the work is scored using a proprietary "HumanKind Scale." The goal is to land a 7+ rating. Only then do you know the work has the potential to "change the world" and, just as important, do well outside of the network.
There was a year when the Toronto office collected up to 50 of these 7+ ratings, says John. "That was the year we won Agency of the Year."
The Toronto shop's performance at the second quarter GPC was a good indication of its showing at this year's AOY awards. It claimed eight of only 32 of the top scores assigned during the week, which means nearly 25% of the best work that the entire network (which is made up of 85 global offices) produced in one quarter came from the Toronto shop alone. Impressed by the Canadian creative shown during the meeting, Kent Middleton, EVP and CD at the agency's Chicago office piped up to say, "I just got struck by a sudden desire to work here."
In large part, the agency has been doing exceptionally well on the awards circuit thanks to the internet sensation "#LikeAGirl," which was put together as a launch pad for Always' "Rewrite the Rules" platform by three Leo Burnett branches: Toronto, Chicago and London. John was asked to come on board and lead the project from the get-go. She and the cross-agency team began building the strategy for the platform in October, starting with the viral online spot that had director Lauren Greenfield ask girls, boys and women what it meant to do something "like a girl" (see case study below).
"Doing a great piece like that always helps the agency," notes John. "It elevates our profile, and it's gotten a lot of our other clients talking about doing something that is more socially relevant and that starts a conversation."
The Always piece has so far had a good run on the awards circuit. Just last month, John shared the stage (and took a selfie) with the P&G team and Clio Awards host Whoopi Goldberg in New York to accept the Grand Clio for PR. That, and other Clio wins, added to the shop's running tally of 74 trophies so far this year for clients from Ikea to Raising the Roof to the Yellow Pages. (And that's not counting another 74 merit/finalist/shortlist mentions.)
It's no secret Leo Burnett is a trophy marauder when it comes to industry award shows. As evidenced by its track record in past Creative Report Cards, the agency is a strong believer in what that unwavering recognition says to its clients. Regularly creating award-winning work shows that the agency "is not a flash in the pan, we're consistent with work," says Dom Caruso, the Canadian shop's president and COO.
He adds, "Toronto is a funny market in that all of the agencies, and most of the head offices, are concentrated here. And clients aren't just aware of the agencies that are doing good work, but also who seems to have a good reputation, which they can then benefit from as well."
"[And] beyond our creative reputation, I think our reputation as an organization also attracts and retains strong people," Caruso says.
Looking at just a handful of its 220 staffers, it's obvious many of its creatives are lifers. For instance, group CDs Steve Persico and Anthony Chelvanathan arrived at the Leo office 10 and 12 years ago, respectively, while creative group head Morgan Kurchak has worked there going on 10 years, and SVP director strategic planning Brent Nelson has been a Leo Burnetter for more than seven years.
"We're really proud of the fact that great people come here. But we're even prouder of the fact that they stay here a long time," reads the agency's website, chalking up its employee longevity to there being "no walls between disciplines" and a shared mantra of "One Team, One Dream."
As for what their creatives are doing right, Caruso and John both agree the agency's collective design prowess is what's elevating its profile. "We're awesomely good at design," says Caruso. (The shop dominated the design category at the Kinsale Shark Awards in September.) "There are so many different touchpoints on a brand, and that requires thinking through how [each piece of communication is held together]…and making sure that the important stuff comes through loud and clear."
Sound advice from a shop that's making its voice heard loud and clear, not just locally, but also on the global stage.
New business
Coors Light, Mastermind Toys, Bulk Barn, Kraft
Key hires
Ryan Crouchman, group CD, design; Sean Ohlenkamp, digital CD; Rica Eckersley and Adam Thur, senior creative team
Staff
220
Cases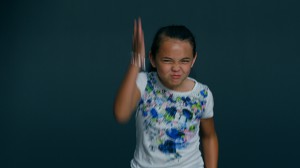 Always wins hearts #LikeAGirl
At puberty, a girl's confidence drops significantly: 56% of women claim to have had a decline in self-esteem during this time.
P&G brand Always and Leo Burnett decided to take the common expression "like a girl" and dramatize the subtle, negative power it creates, so that the brand could emotionally connect with young girls and women.
Always filmed girls of different ages reacting to the phrase "run like a girl" or "throw like a girl." Some younger girls took it to mean "run as fast as you can," showing they haven't yet been affected by the term. Teens and young women, however, demonstrated the negative meaning of the expression by feebly running and throwing a ball.
The campaign has generated outstanding results. After only seven days, it achieved 25 million YouTube views, 504,050 Facebook shares and 311 media stories, which generated two billion impressions worldwide.
Earls does steak right
For most people, going out to eat steak is not a regular occasion. However, when they do, it's important that it's done right.
So Earls Restaurant and Leo created "Earls Steak Redemption" and went to Facebook, Twitter and restaurant blogs to find disappointed steakhouse customers and invite them to Earls to enjoy a complimentary steak. The experience was captured on film and posted to YouTube.
In mass-media markets, steak sales increased 90% versus the previous year. The steak event increased traffic by 7%, and even four weeks after the event, steak sales remained strong.
Raising the Roof hits the streets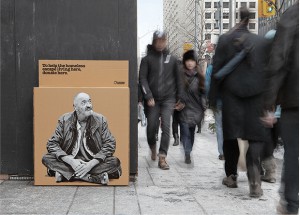 While donation boxes are in many places, they're usually far removed from the problem they're trying to address.
So to help raise money for Raising the Roof, Leo Burnett created life-sized donation boxes that featured images of actual homeless people. The boxes were placed on streets where a homeless person might be seen.
The boxes generated 10 times the normal amount of cash donations per box. Also, Raising the Roof saw a 554% increase in website donations compared to the same period the year before.
Ikea sets the House Rules
Every home has its own unique unwritten rules. So to connect with older customers who are beginning to look elsewhere for their family furniture, Ikea opened a forum for them to share the interesting ways they live at home with its "Ikea #HouseRules" campaign.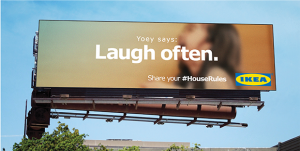 It encouraged Canadians to share their own "house rules" online, and have them incorporated into the brand's advertising. The retailer live-tweeted the fictional rules of homes in popular TV shows during their season finales, and invited people to enter radio contests by calling in to share theirs. Ikea also surprised consumers by sending them gifts that connected with their own stories.
The campaign generated a 12% same-store sales increase versus the same period a year earlier. The site generated 26,613 house rules, with visitors spending an average of 3.5 minutes on the site. Positive brand metrics among the 35-plus age group increased 9%.
Yellow Pages highlights hoods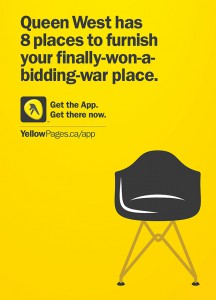 While digital giants like Google and Yelp have become the go-to source for search, Yellow Pages still has authority in being an expert in local listings. It just needed to shine a light on its local expertise in a relevant way. So the brand launched a city-wide campaign called "Highlight Your Hood."

Yellow Pages demonstrated its intimate local knowledge of the hidden gems in various Toronto neighbourhoods through hyper-local messaging via billboards, wall projections and online.

Mobile visits to Yellow Pages increased 21% during the campaign period, and the program was so successful that it is now being rolled out to other markets across
the country.