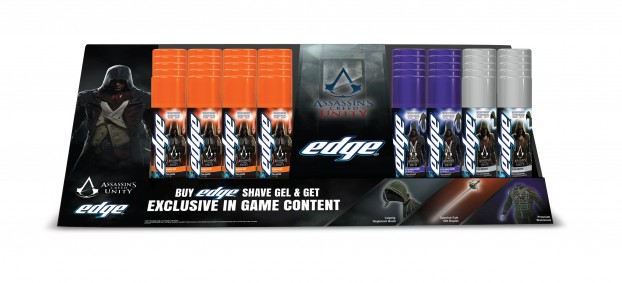 Edge is hoping to woo gamers into wielding a sword – and a razor – with a new promotion that leverages a partnership with Ubisoft.
The Energizer shave gel is jumping aboard the launch of the new Assassin's Creed: Unity videogame with in-store programs, special packaging and bonus game content.
Three different cans donning Assassin's Creed creative (the first time Edge cans have sported partner-related packaging in Canada) each offer consumers downloadable content to accompany the game – a sword, shield or boots.
The brand has sent product display units to Sobeys and Lawtons and partnered with Walmart for increased exposure. When the game goes on sale Nov. 11, Edge will be displayed with it at the front of the store – an area Jill MacKinnon, brand manager, men's razors and shave gel, Energizer, anticipates to see a lot of traffic.
The promotion aligns with Edge's 18- to 24-year-old male target, who seeks excitement and is passionate about gaming, she says.
"It's perfect with our target. It's just offering them additional value through relevant content – so providing them something that is highly relatable."
The brand also engaged in PR activities with Ubisoft to generate buzz prior to the promotion. At Fan Expo Canada in August, Edge activated in Ubisoft's area, creating figurines with a 3D printer, giving away product samples and promoting the upcoming campaign. Edge's branding also appeared in marcom for a contest primarily led by Ubisoft, which offered consumers a trip to Paris to partake in parkour. Moreover, the brand sampled the products at a media and consumer launch event for the game in Toronto Nov. 5, where consumers could play the new game ahead of its launch the following week.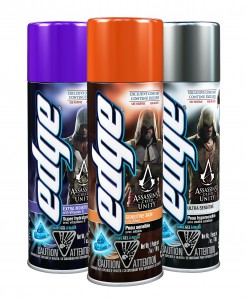 The North American partnership with Ubisoft is the first of its kind for Edge in Canada, although Energizer's Schick Hydro brand in the U.S. previously worked with Ubisoft. For the current program, the cans are shared across both markets, but the Canadian brand is executing a separate promotion, working with 6Degrees for in-store and Paradigm Public Relations for PR. Edge has a 18% market share of the shave prep category, according to Nielson 5-channel data.
The promotion's timing works well with the holiday season, says MacKinnon, adding shave product sales increase in November/December, as consumers look for stocking stuffers.
"A lot of people are probably going to get [the game] for Christmas, so the perfect thing with that is shave gel for your stocking."