ShoeMe shows commuters the shoes
The e-tailer launches a shoppable wall to ease Canadians' hesitation around buying footwear online.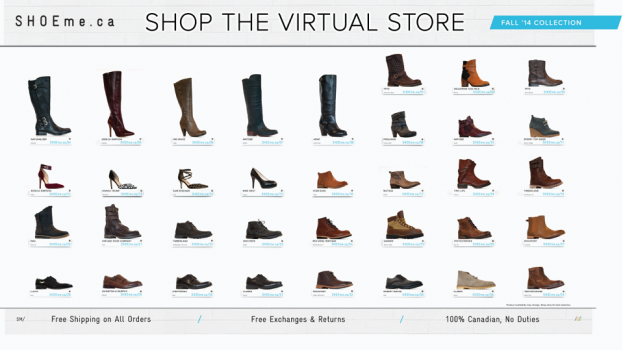 A Canadian footwear e-tailer is hoping to find a good match with a new shoppable ad unit – its first foray outside of online marketing.

Vancouver-based ShoeMe has installed an eight-by-14-foot vinyl wall mural in a SkyTrain station in the city's downtown core, featuring about 50 pairs of shoes which passersby can buy by scanning a QR code or inputting a direct URL into their mobile phones. It launched Nov. 5 and is slated to run until the end of the year, with results dictating possible continuation.

The young e-tailer aims to raise brand awareness and help quell an unease Canadians have with buying shoes online, says Curtis Petersen, CMO.

South of the border, online footwear has more than 18% market penetration, whereas in Canada, it's less than 2%, he says. And the company hopes its "virtual shoe store" will increase consumers' comfort with buying shoes online as it enables them to see a larger image of the products and shop right next to them on their phones, and emphasizes the risk-free nature of the purchase, by calling out its free shipping and returns policy.

"We see this as more than just an ad unit," says Petersen. "We actually do see this as an opportunity to create a virtual shoe store where none previously existed."

And ShoeMe plans to precisely measure the unit's ROI.

"If that plays out the way we are anticipating it to play out, then absolutely we'll look at creating more of these," he says, with the idea being to update the product offering every 60 or 90 days according to the season.

The initiative targets average-income office workers (with a sweetspot of 20-somethings to 40-somethings), who are commuting and might want a distraction, says Petersen. About two-thirds of the featured products cater to women, though in general, the e-tailer has a gender skew of 70-30.

Although ShoeMe aims to reach new consumers with this execution, garnering attention to the brand and the site, Petersen anticipates existing customers who know the brand will think the e-tailer has new offerings and head to the site for a deeper experience, where they can access more than 30,000 products, including Canadian exclusives.

The time was right for the execution as the e-tailer looks to accelerate its growth, he says. Morevoer, it wants to inform consumers about its recent increase in product offering (jumping from 150 to more than 350 brands), resulting from the company's merger with the more established Seattle-based OnlineShoes.com, after Hardy Capital Partners announced its acquisition of both companies in July. This also recently enabled ShoeMe to begin to offer accessories.

Petersen, who is also CMO for OnlineShoes.com, says the marketing teams have been sharing resources since May, and now he will work to integrate the two teams (Vancouver has seven staffers and Seattle has 20) to ensure they are working more closely together and resources are used well. The Vancouver team also plans to hire someone into a social position, with the medium becoming more of a focus in the next two months.

ShoeMe was established in 2012 and has seen more than 100% year-over-year revenue growth, according to Petersen.