Unboxing Smoke's Poutinerie's marketing strategy
After growing from one location to 80 in six short years, the head of marketing at the QSR talks branded content and how it plans to hop on the digital gravy train (with competitive eaters, no less).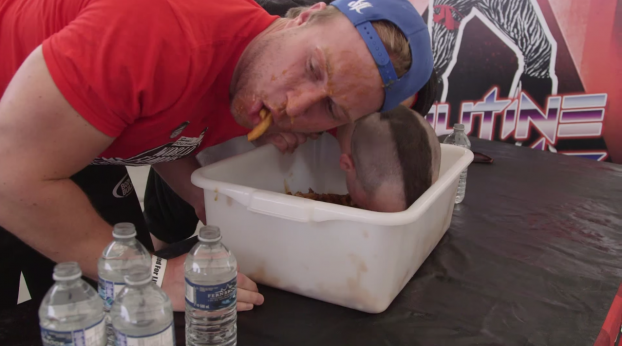 Who wants to watch competitive eaters go up against six pigs in Sault Ste. Marie? Or a gravy-wrestling match in Moose Jaw?
Smoke's Poutinerie is hoping its millennial target consumer does. The Canadian QSR chain is launching a seven-part web series next week that follows three competitive eaters — "Furious Pete" Czerwinski, Pat "Deep Dish" Bertoletti and Tim "Gravy" Brown — as they chow down on fries, cheese curds, gravy, doner and other greasy foods during a 17-stop tour across Canada that took place this past summer. The show launches Wednesday, Nov. 12, along with the Smoke's Poutinerie YouTube channel, now in beta.
The series, called Gravy Train Tour, is produced by Studio M, the team behind the WestJet "Christmas Miracle" video that went viral last year. The rollout of the series (two episodes per week for the next month) and social media strategy is being handled by Toronto-based Boat Rocker Studios, a division of Temple Street Productions.

Richard Glass, director of marketing at Smoke's, which is headquartered in Ajax, ON, says the web series and event are a good way for the company to help market the franchise nationally, without putting up the big bucks it would take to launch a traditional media campaign.

"I can't deny that cost is a factor. We're trying to do stuff that's right out of the box. We don't even know if an ad agency has any more experience doing these kinds of things than we do," he says, referring to why the brand eschewed working with a traditional ad shop.

"I think it's also important that we have control of these things in its infancy, and have a closeness to it. So when we went on the tour…we knew when we were being successful and when we weren't, and why. And that closeness is going to help us for next time," he says.

The poutine shop has expanded rapidly in recent years — six years ago, there was just one restaurant, and now there are 80. As a result, the company has boosted marketing efforts to add value to the franchises. Much of this investment has been into the internal marketing team: Glass says a year ago, there was just "one fellow doing marketing and a whole bunch of other things" at the same time. Now, there are four marketers in-house devoted to branding efforts.

Together with Boat Rocker, Smoke's Poutinerie is trying to extend the appeal of the competitive eating tour (called Smoke's Poutinerie World Famous Great Canadian Cross Country Plaid Gravy Train Fries Curd & Gravy Weird Wild and Wacky Poutine Eating Tour 2014) to the digital space. One of the main catalysts of this effort will be Furious Pete, who has more than 1.4 million subscribers on his YouTube channel.

Carlos Pacheco, director of strategic partnerships at Boat Rocker, says he will collaborate with Czerwinski to help drive viewership and subscribers to the Smoke's YouTube channel. His goal is to attract more than 200,000 views to the series, but he sees it as just the start of the company's online video presence.

From StreamDaily.