Coffee Crisp's survival guide
Strategy looks back at how the chocolate bar fought fierce competition to become a Canadian icon in 75 short years.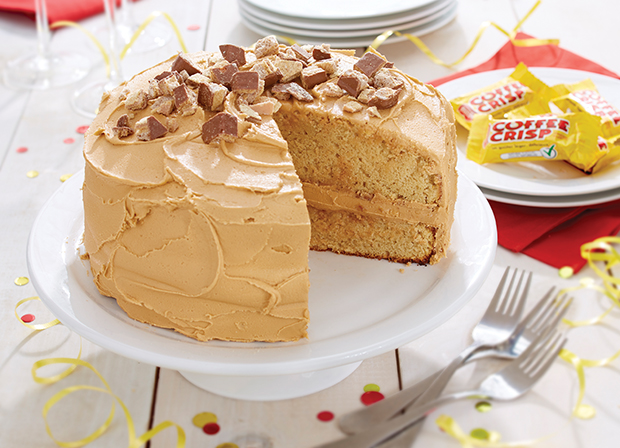 This story appears in the November 2014 issue of strategy. 
The candy landscape has changed dramatically in the last 75 years. There's new players in the market, a slew of product extensions and massive amounts of marketing, with each chocolate bar vying to be number one. But there's one that has stood the test of time and reached Canadian icon status, alongside ketchup chips and maple syrup.
"We heard a lot of stories from people that love Coffee Crisp and wanted to hear about its heritage," says Jan Fuller, director of marketing for confectionery at Nestlé Canada. "We wanted everyone to remember that Coffee Crisp is a uniquely Canadian original. It started in Canada, it's made in Canada and it's mainly sold in Canada."
This year, for its 75th anniversary, the Nestlé brand and Toronto-based agency Marketing Core decided to focus for the first time on the Canadian heritage of Coffee Crisp to reignite an emotional connection with consumers.
Based around the theme, "There's no place like home, there's no bar like Coffee Crisp," the campaign ran from January to May 2014, and was executed through in-store support, a print and digital partnership with Maclean's magazine and a partnership with Rogers' Breakfast Television, arranged by media agency ZenithOptimedia.
The partnership with Maclean's featured 75 uniquely Canadian experiences that were highlighted in the print and online publication, focusing on important historical, sporting and cultural events that resonated with consumers across the country.
Another part of the campaign was a contest called "Uniquely Canadian Moments" that was supported by in-store displays. Three entrants who submitted their own Canadian moments each won a great Canadian experience of their choosing, worth $10,000.
As part of the anniversary celebrations, specific packaging was designed for all Coffee Crisp products to call out the heritage of the brand. And Coffee Crisp's 75th anniversary festivities also involved the launch of a limited edition latte-flavoured bar.
So how did this uniquely Canadian bar reach icon status? It was thanks to a consistent brand message and a couple of very funny old ladies.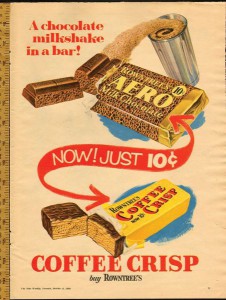 Give yourself a break
The original coffee-flavoured wafer bar was created in Canada by U.K.-based confectionery company Rowntree in 1939, and by 1948 it was one of the most popular bars on the shelf, along with other leading Rowntree bars, KitKat and Aero.
In the early years, the market was fairly equally divided between the major players in Canada – Rowntree, Nestlé, Cadbury and local manufacturers, including Neilson – so competition was fierce, and advertising was essential.
Coffee Crisp focused on print advertising, and in the 1960s, working with its then-AOR Ogilvy & Mather, came out with the tagline, "Give yourself a better break with Coffee Crisp." An image of the bar cut in half to reveal the layers inside was positioned next to a steaming cup of coffee.
A strong and consistent brand image has helped Coffee Crisp's visibility on the crowded confectionery shelves. In fact, the gold wrapping with simple red lettering still looks much the same as it did in the 1930s, although the O in "coffee" now has steam coming out of it.
In the following few decades, Rowntree expanded by swallowing up smaller confectionery companies, including Canada's Laura Secord, and exporting to more than 130 countries, making it the world's fourth largest chocolate manufacturer after Mars, Hershey and Cadbury by the 1980s.
Makes a nice light snack
Despite the wealth of competition from rival products such as Mars and Oh Henry!, Coffee Crisp was consistently ranked among the top 10 chocolate bars enjoyed by Canadians. And in 1980, it nabbed the number one spot for Canadian chocolate bars. That's when the ubiquitous tagline, "Makes a nice light snack" was created, a slogan that's still used in advertising and on packaging today.
The '80s also saw the start of TV advertising for Coffee Crisp, as competition from rival brands was heating up. One of the earliest spots features a rotating Coffee Crisp bar. A soft, male voice purrs: "No wonder you can't resist your Coffee Crisp. A nice – no – irresistible, light snack" as a gold pen crosses out the word "nice" on the side of the now fully-wrapped bar and writes, "irresistible" in its place.
In 1988, Swiss multinational food giant Nestlé bought Rowntree in an aggressive 2.55 billion-pound takeover bid, making the former the world's second-largest chocolate manufacturer after Mars, with 7% of the global confectionery market.
Under its new ownership, Coffee Crisp was initially rebranded under the name Nestlé Rowntree until Rowntree was dropped from packaging altogether. While rival companies such as Cadbury were rolling out new products, Nestlé Canada focused on promoting existing brands by introducing limited edition variations, starting with Coffee Crisp Triple Chocolate, which hit shelves in 1991 in an effort to help the brand compete. Limited edition varieties have been rolling out ever since, helping Coffee Crisp to catch the eye and tempt the taste buds of the impulse shopper, with in-store displays and jazzed-up packaging in different colours – but always with the familiar font. However, the original Coffee Crisp bar continues to outsell all alternative varieties.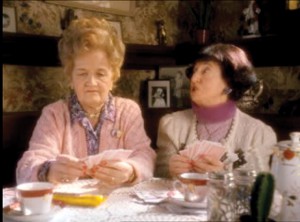 How do you like your coffee?
One of the more memorable TV spots of the '90s featured another long-running tagline for the Coffee Crisp brand by featuring two bickering old ladies playing cards.
"How do you like your coffee?" asks one. "Crisp!" is the response. "I like my Coffee Crisp!"
The spot, "Bubbies," ends with the familiar words: "Coffee Crisp. Makes a nice light snack." Created by Ogilvy & Mather's Toronto office in 1991, the light-hearted spot launched during the Super Bowl and was directed by actress and comedian Andrea Martin. It resonated so well with Canadians that it went on to spawn a series of other TV ads with different people in different situations, all asking the same question: "How do you like your coffee?" The answer was always "crisp." It became a catch phrase for the popular snack, and the "Bubbies" spot was subsequently re-aired in 2009.
Mingle with singles
After the turn of the century there was a gradual shift away from traditional TV advertising with more of a focus on line extensions, in-store displays and promotions.
Following the successful 2005 launch of rival Cadbury's portion-controlled 100-calorie "Thins," Nestlé jumped on the weight-loss bandwagon in 2006 with the introduction of its own 100 calorie "Singles" bars for some of its leading chocolate snacks including the Coffee Crisp. The products were designed to offer consumers a tasty treat without the guilt associated with eating chocolate.
A light-hearted TV spot and website supported the launch, featuring a "Singles" Coffee Crisp character called Chris P. Coffee who is looking for love. "I'm single and I want you to get to know me," says the smooth-talking chocolate character, who then discusses his "deep, complex layers." A number of other competing brands have since gone on to launch low-calorie variations.
A growing consumer regard for good health also led to the addition of a check mark on the bar's packaging in 2009, indicating the product's quality. A new improved recipe saw the start of a crispier wafer and all natural flavours.
In another new tweak, Coffee Crisp Bites – a bite-sized version of the original bar – were launched in 2009 as a quick and easy on-the-go snack option.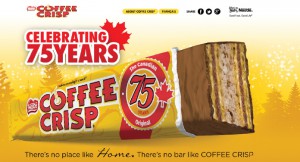 The bar stays strong
Although Fuller won't reveal details of what lies ahead for Coffee Crisp, she does say the team at Nestlé is currently working on some new ideas to keep the bar relevant for chocolate-loving Canadians.
And while the battle of the bars wages on, Coffee Crisp is still standing strong among the leading brands. In 2013, Nestlé Canada was the leading manufacturer of chocolate confectionery in the country with a 15% share, hotly pursued by rivals including Mars Canada, Hershey Canada and Cadbury (now owned by Mondelez).
"Coffee Crisp has been there for consumers for 75 years," says Amanda Belvedere, VP client services at Marketing Core, "and it's looking forward to being there for 75 more."
Coffee Crisp goes south
Since its creation, there has only been one factory in the world that manufactures Coffee Crisp – on Sterling Road in Toronto.
"It's truly a Canadian original," says Jane Mackasey, Nestlé Canada's VP marketing, who worked on Coffee Crisp from 1988 to 1995. "We've heard many stories over the years about visitors to Canada buying Coffee Crisp as gifts to take home, and we get letters from all over the world wanting to buy our unique bar."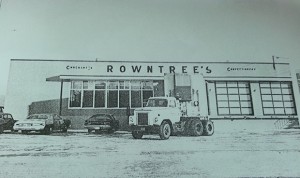 In fact, Coffee Crisp was in such demand in the U.S. that an online petition was started in 2000, persuading Nestlé to bring the Canadian delicacy south of the border. In 2006, after thousands of signatures were received, Coffee Crisp was rolled out in U.S. stores nationwide to see if American consumers would bite. The bars were still produced in Canada but the packaging was altered to suit the American market, with Spanish writing instead of French and the "Makes a nice light snack" tagline replaced with the words: "Wafers with coffee crème centre." The "How Do You Like Your Coffee?" ad campaign was also taken to the U.S. to support the launch.
However, the bar failed to make a significant dent in the competitive U.S. market dominated by Mars and Hershey products, so Coffee Crisp was withdrawn in 2009.
Marketing highlights of a Canadian classic
1980 Coffee Crisp is Canada's best-selling chocolate bar. The brand launches its first TV spot, with the tagline, "Coffee Crisp makes a nice, light snack," which continues to adorn packaging today.

1991 The "Bubbies" TV spot is created, using the long-running tagline, "How do you like your coffee?"

2001-02 Limited-edition, fruit-flavoured Coffee Crisp bars in Orange and Raspberry are released.

2003 Coffee Crisp treat-sized bars are made peanut-free.

2003-04 More limited-edition flavours are created – French Vanilla, Mocha and Café Caramel.

2005 Coffee bean-shaped Coffee Crisp Beans launch as another limited-edition variety, as well as a maple-flavoured bar.

2006 The brand is introduced to American consumers but discontinued three years later.

2007 The "TransCanada Cabin Search" kicks off, offering consumers a chance to win a summer cabin rental.

2009 Coffee Crisp launches its "Our Best Goes In Before Our Checkmark Goes On" campaign, and wrappers include a check mark to indicate quality.

2012 Special edition collectors' Halloween packaging appears on Coffee Crisp bars across Canada, featuring the name "Coffin Crisp."

2014 The 75th anniversary campaign launches.