How Canadians are spending and saving money
Nielsen takes a deeper look into Canadians' wallets in its Consumer Confidence survey for Q4.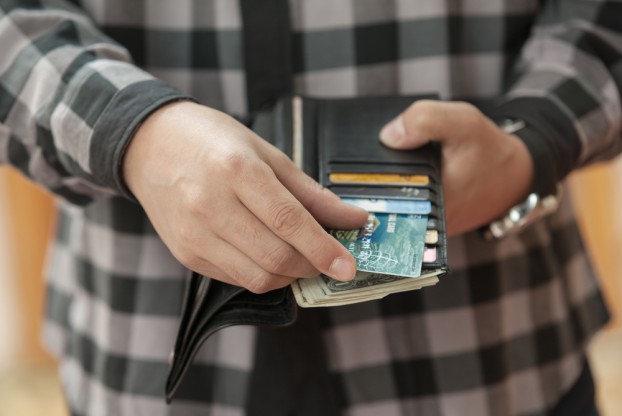 A few weeks ago, strategy reported that Canadians have a healthy, sunny disposition when it comes to the economy.
They're among the most optimistic about local job prospects, personal finances and spending, according to Nielsen's Global Consumer Confidence report, which polled more than 30,000 consumers across 60 countries from mid-August to early September.
And now, the research company has delved deeper to provide the Canadian perspective, with a few areas to take note of.
Spending and saving strategies:
Confidence in the economy means having more confidence in being able to spend disposable income on more wants, rather than just needs. Just under a third (30%) of Canadians are using their spare cash on vacations (up 2% from the beginning of the year), while 24% are spending on clothing (up 5%), 21% on home improvements (up 3%), 18% on entertainment (no change) and 16% on new tech products (no change).
Saving, on the other hand, is either down or hasn't changed much since the start of the year. But even with the lower-than-usual numbers, a good chunk of Canadians are putting money away for a rainy day. A total of 42% are putting spare cash into savings (up 1%), while 37% are using that money to pay off debt/credit cards/loans (down 2%), 17% into a retirement fund (no change) and 12% into shares of stock/mutual funds (down 2%).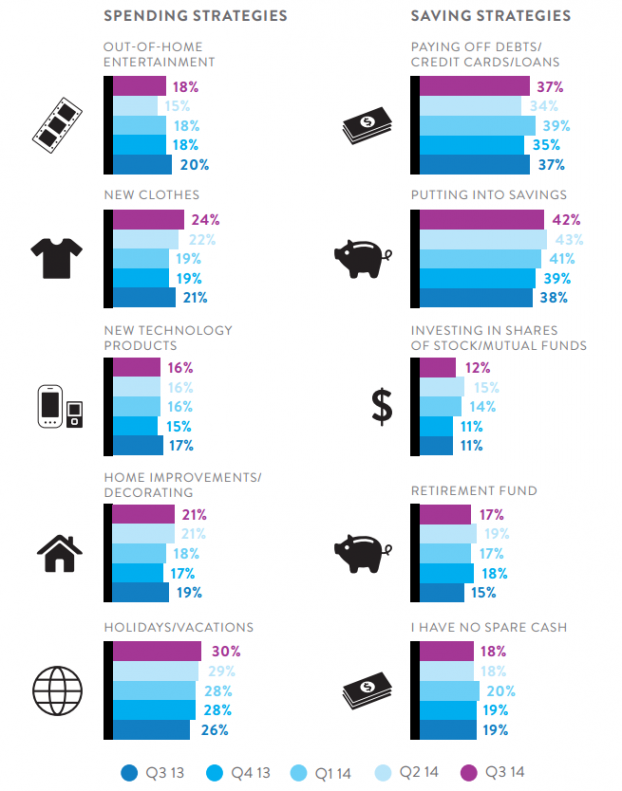 More Canadians are also looking for ways to save through their shopping habits, like spending less on new clothes (59%), cutting down on take-out (54%), and trying to save on gas and electricity (52%).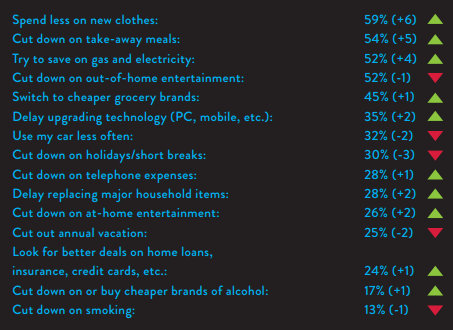 Debt:
The #1 concern among Canadians is the burden of debt, according to the survey. And it's no surprise, considering the total credit market debt (consumer credit, mortgage and non-mortgage loans) was up 1.3%, while disposable income increased by a smaller 0.6%.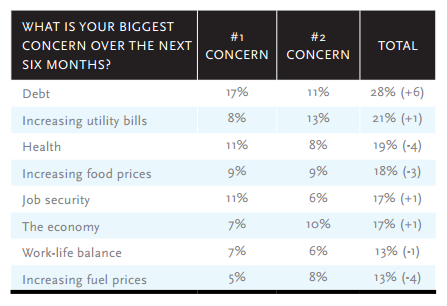 "Optimism is on the rise, but it has yet to be reflected in overall spending, as Canada's consumer packaged goods industry still struggles, with minimal growth driven by modest inflation," said Carmen Allison, VP of consumer insights at Nielsen.

"With slow growth in both dollars and units, and a value-driven, debt-concerned consumer, 2014 is proven to be an exercise in patience for both retailers and manufacturers, as optimism isn't translating into growth," added Allison.

Image courtesy of Shutterstock.