Branded content, gone in 10-seconds
Should companies looking to get into the branded content space consider the uber-popular Snapchat for a series?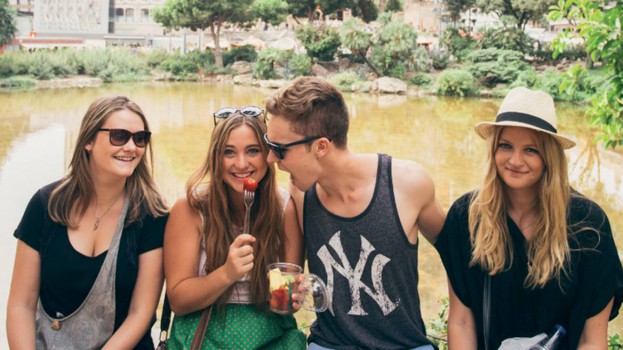 Topdeck Snaps is being billed as the first travel show on Snapchat, the now-you-see-it, now-you-don't social media app that lets users share photos and video clips that can be viewed for no more than 10 seconds before they disappear.

At first it sounds a lot like it's just a gregarious hipster (British YouTube personality James Hill) showing his buds back home how much fun he's having on a European bus tour. But that's kind of its point as a piece of brand-sponsored content, according to the company behind the project, Topdeck Travel.

"There are preconceptions about coach holidays that it's rigid, without much independence or freedom to do what you want," says Hazel McGuire, the marketing manager for Topdeck Travel, U.K. and Europe. "We have a really good brand in the Australian market. What we want to do is open that up and speak to people in the U.K., Europe and America, and say this is not your grandparents' coach holiday."

The idea for the series was hatched in-house at Topdeck Travel, and it's being executed with the help of Thinkhouse, a U.K.-based communications agency dedicated to connecting brands with the 18-to-35 demographic.

"It wasn't something dreamt up in conjunction with Snapchat," says McGuire of the series. "But they were really interested with the idea of it being the world's first use of the platform for this type of content, so they want to keep in touch on that."

Topdeck Snaps has no crew, per se. It's just Hill using his smartphone to document his adventures on a Topdeck Travel tour. The series kicked off Thursday in Budapest. Hill's initial posts include photos and 10-second video clips of his visits to the city's Great Market Hall, historic Matthias Church and a café with live Hungarian music, as well as a spin on an ice-skating rink. Then it's on to Krakow, Prague and Berlin.

"[Hill] is very much the sort of person who comes on our trips," McGuire says. "He's a history graduate…so he really gets what we want to do, and he's 25, which is the age of our average customer." She believes the vlogger will resonate with the company's target audience, which is in the 18- to-39 age range.

It was originally reported that the initial installment of the show would be six episodes long, but the content isn't really divided into anything that can be called episodes in a traditional TV sense. It's a six-day bus trip being documented with a raw, minimalist audio-visual presentation in Snapchat's My Story section, which lets users piece together captioned photos and videos that are visible to friends for up to 24 hours.

"It's almost a non-ending piece of content," McGuire says. "The first piece of video we post remains there for 24 hours, and the next will be there for 24 hours from when it was added. We quite like the idea of it disappearing because it's almost like James is taking the journey with you. It's very much how Snapchat is envisioned to be – very personal and in-the-moment."

Hill will also post videos of the trip on his Facebook page, and Topdeck will promote Topdeck Snaps on its social media platforms (including Facebook, Instagram and Twitter) using the hashtag #TopdeckSnaps. The series can be viewed on Snapchat by adding topdeck.travel as a friend.