How to keep up in the age of speed
Jackman Reinvents' David Moore on how brand and business strategies must be unified.
This story appears in the December/January 2015 issue of strategy.
By David Moore
From the volume and speed at which media is created and consumed and the rate at which technology is changing to new forms of consumerism, there is no doubt we are living in the speed-of-everything age. How fast is fast? It took 13 years for TV to reach 50 million people, and TechCrunch reported that it took 35 days for the Angry Birds Space app to do the same.
Constant and accelerating change are causing business lifespans to shorten, and when decline comes, it's steeper and faster: according to a 2012 report from strategy and innovation consultancy Innosight, about 50% of companies on the S&P 500 Index had already been replaced over the past decade, and at the present pace, by 2027, 75% will fall off the list. According to The Reinventors by Jason Jennings, a whopping 98% of global CEOs believe their current business model is only viable for three to five years.
In response to these conditions, professional services companies have retreated to their core competencies. The management consulting firm may propose operational efficiency programs, while the integrated advertising agency may propose a new brand campaign, a new digital platform, or social outreach to engage the consumer – or all of the above.
The problem is that in the broad view of business health, these are isolated point solutions, a collection of acts of incrementalism that only address the symptoms and don't add up to cohesive change and a sustainable vision for growth. Worse, oftentimes these solutions are biased by the expertise of the executive in charge and that of their external partner – "Change the logo! Expand the offering! Cut staff!" The client may see a performance bump in some sector of the business, but by its nature, this approach is unlikely to truly uncover the untapped potential of the business and holistically bring it to life.
The management consultant world has the ear of the CEO, understands deep data and business analytics and where and how money is made, yet they have minimal skill at shaping brand purpose, translating strategy into momentum and ultimately a reinvented customer experience. The agency world has a great sense of branding, communications and pieces of the customer experience, but they do not typically have the ear, perhaps even the trust, of the CEO, nor do they have a full understanding of how and where enterprise value is created.
The unfortunate truth is these two worlds rarely meet, and when they do, they speak different languages. That's a shame because when business strategy (the domain of consultants) and brand strategy (agencies' domain) do not inform and dovetail with each other, the result is well-intended yet lurching changes, mixed messages and unrealized value.
Today, the answer lies in true interdependence of brand and business strategies, and a 360-degree view of customer-facing action. It's about helping business leaders unify strategy based on foundational data and sound business analytics coupled with insights, creative vision and a clear sense of when and how strategy will manifest itself with employees and the customer: facts and feelings in perfect harmony.
There are no sacred cows, and all of the executive leadership fully participates in the way forward. This collaboration ensures the best outcomes, results in full buy-in and organizational alignment to brand purpose and how growth will be achieved, and moves from chasing symptoms to redefining businesses and sometimes entire categories. It also creates speed, an essential ingredient of reinvention. A great side effect of speed is, as one half of the formula of generating momentum (remember high school physics: mass x velocity = momentum), it is the catalyst to accelerating value creation.
This approach was summed up at one of Jackman's workshops: "Let's get really clear on where we're going and how we'll get there, get everything moving together at a pace to make it real, and inspire the heck out of everyone along the way to manufacture momentum."
In the speed-of-everything age, business leaders are under pressure to reinvent, not episodically as in the past, but as a continuous and coordinated effort. The key to doing so successfully is collaboration, and the old silos of support just aren't working as well anymore. Through reinvention – bringing together facts and feelings, collaborating to engage and align everyone and everything and making speed an ally – businesses and their brands can stay ahead. When that happens, mountains can be moved and enterprise value follows.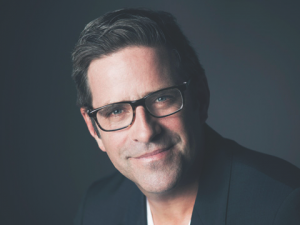 David Moore is currently advisory board chairman at Jackman Reinvents, and was formerly president and CEO of Leo Burnett Canada