The (virtual) reality of oil shipping
The Dogwood Initiative used both an Oculus Rift and an old-fashioned letter campaign to bolster support.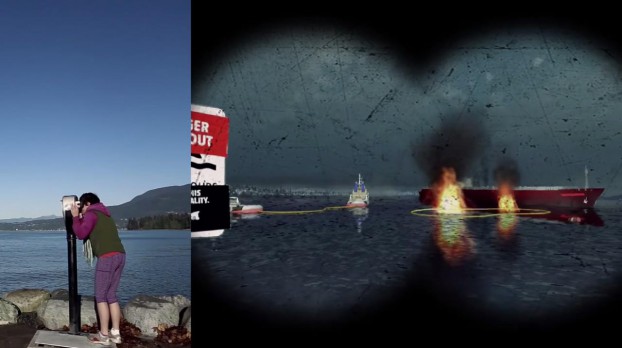 Dogwood Initiative is hoping that a pair of stunts on both ends of the high-tech/low-tech spectrum will get citizens of British Columbia talking about the impact oil tankers could have on their province's environment.
Dogwood is an organization that aims to give citizens of British Columbia more input on political decisions relating to the land, water and environment in the province. Between the Northern Gateway Pipeline and proposals from oil companies, the amount of crude oil shipped through the province's waterways is set to increase dramatically, so Dogwood's NoTankers.ca project looked for ways to get the public involved with its petition.
In the first stunt, a pair of classic shoreline sightseeing binoculars looking onto the harbour in Vancouver's English Bay were outfitted to contain an Oculus Rift headset. The virtual reality tech, primarily used as a videogame device, was utilized by Dogwood's agency Rethink to show citizens and tourists the destruction that could happen should there be an accident on one of the tankers carrying millions of barrels of crude oil through the waterway every day.
Dre Labre, creative director at Rethink, says the NoTankers stunt gave the agency a chance to take the virtual reality technology out of the gaming world, where most of its development has been focused.
"We saw this as an opportunity to apply it to something more through the creative lens of advertising and communications using a technology that is starting to get a bit more momentum," he says. "But it's still a niche technology, so the wow factor is still pretty high when a civilian walks up and sticks their face in it."
On the low-tech side of things, Rethink is also behind a direct mail campaign that shows just how easy an oil tanker accident can be. Hundreds of random homes in B.C. – as well as the strategy offices – were sent a letter that had a small plastic package with a crude oil-like substance attached to it. The letter itself details proposals that would increase the amount of oil that would be shipped through the province, but the trip through the mail causes the package to rupture, leaking black over the letter.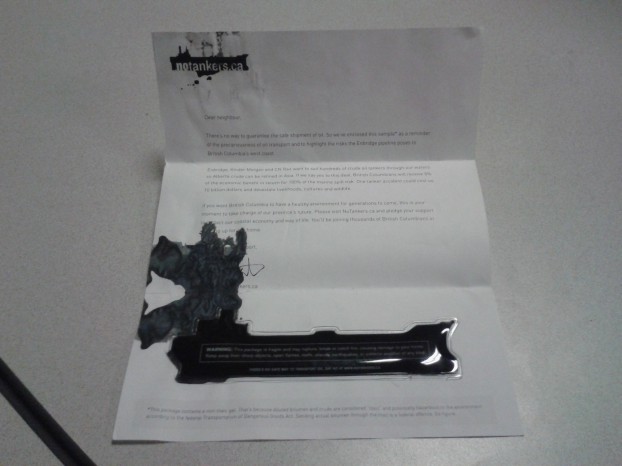 Rethink has been helping Dogwood create stunts to raise support for its initiatives since 2008, such as placing decals on loonies to show the impact an oil spill would have on the pictured wildlife, or unleashing oil-blackened rubber duckies into Vancouver's public fountains. Labre says stunt marketing is useful for an organization like Dogwood because it not only creates an strong, genuine reaction among those that see it, but it can be executed at and tailored to locations directly affected by the causes the organization is fighting for.

There are several recent examples of stunts used to get heartwarming reactions out of viewers, and Labre says getting those genuine reactions for a more serious cause is also what allows these pushes to have the greatest possible reach.