Cheerful creatives making holiday cheer
A round-up of season's greetings from ad land to you.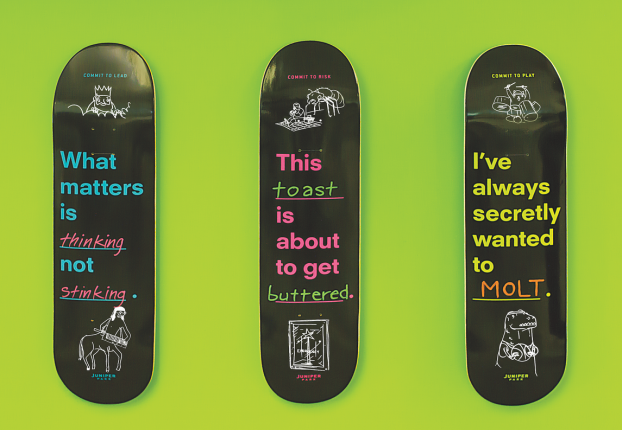 Our sister pub, stimulant, is hoping to stimulate your senses with some holiday cheer from agencies that are making the most of the festive season this year. From brutal (and much-needed) honesty to awkward encounters with editors to whiskey-adorned trees, this holiday round-up is just what the big guy in red prescribed. 
Nosegrind this: Juniper Park gives the gift of ____.
Agency peeps have come a long way from gifting cliché branded pens, water bottles and USBs (there comes a point where you run out of physical storage for virtual storage devices). But if there's one agency that knows how to avoid putting clients and agency partners to sleep with drab gifts, it's Juniper Park. In past years, the shop has given out JP embroidered Roots hoodies, Moleskin books and even Lego kits.
And this year, the shop has outdone itself with three custom made skateboard decks. They're not just ordinary take-me-for-a-ride boards, they're meant to be sources of inspiration, with the whiteboard underside bearing copy that reads, "What matters is ___, not ___." and other equally amusing things. They also come with nifty erasable markers for recipients to fill in the blanks.
Don't hold back: 'Tis the year for brutal honesty, says Uppercut, Fairgoods and BlackJet.
Apparently the holidays are a time for speaking your truth. No more sugar-coating things. That's why gifts were invented: to soften the blow. Uppercut (a creative agency) and Fairgoods (a handcrafted accessories, apparel and home furnishing store) came together to create the ultimate Christmas card generator. Their website spits out 11 very brutally honest greeting cards, like "Walking around holding mistletoe over your head isn't going to get you a girlfriend," for people to send to their loved ones.
And then there's BlackJet, an agency that's encouraging people to be fearless and use some rather forthright stickers on this year's gifts to mom, dad, the siblings and spouse. Because who hasn't wanted to adorn their gifts with greetings like, "To my brother, who smells" and "To someone whose #hashtagging is #outofcontrol"? Hey, like they say, what doesn't kill your relationship, will only make you stronger after the beating that will likely follow.
Merry Jack Daniel's: The Hive sees your pine tree, and raises you 50 whiskey barrels.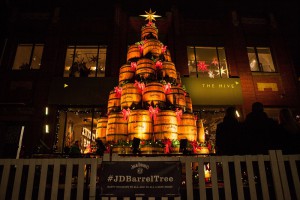 Christmas trees come in all shapes and sizes: short, stumpy, tall and leafy. And now, they come in barrels. Whiskey barrels, that is. The Hive has had another go at making holiday frolickers want to, erm, frolick around its annual Christmas tree. It's pyramid-shaped like everyone else's, but has the added touch of being made out of 50 Jack Daniel's barrels, stacked one on top of the other to the height of 18 feet. The tradition began at Jack Daniel's headquarters in Lynchburg, Tennessee, and made its way to Toronto last year when the shop first put its affinity for the brand (which is a client) on display.
The "tree" was lit last week Thursday, while vocal group Choir! Choir! Choir! sang carols beside 2004 Canadian Idol runner-up Gary Beals. Oh, and there's a charity component, with The Hive accepting online donations in support of The Dr. Jay Charitable Foundation. Good idea for a good cause, and good thing they didn't keep the barrels stocked with whisky (it would be like finding a pot of gold at the end of rainbow, just ready for ransacking).
Art crawl: ShareDDB makes weird, but wonderful art for charity.

Mr. T cups (get it? Of course you do), portraits of bearded men made with real hair and only the finest men's grooming gear: all by creatives at DDB. They're not only good at making people buy stuff, but they're also pretty darn good at showing off their other talents, like making art. For this year's ShareDDB event auction, which takes place in Edmonton, Toronto and Vancouver, the agency raised more than $35,000 for local charities, just by inviting around 350 staffers to use their creative juices to make and sell their unique creations. Now that's art with heart.
Don't believe in Christmas: What really goes on behind School Editing's doors?
Sit back, relax, and take pleasure in discovering what really goes on behind the closed doors of a Toronto editing suite during the festive season. Before today, most likely weren't aware that School Editing employed a keytar-playing prodigy, a debonair duo that exude 1920s charm, and a fist-pumping face-shaving elf. But they're coming clean in a slick one-shot video that wishes the industry a very Merry Christmas, whether you believe in it or not.
(BlackJet stickers photo courtesy of Emily Wexler; thumbnail image of Juniper Park skateboard courtesy of School Editing)