The Boys and Girls Clubs' celeb flashbacks
The non-profit had a conundrum: people knew what it was, but not what it did. So the brand recreated some adorable moments from its spokespeople's past.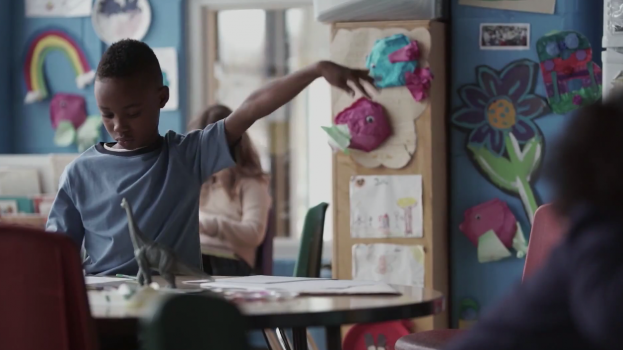 "This is how you do a PSA: inspirational, unexpected and so completely charming," said Twitter user Sarah (@Ruddles) about The Boys and Girls Clubs of Canada's latest campaign.

And Mathieu Chantelois, national director of marketing and communication at the non-profit couldn't be happier. Inspirational, unexpected and charming was exactly what he was going for.

The new campaign created by Dare launched on Monday and will run until the end of January on donated media. It features three snapshots of kids doing Boys and Girls Clubs activities: drawing, playing sports, etc. The end of the spots reveal that the kids grow up to be big names, such as NBA player Anthony Bennett or NHL player Taylor Hall.

Chantelois says the primary goal of this campaign is to raise awareness about what the club actually provides. "[Consumers] know our name. They recognize our logo. They know we're an important organizations," he says. "But that's about it. Nobody know what's happening inside the club. So that was a big concern."

He says the brand went out to several agencies with the pitch, and most came back with the suggestion of putting Bennett and Hall in front of the camera – a strategy that's worked incredibly well in the U.S. where brand spokespeople include the likes of Denzel Washington and Jennifer Lopez.

But here in Canada that wouldn't work. "They're not TV personalities [and] we've seen [plenty of PSAs]  have celebrities talk to the camera. I'm not sure we would have been able to make something charming, relevant, cute and meaningful in 30 seconds."

Dare approached The Boys and Girls Clubs with the idea of taking scenes from the spokespeople's past (such as Hall practicing hockey by hitting the school bell, or Bennett realizing his potential as a basketball player based on failed drawing attempts), and recreate them.

The campaign targets everyone, he says and will be supported by social media. The non-profit handled the media planning in-house.

This is the first phase of the campaign, Chantelois adds, saying phase two will roll out with a call to action to support the organization financially.