Inside MasterCard's gift-giving plan
What's more "priceless" than kids unwrapping toys on Christmas? The credit card co jumps on the giftvertising trend.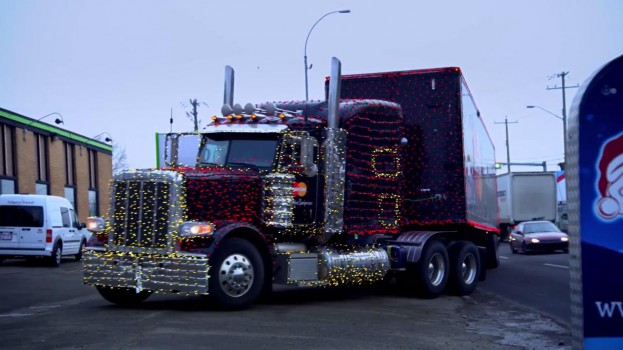 After a year of providing "Priceless Surprises" to cardholders, MasterCard is sharing a giant toy donation initiative in hopes that it will solidify an accessible brand positioning heading into the new year.
A semi truck loaded with more than 22,000 toys drove around Calgary, making donations to six of the city's children's charities and toy drives. The toys were collected in late November through a promotion where President's Choice Financial MasterCard cardholders that used their card could have a toy donated in their name to the project.
A video of the truck making its rounds is now online, with a shorter television spot airing nationally in primetime around holiday programming, starting today until the end of the year. MasterCard's agency MacLaren McCann worked on the program and Carat handled the media buy.
Different from other one-off "giftvertising" videos that are all the rage this holiday season, the toy donation spree was the latest "Priceless Surprise," a global program MasterCard started this year as a way to reward cardholder loyalty. In Canada, that has taken the form of more intimate events, like a meeting with Justin Timberlake in Montreal or Doug Gilmour and Guy Carbonneau in Toronto.
"What is different this time is we're taking it to TV on a large scale across the country," says Milos Vranesevic, head of marketing at MasterCard. "We felt the scale of what we did was really worth sharing. Most of the surprises have been very intimate and personal, but this one has a bigger element to it and more people getting rewarded. The holidays are a great time to give back, and that's where the added value came."
The Gilmour/Carbonneau meetup was part of a larger program happening at the Air Canada Centre in Toronto, which includes giveaways for prime seats during Maple Leafs and Raptors games, a special activation area outside the arena's busiest gate for tech demos and retail offers, and the venue has also seen every vendor outfitted with no-touch payment tech.
The company is also moving into the tech space, having sponsored a pair of startup and coding-centric programs.
"We're not just observing or sharing priceless moments, but enabling them through a much more tangible experience, and technology has been helping that," he says. "I think as we move into 2015 and beyond, our strategy is going to be about enabling these experiences, be it through how we deliver through our technologies, through brand programs like Priceless Surprises or product innovation."