Krafting icons
We're rolling out our Marketers of the Year this week. Next up: Tony Matta dives into Canadians' deep connections with some of the country's most loved brands.
This story appears in the December/January 2015 issue of strategy. Each day this week, we'll be revealing one of five Marketers of the Year who are gracing our end-of-year issue — so make sure to come back tomorrow to find out who else made the cut.
Tony Matta is very proud of his teddy bears. Only a few weeks after the plush versions of the Kraft Peanut Butter mascots hit the shelves, he shows off two – they come in pairs when you order online, in a box designed as a snug little house – and points out how on the side, what looks like the standard nutritional information label actually boasts information like how much "friendship" the product offers you.
It's almost too sweet to handle, but for Matta, Kraft's CMO, it's a prime example of how the company has capitalized on finding the untapped emotional and cultural associations with some of its brands, something he says the old Kraft might not have considered.
"We asked consumers to talk about their first memories of Kraft Peanut Butter and the most frequent image was of their grandmother," Matta says. "That's a very real emotional connection. There's not a lot of brands that have that kind of instant link to something so deep and personal. We'll probably sell 100,000 of those kits with very little marketing support, just through that latent demand."
Matta came on as Kraft Foods' CMO in June 2012, returning to Canada after more than two years in Texas as VP marketing at Frito-Lay. Before heading stateside in 2011, Matta was CMO at Frito Lay Canada for three years, during which he was named strategy's top Marketer of the Year in 2009.
In November 2013, just under four months into his current post, Matta told strategy he wanted to start treating some of the brands now under his purview at Kraft like the icons they could be. A year later, under his leadership, Kraft has shifted investment directly and aggressively into the brands it sees as having high enough potential for growth to reach that icon status, a segmentation approach that has defined marketing at the company this year.
"Here's a food company selling plush toys," Matta offers as an example of the company finding an icon and pushing it. "Twelve months ago, if you said that out loud, people would have scratched their head and said, 'What are you talking about, why aren't you selling another variant of peanut butter? Or why don't you blow people's minds by moving to other nut butters?'"
This approach has meant looking at each brand closely to determine which would make the most of receiving a greater piece of the budget – most notably Kraft Peanut Butter, Nabob, Kraft Dinner, Philadelphia and Mio – and if those brands come with a built-in connection in consumers' minds, even better.
Those connections don't necessarily have to be overtly, for lack of a better word, sappy. In addition to the emotional elements of Kraft Peanut Butter, Matta points to Kraft Dinner – a brand he has seen frequently included on lists of the "most Canadian" foods and products come Canada Day – as an example of a more cultural connection. While an ad centred around a talking horse for the "Let Your Fun Out" campaign may have been on the far end of the wacky spectrum, trying those things is part of the learning process.
"There's a fine line between fun and silly, and I think we're getting better at striking the right balance. The work we have coming next year hits that bang on," Matta says. "We had to learn our way through that and I'm very proud of that, because this is a place where marketers can take risks. If you're going to call yourself entrepreneurial and call yourself a new company, part of that is encouraging people to try things."
All of this focus on iconic brands doesn't mean leaving other brands behind, but rather, realizing some have more opportunities for growth and creative marketing than others.
"For example, Baker's Chocolate will always have a role for consumers, but in terms of the growth potential of that category, it is what it is," Matta says. "It doesn't mean that you walk away from it or don't invest in it to some degree, but it might not be where you choose to challenge yourself in terms of coming up with your breakthrough marketing ideas."
Overall baseline volume has turned positive at Kraft after years of being in decline, so those breakthrough ideas are coming through with results.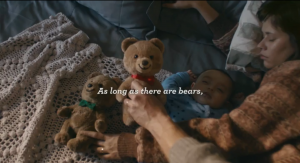 As part of Mio's sponsorship of NXNE in Toronto this summer, it took over a TTC streetcar and put on four nights of concerts as it transported people to different venues to tap into the stock younger people place in the festival experience.
Philadelphia's "Philly Up" campaign, centred around a woman with football player-style stripes of cream cheese under her eyes to put more of a functional and fun spin on the hard-working mom angle, used more digital and out-of-home creative, delivering 50 million impressions on its daily digital activations, 130 million on the out-of-home elements and a dollar share growth of 2.6 points.
And the "Stick Together" campaign the bears came out of? The television spot it led with, featuring the look of joy on the faces of children when they were given a Kraft teddy, tested above the normal top 25% in metrics, including how enjoyable the spots were to watch and how much they made consumers want to buy the brand, suggesting the kinds of consumer connections Matta talks about are resonating.
Those campaign ideas are coming from a Canada-specific innovation stream within Kraft that Matta established this year. The process started with having a startup-inspired "FedEx Day," where staff would be organized into teams and work solely on things that would not otherwise fall under their job description, with the goal of generating new, outside-the-box ideas. Now, those ideas are coming more naturally.
"You see ideas coming from all places – sales, supply chain, in addition to the innovation and sector teams," Matta says. "That has become more culturally embedded in the building. There's less of a requirement to say, 'Today is the creativity day.' That's just how we work now."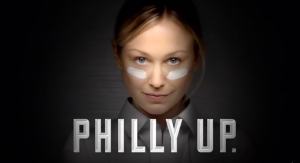 Asking Matta about potential challenges in working with the scale of the market in Canada makes it clear why, despite working at a company the size of Kraft, he looked to startups for inspiration.
"It's not necessarily the biggest player with all the scale that's growing," he says. "It's that niche player that's got a well-defined benefit that it's bringing to the category, that's leveraging social and digital media to get the word out there very efficiently and building some word of mouth and momentum that consumers grab hold of."
There are some old adages about Canada that Matta does agree with, namely, the general conservatism here
that results in marketers being less willing to take creative risks than their American counterparts.
"In some ways, our size is the reason we should be able to take bigger leaps since we're so centralized," he says. "You don't need New York, L.A., Chicago and Dallas – you got it all right here and you can pull the right people together that have enough guts to go after it."
Looking south of the border is relevant, as changes at Kraft in the U.S. have started to result in changes here. There, Kraft has consolidated down to four agency partners this year, and Kraft's numerous agency moves in Canada have mirrored, to some extent, where the U.S. accounts are landing. Kraft Dinner shifted from Taxi to Anomaly to Union (which also has the Philadelphia and Kraft Singles accounts), the Natural Cheese portfolio moved from Anomaly to Leo Burnett, with Taxi still at the helm of Kraft Peanut Butter, Mio and Maxwell House. In addition, McGarryBowen has been added to do masterbrand work across North America, which will result in some work that touches down here.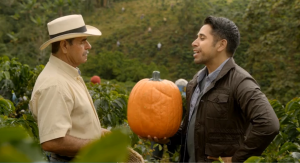 If it seems like doing masterbrand work would be counterproductive after a year of success built on focusing on different categories, that's not how Matta sees it. While it's still too early to say how that work is going to impact the Canadian market, he does see where it could be useful and work within what he's helped build.

"There's definitely an opportunity for a masterbrand approach to a chunk of our portfolio because they do share some common equities and some common functional deliveries," he says. "It's just smart marketing to put some scale around that."

When it comes to the question "what's next?" Matta says Kraft will stay the course it has set this past year, so as not to lose the momentum it has built.

"It's always a risk when you start down the path of change that things won't work exactly the way you want them to, so you do a bit of retrenching back to the tried and true. We don't want to do that," he says. "The change that we're going through isn't going to happen overnight. When you have an asset base that knows how to do something really well and you introduce change into that asset base, that's always a longer journey than you'd like it to be. You'll see with our actions where the investment is."

Catch up on the stories behind our other Marketers of the Year: Aritzia's Oliver Walsh.