Brand-driven storytelling
Custom, branded or native – no matter what term you use, the rush for content is on.
There's no doubt that when consumers opt-in to content, a brand's marketing message is much more effective. That's one of the reasons why in the last few years there has been a major shift to content marketing.
Teena Poirier, director of custom content for the Globe and Mail, says, "There's a lot of research out there supporting content as the new way marketers are connecting with their target audiences. Different industries report that a number of B2B and B2C marketers are using content marketing to help brand halo and brand awareness. eMarketer did a study in 2013 that found 82% of B2C brands, for example, are including content marketing as part of their overall media mix and about 90% of B2B marketers."
Because content marketing is pull not push, brands can only appeal to consumers if the content is customer-centric. That means the information must have value for consumers and not simply be an opportunity for the brand to sell itself.
'Ditch the pitch', an article in the Winter 2014 issue of ANA Magazine, the publication of the US-based Association of National Advertisers, advises marketers to have a content team – either external or internal – dedicated to content creation and distribution. Chief among the suggestions is that the team has a content marketing manager or chief content officer and that it is important to find good writers and storytellers.
"So there's always a question of the content and the story it tells, and as business you have a point of view, so harness it or create it."
Storytelling is key to a content strategy since consumers are often skeptical of advertising. The ANA feature stresses that content must be credible: "A company wastes time and money on content that is perceived as amateurish, deceptive, too sales-focused, or – worst of all – winds up being ignored completely."
Louis-Jacques Darveau, vp Custom Content and general manager of Totem, says, "The world has gone from connected to being hyper-connected and that has implications for every brand that needs to be able to operate as a network. Operating as a network means you have to create more and more content.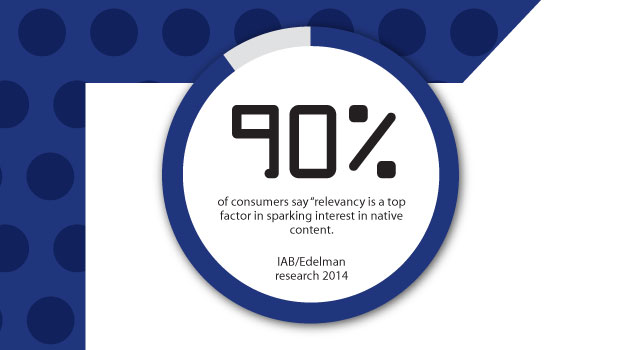 "It's a departure from the classic linear model where you have campaign cycles, to a world where you communicate in real time, all the time, across multiple channels and formats. So there's always a question of the content and the story it tells, and as business you have a point of view, so harness it or create it."
According to the '2015 Benchmarks, Budgets, and Trends – North America' study put out by the Content Marketing Institute, 48% of B2C marketers and 42% of B2B marketers publish new content daily or multiple times per week.
To feed into that 24/7 cycle requires a lot of content. That's why many brands turn to custom content specialists to develop a strategy, handle content creation and distribution.
"We know when there is work that is high quality, our readers engage with it."
Given the easy access to an endless web of world-class content, for brands to gain trust and engage an audience, their offering has to be incredibly relevant – and resonate. Which is another reason trusted, experienced partners are a smart strategy.
Andrew Saunders, the Globe and Mail's chief revenue officer, sees a direct correlation between the caliber of content and its effectiveness. "We know when there is work that is high quality, our readers engage with it. When it's low quality, they don't engage with it as much." He also sees the successful efforts pay longer term dividends. "Content is a way for a marketer to be able to break through to a stronger more emotional connection above and beyond just a pure brand sell. My expectation is this phenomenon is going to continue to gain traction in the market and we'll continue to see acceleration on that front."
Links