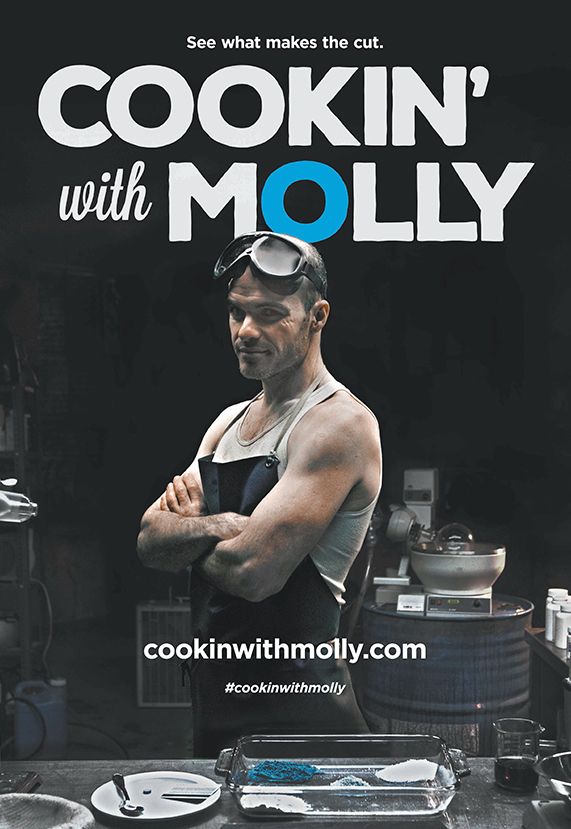 Rachael Ray, this isn't. Toronto Crime Stoppers wants young people to know they can never be sure what goes into MDMA – also known by the street name "molly" – so it tweaked a classic television format to provide some education.
Launched today to commemorate Crime Stoppers month, the "Cookin' With Molly" campaign is based around an online video showing a segment from a faux-cooking show, where a "chef" whose kitchen is actually a drug lab goes through all the things he uses to spice up boring old MDMA – including adding bath salts, methamphetamines and heroin. The campaign also includes pre-roll, out-of-home, transit and print ads that take the form of promo material for the "show" to drive people to the website and video.
DDB, Crime Stoppers' agency of record since 2005, worked pro bono on the campaign, with OMD donating media buying services. The campaign runs until the end of February.
Det. Chris Scherk says Crime Stoppers has a general initiative to try and reach youth this year and chose to focus on molly in response to a number of hospitalizations, as well as the deaths of two youths at the VELD Music Festival over the summer, which were attributed to taking a version of the drug that also contained meth. The message behind the creative is to communicate to young people that MDMA – often regarded as a "safe" party drug – is not the drug they think it is and they have no way of knowing what else might be used to create the pills, according to Craig Ferguson, senior art director at DDB Toronto.
"It's nowhere near as safe as anyone thinks it is, and this cooking show format became a really simple way to illustrate that point," he says. "It's something that allows you to say, 'here's exactly what goes into making these pills you think might be harmless.'"
Beyond the format, Ferguson says the video deliberately strikes a balance between the slightly tongue-in-cheek tone and the sinister setting. This way, the spot gets the severity of the issue across while avoiding the hyperbolic, preachy anti-drug ads of the past that the 15- to 25-year-old target wouldn't be receptive to.
"This audience, maybe more than most, is a bit wary of a preachy or judgemental tone," he says. "We're being a little bit more open and informational versus a straight up 'don't do drugs' message, which this audience can see coming from a mile away and just tune out. Putting together the lighthearted frivolity of a cooking show with this dark menacing content just shakes things up enough that we can get on their radar a bit."
While this isn't the first PSA that Crime Stoppers has done, Scherk says most of promotion the organization does is based around appealing for information about crimes that have already been committed and getting the word out about its anonymous tip service. "Cookin' With Molly" is a step towards more of an preventative approach.
"Because of the outreach we get through traditional media and social media, it does give us an excellent opportunity to not only appeal for information but to provide a general public service announcement related to the types of crime we're seeing," Scherk says. "If it makes someone think twice about taking a pill, as well as making them aware that they can call Crime Stoppers for other crimes, I think that's a great double message to deliver."
Ferguson says the hope is the tone and format of the spot will captivate the target into sharing it online, which puts it closer to Crime Stoppers' results-oriented goals.
"Those old anti-drug ads are so judgmental and moral, and the goal is never to put Crime Stoppers forward as a moral authority," he says. "Their goal is to save lives, so it's about being relevant and effective, not about occupying a moral high ground. It's about saving a kid and making them think twice before choosing that particular drug."