Squish's sweet spot
With a former David's Tea exec at the helm, Squish hopes to be the cool, sleek new candy shop on the block. Take a peek inside its growth plan.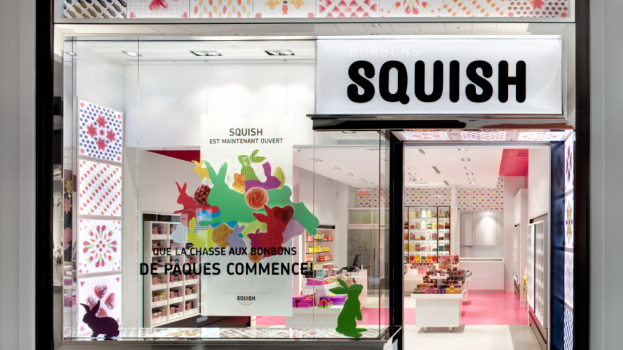 Candy, it turns out, is not just for kids.
And it's something Montreal-based Squish is hoping to capitalize on. The new brand (launched last year) is positioning itself as one to watch – with two Quebec locations and a recent partnership with Hudson's Bay, the premium gummy candy line is preparing to launch a third location and its online retailer.
President Sarah Segal was inspired by the sheer number of chocolate stores, yet lack of places where she could buy gummy treats. "I'm the customer and I'm a gummy lover. And I don't have anywhere to fill that need."
She says she took a chance with the brand, admitting there was (or is) little data on the demand for gummy candy in Canada, but so far success has been steady.
Some of that success stems from lessons learned while Segal worked at David's Tea's as its head of product development (she still sits on the David's Tea board).
First and foremost, she says having a diverse product offering was key for the brand, which boasts candies such as Bubbly Bears (champagne-infused gummy) Cuba Libre squares or Gingerbread hearts. What's more, the brand offers products for all sorts of dietary restrictions – from Kosher to glutten-free to vegan-friendly candies. The wide variety was a huge success factor for David's Tea, she says, and really capitalizes on the growing demand for personalization. "Everyone wants to find something that's perfect for them," she says.
Second, locations are key. Though the brand only has two physical locations at this point, high foot-traffic spots, namely in malls, will be a priority for the brand as it looks to grow. A big focus right now is also building its e-commerce offering, making the candies widely accessible without the need to go to the store.
One of the final lessons Segal is taking with her from her David's Tea days is that the look of your brand speaks volumes. "It's something you eat with your eyes too," she says.
The brand, which doesn't want to ascribe a sweet-spot target demographic, preferring to appeal to as wide an audience as possible, wanted to eschew the kid-like aesthetic of most candy shops, favouring instead clean lines and decor.
And it seems to be working – beyond the Hudson's Bay partnership, launched before the holidays, retailers have started approaching the brand to distribute the products, though Segal says they're being very choosy about who they partner with.
Going forward, their marketing plan will really focus on building out the brand's footprint, growing its social presence and finding the right partners.