Don't know your bra size? There's an app for that
E-tailer ThirdLove looks to break into Canada with its self-measuring tech, which has the potential to be a retail game-changer.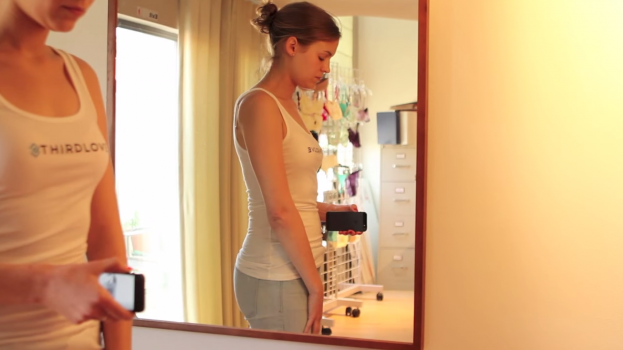 Oprah has helped enlighten women everywhere about how most of us wear the wrong size bra. But a new lingerie e-tailer to Canada is challenging the seemingly logical solution to go to a store for a professional fitting, touting its unique app that fits women accurately with just two clicks of their iPhone. And if the tech catches on, it could just change the way consumers shop for clothing – eliminating the need to try on certain items.
San Francisco-based ThirdLove expanded outside the U.S. and into the Canadian market last week, offering shipping and its unique bra-fitting app. To measure their size, consumers wear a tight-fitting tank top and stand in front of a mirror as the app guides them on how to hold the phone to take two photos at precise angles. To determine measurements, the app essentially creates a 3D model by putting the photos into an algorithm (without storing them), calculating body size in relation to the phone's dimensions.
And while no technology is without its hiccups, ThirdLove co-founder Heidi Zak says it's quite accurate.
"If a woman follows all the directions correctly, we see accuracy to within a half inch, which is actually more accurate on average than someone using a measuring tape."
ThirdLove has seven patents and four pending for the tech, which it developed in-house.
When asked about the possibility of competitors adopting similar tech, Zak says there are substantial moats around its creation and application, while it'd be tough to duplicate the company's product development process (it eschews standard grading techniques whereby baseline sizes are just increased or decreased, in favour of using data to develop its products).
And when it comes to staying competitive, Zak says the company's sizing tech patent could be applied to all body parts. "As we grow, we plan on expanding into other types of apparel and using our sizing technology and data to create better-fitting apparel of all kinds, not just lingerie." Meanwhile, ThirdLove continues to update its product design and sizing tech, she adds, noting "building cutting-edge technology is a core part of our business and brand."
About 40 to 45% of women who make a purchase on the site use the app, according to Zak. And while the unique tech certainly gives the startup an edge, she points to other differentiators to help it compete against lingerie giants La Senza and Victoria's Secret as it expands north of the border.
Rather than relying on standard industry fit models to develop sizes, ThirdLove designs its products based on the measurements it gleans from real women, which Zak says results in products with a better fit. Additionally, the e-tailer carries 30% more sizes than other brands, according to Zak, which includes half-cups, and will add sizes they find lacking in the market.
"This is more expensive for us to develop but we know this creates better product."
Zak says low overhead enables the retailer to offer prices akin to Victoria's Secret, ranging from $46 to $84 but at a higher quality more comparable to lower-end La Perla products.
Having launched in the U.S. about a year ago after spending the previous year working on its products and app, ThirdLove has seen registered users increase 20% month-over-month, a 23% repeat purchase rate after three months (Zak notes women on average buy bras once or twice a year) and a product return rate "in the single digits." The company wouldn't reveal its annual revenue.
The app might seem like a natural fit for younger consumers, and while ThirdLove's highest demo is the 25-to-34 crowd, it still sees traction from older consumers, including those 50 and over. Fit could even be a bigger concern with older women, she says, and today, smartphones are popular with this demo too. As such, the e-tailer is targeting women 25 and up in Canada.
But to reach them, Zak knows it will take more than just a simple awareness-building strategy.
"Lingerie is a considered purchase and it's one that's made based on recommendations. To try a new brand of lingerie, you have to trust someone's opinion."
Beyond word of mouth, this could mean appearing in the right magazine, so the e-tailer is working with Citizen Relations and initially focusing on acquiring earned media to garner brand recognition before diving into digital and more traditional channels. ThirdLove has also done pop-ups in the U.S., and it's something the brand is considering here, as well as whether to launch a showroom. (It currently has a showroom in San Francisco.)