Visualizing what's hot in advertising
Expect to see more text layered over blurry images. Shutterstock rounded up some top visual trends for the year ahead.
Shutterstock, the digital repository of stock photos, video and sound largely used by advertisers and media, has released a creative trend report, looking at the year ahead in design, videography and photography by analyzing 47,000 pieces of content and searches.
"Blurry and broken backgrounds layered behind text have been on the rise in advertising and design over the last 12 months, with searches of 'blur' increasing 144%" the report notes. Linear imagery – that is line-based drawings – have also seen tremendous growth, with "line icons" searches growing nearly 1,000%. Finally in photography/images, unique perspectives (such as random shots of feet or closer to the ground landscapes) are on the rise, and expected to continue to grow in the next year.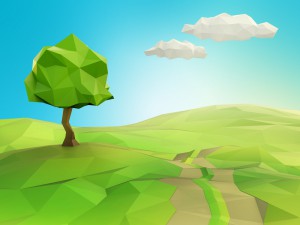 Other fast-rising searches on the site included "double exposure," "hipster" and "low poly" (pictured left).
From a video perspective "time lapse," "fashion," "aerial," "slow motion" and "animation" were top  downloaded/searched, while "quirky" was a popular term for folks looking at music. "Optimistic" and "serene" music also made an appearance on the top downloaded list.
As for those buzzwords: "Selfie" saw an increase of 2,116% in searches, followed by "wearable technology" (746% increase), "internet of things" (581% increase) and "Emoji" (581% increase).
Various images courtesy of Shutterstock. Available here, here, here and here.