Check it out: HBO maps out an activation
A takeover of Union Station is immersing new viewers and old fans alike in the world of Game of Thrones.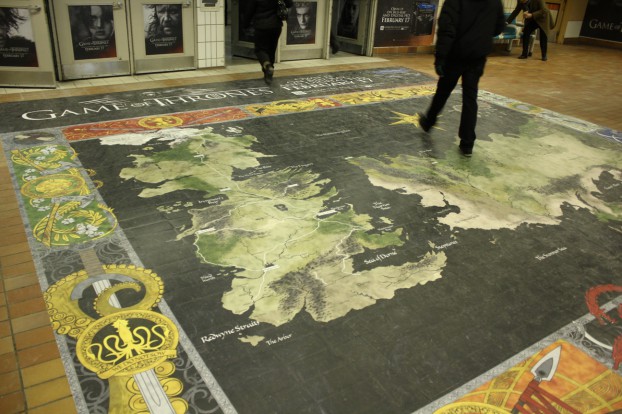 Commuters in Toronto's Union Station need to watch where they're going. Or, at the very least, glance down at their feet.
The tile floor in front of the entrance to the Air Canada Centre from Union now features a map of the fictional world of Westeros, the setting for HBO series Game of Thrones. Besides the size of it, people can be immersed in the world through QR codes that users can scan to explore an interactive version of the map that features information about particular points and events that happened there.
The takeover will run throughout February and promotes the release of the show's fourth season on DVD and Blu-ray on Feb. 17. The idea behind the activation, developed by Commix Communications with media buying from OMD, is to not only immerse people in the Game of Thrones world, but give old and new viewers alike something to discover about it.
"Even if you don't watch it, you're aware of its existence, but maybe not what it's about," says Howard Kim, partner and creative director at Commix. "If you do and you're a fan, you're aware of the multiple storylines, but you might not understand the scale of this world or the intricacies of the points where the stories intersect."
More traditional out-of-home elements, like posters and column wraps spotlighting the show's characters, are also in the area around the entrance. Nikolas Milankov, designer on the project, says the show and its characters are "quickly becoming iconic" but says it can be hard to feature them without giving away dreaded spoilers. Doing the map allows them to be informative enough about the show to give extra content to fans while not giving anything away to new viewers.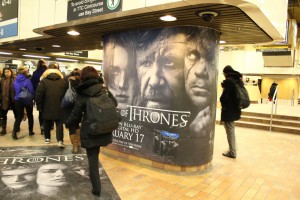 This campaign will include print ads in Toronto, Vancouver and Montreal.

In addition to the Union Station takeover, HBO Canada is promoting the series with an exhibition at Quebec's Carnaval, where agency Lex PR and sculptor Marc Lepire recreated the show's iconic Iron Throne in ice.