Lay's is sweet on Valentine's Day
Nothing says true love like roses and chips. The PepsiCo brand is going after V-Day shoppers with its new sweet/salty offering.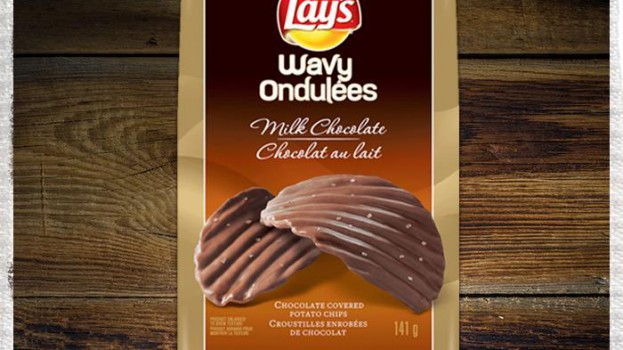 Not only has Lay's launched one of its more unique flavour combinations north of the border, the brand is hoping consumers will see it as an indulgent sweet treat that's perfect for Valentine's Day.

Launched at the beginning of the month, Lay's Wavy Milk Chocolate takes the ruffled chip, seasons it with sea salt and covers it in chocolate.

The chocolate-covered chips were first launched in December 2013 in the U.S., where they sold out within the first month and were re-launched late last year. Susan Irving, senior director of core brands at PepsiCo Foods Canada, says Canadian consumers saw the product and began demanding it on the brand's social channels. The company decided Valentine's Day would be the perfect time to jump on the growing trend of combining sweet and salty snacks.

"It really delivers on the 'enjoy and indulge' time of Valentine's Day," Irving says. "There's definitely room in the marketplace around Valentine's Day because a lot of confectionery companies are coming out with heart-shaped chocolate and different items for loved ones right now."

While the chip can be found in aisles next to Lay's other flavours, the company has also directed retailers to display it in the confectionery aisle and alongside other Valentine's Day candy products, the first time the brand has done so. Irving says it was a logical consumer proposition for a time when chocolate is top-of-mind.

"Especially for Valentine's Day, if you're looking for a chocolate product, you'll go to the confectionery area first before the snack aisle," she says.

The Wavy Milk Chocolate chips also feature a more deluxe-looking packaging compared to standard and other limited-edition Lay's flavours. While Lay's other flavour extensions appear in standard packaging, Irving says the company went with something different for the chip because of both the unique flavour proposition of the snack and selling it as a Valentine's Day product.

Irving says Lay's Wavy Milk Chocolate will be available until the product sells out, which is expected to take between six and 12 weeks.

The product is being promoted with a PR push to lifestyle outlets and bloggers (handled by Praxis), in-store displays and a social media push on Facebook and Twitter, along with a media buy handled by OMD.

Irving says focusing on building organic awareness makes sense for the limited timeframe that the product will be available, and the company has been able to build from the social attention the product initially got.