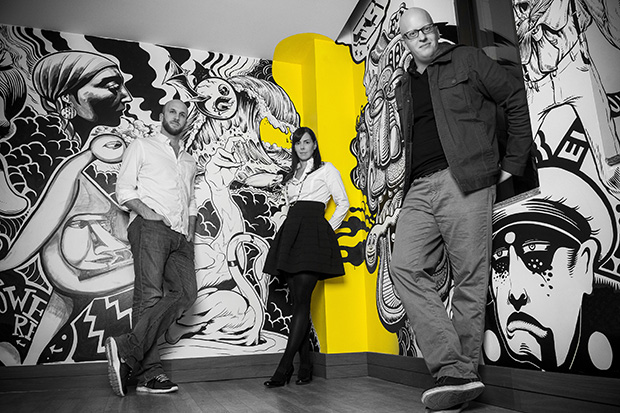 This story appears in the February/March 2015 issue of strategy.
Thomas Pigeon, founder of Montreal-based Pigeon Brand Design, says the city used to be a hot-bed for brands, resulting in some of Canada's top agencies spawning roots there, including Cossette, Sid Lee and Taxi. But a number of big organizations moved their headquarters out of Quebec, taking the need for a local shop with them. There's still a lot of talent in the market, but it's creatively congested, without a lot of big business opportunities, he says.
But, in the span of two months, four English Canadian agencies (John St., Union, DDB and Rethink) announced their planned arrivals in Montreal. So if the competition is high, what's driving the need for a local presence? And, more importantly, is the market big enough for the agency invasion?
It seems client demand is leading the charge. Both Union and DDB picked up accounts (Infiniti and Volkswagen, respectively), which included French-language needs. In the past, both parties had used a network of freelancers and partnerships with Montreal-based agencies to service their clients in French, but the sizeable car accounts afforded both shops the opportunity to open an office, which also allows them to start going after Quebec-based and national clients.
Rethink and John St., meanwhile, have grown naturally into the province, with each shop picking up more business from existing clients and demand from their clients for French-language services.
"As we started getting larger, more complex clients, their asks became more strategic and more about unique thinking and work in Quebec," says Arthur Fleischmann, president and partner at John St.
While brands try to maximize their reach, many are realizing there are more than just subtle differences for the Quebec consumer, from the cars Quebecers drive to the way they save money, he adds.
"It's really hard to sit in the boardrooms in Toronto and have an intelligent discussion about truly Quebecois brands," says Pigeon.
Subtej Nijjar, partner and president of Union, concurs, adding increased business from adapting global creative to local markets has also boosted the need for a Quebec presence, and competing for some of that global business requires a cross-Canada, fully bilingual presence.
Finally, Angus Tucker, partner and ECD at John St., says the Quebec offices allow the shops to tap into a new talent market. "I think over the past 10 years, Quebec has been really punching above its weight from a creative standpoint," he says, adding it can sometimes be hard to tempt French creatives into other markets, especially when French is their first and sometimes only language.