Montreal Canadiens charity shows its values
The hockey team's Children's Foundation enlists NHL players to lace up for its first public campaign.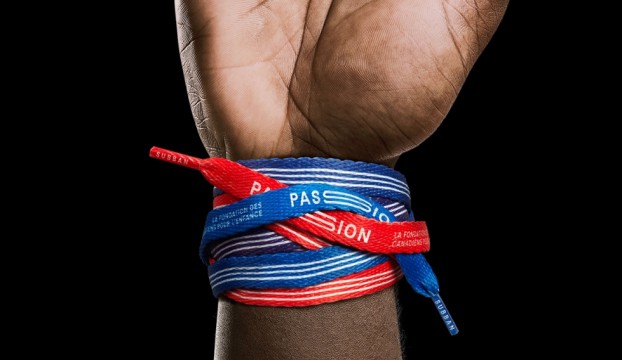 The Montreal Canadiens Children's Foundation has launched its first widespread public fundraising campaign for its program that builds multi-sport arenas in disadvantaged neighbourhoods.

Cossette Montreal approached the foundation several months ago to collaborate on what became the "Get Tied to the Cause" campaign, which the agency developed pro bono.

Launched Feb. 9, the three-week push revolves around special skate laces with the team's colours that can be purchased online or at participating Couche-Tard and Jean Coutu locations throughout Quebec.

The laces, designed by Cossette, feature five different values of the foundation, each represented by a high profile player on the NHL team – teamwork (Brendan Gallagher), perseverance (David Desharnais), passion (PK Subban), confidence (Alex Galchenyuk) and respect (Carey Price).

While the laces themselves are made to fit junior hockey skates, the campaign is directed at parents and people who generally support healthy, physically active lifestyles for kids, says Genevieve Paquette, executive director of the foundation.

The values featured on the laces are also meant to simplify the foundation's mission and goals to get the general public on board with its programs, she says.

The featured players also talk about why those values are so important in a series of videos created by production company L'Hibou, featured on a campaign microsite developed by Activis.

The campaign includes radio and TV spots featuring the players, as well as Quebec personalities Louis Morissette and Sugar Sammy.

Outdoor signage, a kiosk and animated spots at the Bell Centre, and in-store displays, print ads and web banners are also being used. Traditional and digital ad space, plus airtime, were donated by Bell Media.

The microsite also features photos from fans who have used social media sites to share how they wear their laces (such as on their skates or on their wrists).

The foundation has been around since 2000, and narrowed its focus in 2008 to building rinks in underprivileged neighbourhoods and supporting healthy lifestyles among kids. Until now, its fundraising efforts have been primarily through events and game-night fundraisers at the Bell Centre.

The foundation felt that by now, it had a strong enough story to tell to take its fundraising out to the wider public, Paquette says.