And the CASSIES Grand Prix goes to…
Molson and Rethink stole the show with the Beer Fridge campaign, while Leo Burnett and Ogilvy took home the most Golds.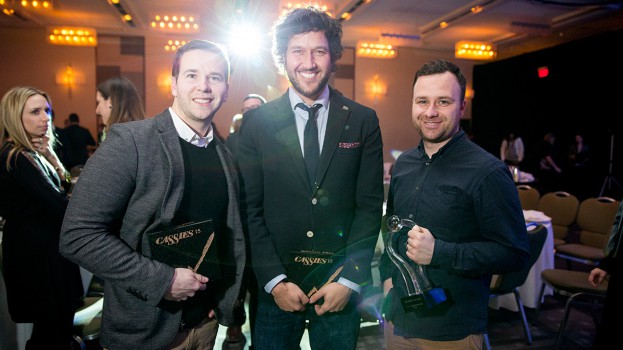 What happens when you produce a piece of advertising that sparks the imagination of Canadians, puts the country on the map with millions of global views and stops declining sales, delivering positive results in just a few short months? You win a CASSIES Grand Prix, that's what.
Molson and Rethink walked away with the coveted prize at the awards gala, held at Toronto's Hilton hotel on Thursday night, for the "Beer Fridge" campaign, in which the beer brand travelled the world with a locked red fridge that used Canadian passports and the country's national anthem as keys. The campaign also fetched a Gold prize in the Packaged Goods category, and it picked up the Creative Effectiveness Award, presented by the Globe and Mail.
Ogilvy and Leo Burnett both stuck Gold three times. The former shop and client American Express picked up two Gold prizes for its "Cloud 10″ campaign, while the agency snagged its third Gold for work on Hellman's "Real Food Movement." Leo and P&G's Mr. Clean took home two Golds for the "Legendary" program, while the agency went home with a third Gold for Ikea's "House Rules" campaign. (Ogilvy also won a Silver and Leo came away with two Silvers and a Bronze, see the list below.)
Taxi took home six trophies total, including two Golds, one for its "Ice Truck" campaign, created for Canadian Tire, while the second Gold went to the shop for its work on the Boston Pizza "Here to make you happy" campaign. Following suit, Publicis also took home a pair of Golds for Ubisoft's "Watch Dogs Live" program.
And the final two Gold prizes went to Mosaic/Studio M for its WestJet "Christmas Miracle" campaign, as well as Grey for the "Skip Starbucks Saturday" program, created for Moms Demand Action for Gun Sense in America. Grey walked away with three trophies total.
In all, there were 60 awards handed out, including the Grand Prix, with 13 Golds, 20 Silvers and 26 Bronzes.
Also handed out at the show was the ICA's inaugural awards for Client of the Year. The Bronze was given to Telus, the Silver to Chrysler and General Mills picked up the Gold.
Canada Post presented the first ever Smart Marketing Award to Taxi for the agency's work on Boston Pizza.
And agency Black revealed the winner of the Billy Bishop Creative Competition, which gave $250,000 in free media to a deserving charity. The winner was MacLaren McCann for Camp Oochigeas.
Photos by Ryan Walker (ryanwalkerphoto.ca)
Check out the complete case study list for all the Gold, Silver and Bronze CASSIES winners below.
Grand Prix
Molson Canadian's passport to success
Gold
Canadian Tire breaks records from a cold start
Putting the Mr. back in Mr. Clean
Ubisoft hacks a successful launch plan
Amex turns envy into instant sales
WestJet delivers surprising results
MDA helps trigger gun policy change
Boston Pizza finds its happy place
Silver
Taco Bell makes angry consumers eat their words
Koodo empowers consumers to help themselves
Les Éleveurs de porc du Québec takes the fat and boredom out of pork
Koodo spices up the telco category
BMW drives new performance standards
Ikea breathes inspiration into catalogue pages
McDonald's shows its skinnier side
Ivanhoé Cambridge encourages closet cleaning
Maple Leaf changes lives with bacon
TD turns features into benefits
SickKids focuses on the hero within
Oreo gets in on the Olympic spirit
Raptors embrace northern identity
Volkswagen takes a gammified approach
Canadian Tire celebrates unsung heroes
Heart & Stroke brings home increased donations
Tangerine bears the fruits of branding success
Subaru's rallying cry for increased sales
Bronze
La Presse turns the page to a new readership

Honda drives long-term dominance

Scotiabank demonstrates the power of free

York University looks ahead to get ahead

Kraft shows the joys of guilty pleasures

The Salvation Army makes a big change

Shreddies shows its 'Genuine Goodness'

Strategic Milk Alliance milks every moment

Selections Chartier goes where no wine has gone before

Nissan proves it's a winter warrior

Vancouver Police Foundation leaves others in the shadeick and easy

Politicians' losses were Workopolis' gain

Honda drives home a successful spring

Alberta Health Services encourages quitting

Canadian Blood Services turns people into heroes

CAMH tells both sides of the story

BP's wacky rib campaign nets serious results

Who'da thought VW needed simplifying?

Canadian Tire takes its Canadianness to digital

The Fonds de solidarité makes RRSPs relatable

Jackson-Triggs proves its universality

University of Manitoba turns a negative into a positive