Tangerine looks to brighten futures
The bank's new long-term CSR platform aims to give Canadians confidence to succeed.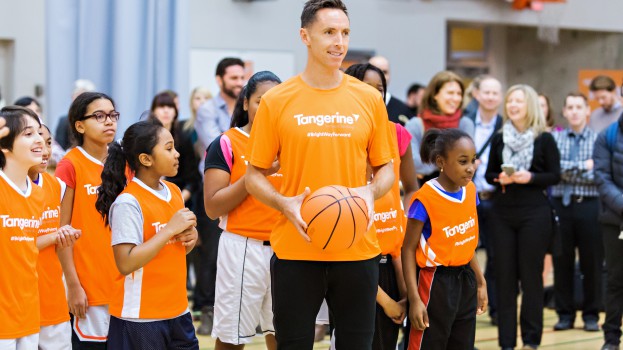 Tangerine has expanded its philosophy of setting up Canadians for financial success to its new CSR platform, built around giving people of all ages the confidence to succeed in various aspects of life.

The #BrightWayForward campaign involves partnerships with several organizations in different capacities – from sponsorship to financial donations – all around the theme of helping Canadians gain confidence and the optimism to succeed in other areas of life.

The brand, known for its "Forward banking" tagline, has a goal of helping Canadians take control over their financial lives, and the new CSR campaign is an extension of that, says Andrew Zimakas, CMO at Tangerine.

The campaign launched on Monday with a key sponsorship between the bank and Canada Basketball, along with Steve Nash Youth Basketball and the former NBA star himself to help kids build their skills in the sport. Basketball is a fast-growing sport in Canada, and an accessible one, Zimakas notes.

Other charities Tangerine will be working with include ACCES Employment, FoodShare, arts-focused organization UNITY Charity, YMCA of Greater Toronto and Youth Without Shelter.

For the initiative, the bank looked at organizations that met its criteria around empowering Canadians. The particulars around Tangerine's support vary among the organizations. "We didn't want to be focused on one particular demographic, we wanted to have a broader focus," Zimakas says. "We also wanted to make sure that what they were focused on could be scaled nationally."

Tangerine will be using social media to gain awareness of the new campaign, along with using posters and other promotional materials in its five "café" locations across Canada, which function as customer service centres. It has also produced a video for the campaign, which it will use to promote the program across earned, owned and paid media. The bank has worked with its AOR John St. on the initiative, as well as S&E Sponsorship Group and High Road for its PR.

The campaign is also part of Tangerine's overall brand refresh, which has been ongoing since it moved on from the ING Direct brand. "It does fit in with the overall focus that we're putting on the brand and transitioning the brand to becoming an everyday bank, from being known primarily as a savings bank," Zimakas says.